Warning: illegal and dangerous electric heaters for sale on Amazon and eBay
Illegal heaters that could cause fires or electric shocks have been discovered for sale online. We explain how to make sure you buy a safe plug-in heater - and what to do if you've bought a dangerous one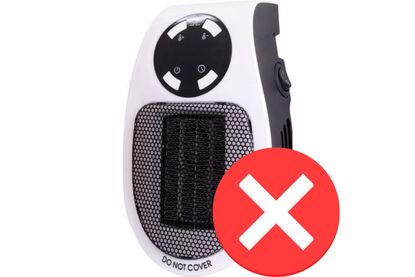 (Image credit: Eugenio Franchi / Which?)
Look After My Bills Newsletter
Get the best money-saving tips, tricks and deals sent straight to your inbox every week. Make sense of your money in partnership with The Money Edit.
Thank you for signing up to The Money Edit. You will receive a verification email shortly.
There was a problem. Please refresh the page and try again.
Illegal mini plug-in heaters - which have failed safety tests, and could pose a fire risk - have been discovered for sale on Amazon, eBay and Wish, at a time when millions of customers have been buying electric heaters as a cheaper way to heat their homes.
An investigation by consumer group Which? found that all 10 mini heaters that it tested failed crucial safety tests and could cause burns, electric shocks and fires. During the testing of one model, sold by a third-party seller on eBay, the plastic surround holding the heating element in place melted. Another heater posed a risk of an explosion due to counterfeit fuses in the plug.
Which? accused the three websites of failing to crack down on dangerous products, and that fake reviews and dodgy ads were boosting sales of the illegal heaters.
Rocio Concha, Which? director of policy and advocacy, said the electric heaters "could cause serious harm to consumers" and that the online platforms had promoted "dangerous products that end up in people's homes".
Consumer champion Martyn James said many people had bought portable heaters to replace central heating as a "desperate measure over winter to get through the energy crisis". He said the fact that buying one from a big brand online shop like Amazon or eBay didn't guarantee safety was "outrageous".
Which electric heaters failed the safety tests?
Ten mini plug-in heaters, some as cheap as £12, were sent for testing by Which?. All of them failed safety tests, with four products - three sold on eBay and one on Amazon - presenting a fire risk.
These are the four products that were a fire risk:
Listed product name on eBay: Plug In Wall Heater 500W Mini Electric Space Portable Digital Timer Ceramic Heat
Listed product name on Amazon: Lesvtu Electric Portable Plug in Heater-Low Energy Mini Plug in Wall Heater with Adjustable Thermostat and 12H Timer Led Display, Energy Efficient Small Ceramic Fan Heater for Office Home Room Bathroom
Listed product name on eBay: Plug In Wall Heater Portable Mini Electric Fan 900W Space Warmer with Remote UK
Listed product name on eBay: 500W Plug In Wall Heater Portable Mini Electric Fan Space Warmer Quick Delivery
All of the models in Which?'s testing posed a risk of electric shock and were illegal to sell in the UK because they did not meet the Electrical Equipment Safety Regulations.
How dangerous are the illegal heaters?
In one of the tests - the Plug in Wall Heater 500W, sold on eBay - the plastic surround holding the heating element in place melted. Which? said: "The heating element had slipped down, creating another melted area, and was against the outer grill meaning touching the heater could result in electric shock or burns. Leaving this product running could pose a fire risk."
The consumer group tested several versions of this heater sold on Amazon, eBay and Wish, all of which failed. Trading Standards also issued a recall notice for another model sold on eBay that seems to be identical.
A Lesvtu Electric Portable Plug in Heater, sold on Amazon, had counterfeit fuses that had been used in the plug. They posed a risk of electric shock, fire or even explosion. Half of the one-star reviews left for this product on Amazon since November 2022 reported that the plug had melted after using it for a short time.
According to Which?, Amazon Warehouse was actually also the seller of the product, meaning it was retailing an unsafe item.
Another Plug In Wall Heater 900W, sold on eBay, was so poorly made it posed a risk of fire or electric shock. Internal wires were soldered directly onto a circuit board, while another circuit board was loose within the product.
While the consumer group only tested 10 heaters, it said it was concerned that there were hundreds of products that look similar to the ones it tested still available for sale on online marketplaces, which could potentially be illegal and dangerous too.
Fake reviews and dodgy adverts
Worryingly, Which? said it found evidence that the illegal heaters were being boosted by fake reviews on Amazon, while identical-looking products had been promoted by "suspicious-looking websites" that appear as Google-sponsored ads at the top of Google when you search terms such as "plug-in mini heater".
According to Which?, once it had searched for a plug-in mini heater, similar adverts quickly began appearing on local news sites, and on social media including Facebook and YouTube.
The consumer group also found evidence of fake review activity on one of the dangerous heaters it tested, with some reviews containing images of a completely different product. Which? said it's possible for sellers to take positive Amazon reviews for other products to increase their own star rating and manipulate customers into buying items, which could be illegal and/or harmful.
Over on eBay, Which? said it discovered "listing manipulation", which makes listings appear more popular and legitimate. On one of the heaters it bought on eBay, the listing had been altered by the seller. It was no longer for a plug-in heater, but a super-bright LED torch.
According to Which?, the eBay item number was the same. It said 174 items had been sold but it was not clear what the split was between electric heaters and the torch.
What to do if you have bought a dangerous heater
If you've bought a plug-in mini heater from an online marketplace that looks the same as one of the models tested by Which?, stop using it immediately.
Contact the seller and the online platform to request a refund. It doesn't matter if you bought it a while ago, as you can say your heater has been mis-sold under the Consumer Rights Act.
This means you can get a full refund within the first 30 days, or if it's been between 30 days and six months since you bought the heater, you have a right to a repair or replacement. If the item can't be fixed, you can still get a full refund.
If you've received a recall notice from any seller, retailer, manufacturer or online platform, stop using the product immediately and follow the instructions in the email.
What to look for when buying a plug-in heater
It's hard to tell if a product is electrically unsafe just by looking at it, and buying a product online can make it even harder.
Which? gives the following advice about what to look for and how to stay safe when buying an electrical device:
Markings – A UKCA or CE marking on the packaging and the product, as well as the WEEE disposal logo, should offer peace of mind. UKCA or CE markings show that the manufacturer has checked the product meets all relevant health, safety and environmental requirements and complies with the law. However, Which? has found instances where these have been faked, so make sure you check the other tell-tale signs below as well.
Packaging – As well as a UKCA or CE mark, the packaging should show information about the manufacturer, the importer and how to dispose of the product.
Instructions – Instructions should be in English and explain how to use and maintain the heater. They should contain safety instructions and any relevant warnings, as well as the details of the EU or UK importer. Products failing Which?'s tests came with no instructions or with all standard safety warnings and importer details missing.
Plugs – The plug should be a UK three-pin plug. If the product comes with any other kind of plug and an adaptor, alarm bells should ring.
Loose wires – Look for wires that do not seem to be safely secured. If anything looks wrong, stop using your heater.
Martyn James added that any heater can be a fire risk if you don't use it correctly, so make sure you pay attention to the instruction manual.
Urgent government action needed
Which? said its investigation was proof that urgent government action was needed to make online platforms legally responsible for "harmful content and unsafe products that expose people to financial, emotional and even physical harm".
According to the consumer group, the government needs to clamp down on what it calls the "current frightening gap in the product safety regime".
Rocio Concha said: "The government must urgently legislate to strengthen product safety, including giving online marketplaces greater legal responsibility for unsafe products sold on their sites so that consumers are far better protected.
"Self-regulation of online platforms is simply not working. These platforms have put in place inadequate measures which leave consumers at risk."
What do they online marketplaces say?
Amazon said it had removed two products in December, including one in relation to safety concerns, and it had removed similar items and introduced measures to prevent new products going on sale.
It added: "If customers have concerns about an item they've purchased, we encourage them to contact us directly so we can investigate and take appropriate action."
EBay said: 'We had already removed three of the five listings that Which? flagged to us. One of the two remaining listings is selling a different product and the other one has already ended.
"We use block filter algorithms aimed at preventing unsafe products from being listed. On the rare occasion that an unsafe product does make it onto site, we swiftly remove it and provide product safety education to the sellers to prevent relisting."
Wish said: "The listing highlighted by Which? has been removed from our European platform, and we are monitoring for any identical or similar listings. We will take further action as appropriate."
More on this
Look After My Bills Newsletter
Get the best money-saving tips, tricks and deals sent straight to your inbox every week. Make sense of your money in partnership with The Money Edit.
Ruth Emery is contributing editor at The Money Edit. Ruth is passionate about helping people feel more confident about their finances. She was previously editor of Times Money Mentor, and prior to that was deputy Money editor at The Sunday Times. A multi-award winning journalist, Ruth started her career on a pensions magazine at the FT Group, and has also worked at Money Observer and Money Advice Service. Outside of work, she is a mum to two young children, a magistrate and an NHS volunteer.