Currys scam warning: fake Currys Smeg kettle giveaway
Currys scam emails promising the chance to win a Smeg kettle by taking part in a 'loyalty program' are nothing to do with either brand. Here's what they look like.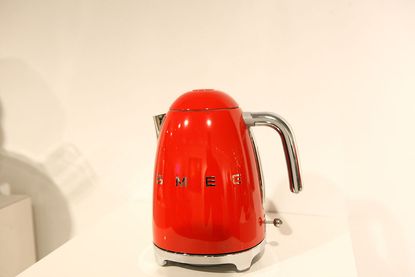 (Image credit: Bennett Raglin)
Look After My Bills Newsletter
Get the best money-saving tips, tricks and deals sent straight to your inbox every week. Make sense of your money in partnership with The Money Edit.
Thank you for signing up to The Money Edit. You will receive a verification email shortly.
There was a problem. Please refresh the page and try again.
Currys smeg kettle giveaway scam emails encouraging you to join a 'loyalty program' are circulating again.
Fraudsters have targeted Currys, impersonating its branding with slick images and offering the chance to 'answer and win' a 'brand new' Smeg kettle.
But these emails have nothing to do with Currys, or Smeg.
Hi @IrishBudgeting. We have been made aware of a new phishing email impersonating Currys. The email offers you the chance to win a free electric Smeg kettle by clicking on a malicious link. - Nqobani.January 23, 2023
See more
Currys scam Smeg kettle giveaway emails
The true purpose of these emails is to send potential victims to dangerous third-party sites that could attempt to extract sensitive personal data, such as your name, address, contact details and even banking information.
Some may be taken in by the slick branding and chance to win a product in return for filling out a survey, but these are tactics widely seen in phishing emails.
If you've received an email promising something for nothing out of the blue, then it's always worth taking the time to look back over the email. Check the email it's been sent from, and investigate any URL it's attempting to send you to before you click on it (you can do this by hovering over a link - your browser will show you the URL in the lower left corner).
You should also assess the layout of the text and the punctuation/grammar. If something doesn't feel right, do not interact with the email.
If you're unsure an email is genuine, reach out to Currys via its official channels (away from the suspect email).
I've been taken in by a fake 'loyalty program' email: what should I do?
If you think you may have entered sensitive information, such as your bank/card details, into a third-party site you were taken to by a suspicious 'Currys' email, you must let your bank know what's happened via its official channels ASAP.
Your bank should work with you to cancel your card, block any pending payments (if required) and refund the money you've lost.
How to report a scam and get your money back
You should also then keep an eye out for any follow-up scams that could occur if you've given contact details, such as your email address, postal address or phone number, away to fraudsters. Treat any contact you receive out of the blue with caution.
How can I report Currys scam emails?
Fake emails and phishing websites can be reported to the National Cyber Security Centre at report@phishing.gov.uk - action can then be taken to remove these websites.
If you're going to warn friends and family about a scam, send them a screenshot instead of forwarding suspicious emails directly.
Currys confirmed that it is not sending these emails. It recommends that customers apply extreme vigilance and get in touch with its customer services teams to check any email authenticity with a member of the Currys team directly.
Look After My Bills Newsletter
Get the best money-saving tips, tricks and deals sent straight to your inbox every week. Make sense of your money in partnership with The Money Edit.
George is a freelance consumer journalist with a keen interest in scams and housing. He worked for the Consumers' Association for seven years where he was the editor of Which? Conversation - his work on exposing new scams saw him often quoted in the national press.
George has been at the forefront of the cladding and building safety crisis, campaigning for the rights of leaseholders and giving a voice to those caught up in the scandal - as a result he was nominated for Property Journalist of the Year in 2021 at the Property Press Awards.