Revealed: three current scams and how to avoid them
Common scams happening right now and everything you need to know to spot them and stay safe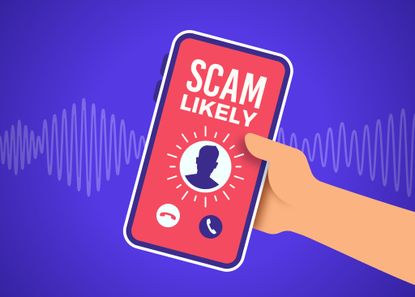 (Image credit: getty images)
HSBC UK has revealed the three most common types of scams it's seen reported by its customers. We explain what they look like and how you can avoid them.
Scammers are constantly looking for new ways to con us and steal our money, from fraudulent investments and online shopping cons to masquerading as your bank or even pretending to be from Apple.
Scammers stole more than £1.3bn from people in the UK in 2021 amid surge in online fraud, new data shows according to the research from the banking industry organisation UK Finance.
Here, we look at some of the most common scams right now and tell you how to avoid them.
COMMON ONLINE SHOPPING SCAMS
The most common scams of all is a purchase scam, HSBC UK has found. When you are tricked into paying for non-existent or dodgy goods and services in advance.
Alarmingly, there's been a spate of scammers falsely advertised vehicles online more and more, which is costing victims thousands of pounds.
30 year-old Craig from Newcastle, fell victim to a purchasing scam. He was looking for a cheap run-around after his old car failed its MOT.
He found a Renault Clio on Gumtree which seemed to be in good condition, but then Craig learned the car's history after buying it.
It turned out that the car had been written off as a Category C insurance write-off. Craig only found out about this when he hired a hire purchase investigation check which confirmed the vehicle was a write off. He lost £1,652 in total.
HOW TO AVOID A PURCHASE SCAM WITH VEHICLES
Always try to see the car in person rather than trusting an online source such as Gumtree or eBay
The car history checker online on the government website is always useful to find out if the vehicle has ever been written off and its insurance history
Consider how old the car is and the mileage. It should give you an idea of how much that car should cost, if it's suspiciously cheap or over priced, move on
COMMON IMPERSONATION SCAMS
This type of scam is easy to fall victim to, when someone impersonates an organisation such as a retailer or bank.
Many of us are familiar with impersonation scams. Fraudsters pretending to be Royal Mail or the Post Office over text messages are common, and HSBC UK is now seeing a rise in calls from people claiming to be Amazon.
They have also seen an increase in fraudsters impersonating the HSBC UK fraud team, where they may tell you your account is at risk.
When the scammer tells you to move money into a 'safe account', this is a red flag.
David Callington, HSBC UK's head of fraud, said: "HSBC UK will never ask you to move money to a safe account or disclose your one time passcode. Likewise we would never ask you to delete your mobile banking app. If someone asks you to do any of these things, hang up right away, it's a scam."
HOW TO AVOID AN IMPERSONATION SCAM
If you're contacted unexpectedly, it's important you're sure it's legitimate. Contact the firm claiming to have contacted you to verify it's real claims to have sent it to check.
Use the official contact details listed on the company's website or documents you might have been sent, if it's your bank then you can usually find its official number on the back of your credit or debit card.
WHAT IS AN INVESTMENT SCAM?
With an average loss per case of £14,173, investment scammers are amongst the most devastating.
The Money Edit's editor, Kalpana Fitzpatrick, says: "Investment scams can be difficult to spot and can appear legitimate, but often they are run from what's known as boiler rooms, trying to get people to part with large sums of money to 'invest' on something that does not exist or is worthless.
"The key thing to remember is to be wary of anyone that is promising you a big payout, and alarm bells should also ring if you are put into a situation where you are pressured into making an on-the-spot decision", she adds
These scams incur the biggest losses according to Callington: "An investment scam usually looks like this: you receive a random call or message regarding an investment that 'you can't miss'.
The scammer then keeps contact with you over a period of months, even years to get as much money out of you as they can.
"With the cost of living sky-high, it's no surprise people are lured in by schemes promising low risk for high returns. The general rule is that if an offer seems too good to be true, it probably is," Callington added.
HOW TO AVOID AN INVESTMENT SCAM
As The Money Edit's Fitzpatrick advises: "Before you part with any cash, always check the FCA's (Financial Conduct Authority) warning list for known scams to see what investments are regulated and to check for known scams."
Reject random calls or unexpected offers. If it sounds too good to be true, it probably is.
HELPFUL TOOLS TO HELP YOU STAY SAFE
As scams are rising, so are online tools to help you. At The Money Edit we recommend using Check a Website to check if a site is genuine.
HSBC's fraud and cyber awareness app for iOS and Android gives information on how to spot a scam and report it, as well as warnings regarding new ones.
It is open to everyone, even if you're not a HSBC customer.
Vaishali graduated in journalism from Leeds University. She has gained experience writing local stories around Leeds and Leicester, which includes writing for a university publication and Leicester Mercury.
She has also done some marketing and copywriting for businesses.
When she is not writing about personal finance, Vaishali likes to travel and she's a foodie.