Crypto scams to look out for
As cryptocurrencies continue to rise in value, so have the scams relating to them - here's what to look out for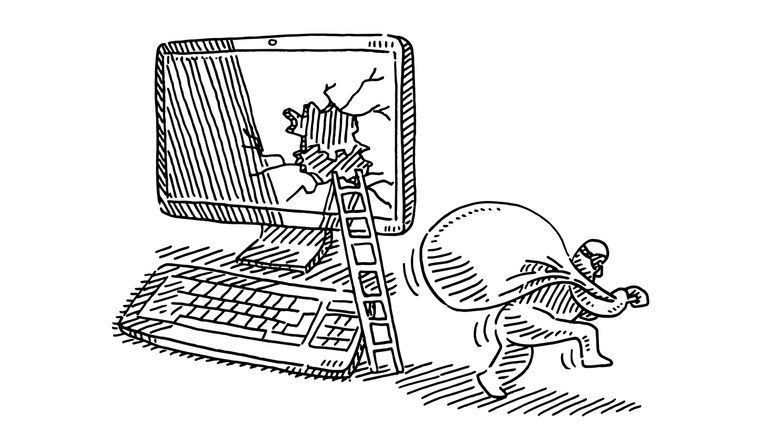 (Image credit: getty images)
By Katie Binns
The UK's reporting service Action Fraud says scams involving cryptocurrency investment increased 57% in 2020 with 5,581 reports made and losses of £113m, up from almost £76 million in 2019.
Some good news is regulators have started to crack down on bitcoin and exchanges in an effort to monitor and stem the flow of such scams. The FCA has banned cryptocurrency exchange Binance, from carrying out any regulated activity in the UK, over concerns about its money laundering controls.
The banks are continually monitoring the risks too. Starling Bank, Monzo and Barclays have banned customers from buying cryptocurrencies amid fears of high fraud rates on the platforms where they are sold such as Binance. TSB plans to do the same. NatWest has also issued a warning to customers to beware of cryptocurrency scams, saying it has stopped millions of pounds from being sent to criminals.
Cryptocurrencies are volatile and fluctuate in price dramatically within days. This makes it easier for scammers to trick people into investing. So too does the fact that digital currencies are determined by software that few of us truly understand.
We explain the crypto scams to look out for.
1. Offers to invest in a new cryptocurrency that doesn't actually exist
When a cryptocurrency is offered before it's launched to the market, it's called an ICO (similar to a new stock's IPO). Sometimes these new coins are fabricated and an investor puts their cash into a cryptocurrency that does not exist.
OneCoin, an infamous crypto fraud, convinced people between 2015 and 2017 to invest in what turned out to be a Ponzi scheme. PlusToken, which presented itself as a South Korean crypto exchange and wallet provider and attracted two million investors between May 2018 and June 2019 also turned out to be a Ponzi scheme. Michael Burry, an American investor who shot to fame when he bet against the mortgage securities before the 2008 financial crisis says: "An estimated 10,000 new coins have been minted this year - who can say how many will turn out to be shams?"
It's imperative to research any cryptocurrency before you invest. Check who the founders are and read the project's white paper. Is it only available to buy on a single platform or a closed ecosystem of platforms? Are you only able to buy it through encouraging others to buy? Then it's at risk of being a Ponzi coin. Not every coin has to be available on every exchange but good ones should be available on multiple, reputable platforms. If it looks too good to be true, it probably is. If you are a beginner investor it is wiser to stick to established coins such as Bitcoin and Ethereum.
2. Crypto pump and dump scams
This kind of scam is nothing new, though normally focused on the equity markets. A small group of investors may pump a lot of money into a specific crypto - to falsely inflate the price and create the illusion of demand - and then trick others to also invest. The original investors go on to sell their shares for a notable profit before the price falls again.
The most high-profile case of this kind involved the deceased tech entrepreneur John McAfee. Between 2017 and 2018, McAfee promoted certain coins via his Twitter account after he and others had already purchased large quantities that they went on to sell once the price pumped. It involved Dogecoin and ReddCoin.
Again, do your research and look out for coins that have increased a lot in value without any concrete reason why. And avoid FOMO!
3. Cryptojacking
Cryptojacking is when the processing power of a computer is used to mine cryptocurrency without the permission of the machine's owner. A program is loaded onto the user's computer, usually through the browser when they visit a site with a video or some other interactive element. The program then begins to solve computational problems that generate rewards in the form of cryptocurrency - this process is known as mining. The scammer reaps the rewards without any compensation for the computer user.
This happened in 2018 when thousands of government websites, including those of the NHS and several English councils, were infected by malware.
Look out for your computer slowing down - mining uses electricity at an increased rate and often prevents the computer from operating normally.
4. A crypto wallet that can be accessed
Scammers have attempted to steal crypto wallets from investors by sending them fake hardware and a letter claiming the investor's existing device isn't secure. Ledger, the wallet tech firm that provides security for crypto assets, suffered a data breach in 2020 that affected one million email addresses and almost 10,000 pieces of personal information. This information has since been used to try to steal crypto wallets from investors.
The scam involved a modified Nano X (a Ledger product that allows you to store the digital keys used to secure a crypto wallet) being sent in original packaging with a letter claiming to be from Ledger's chief executive. The letter claimed the intended victim's personal information was affected by the data breach and that Ledger intended to switch to the new device as a result.
Again, do your due diligence. Ledger provides a guide that includes pictures to check the integrity of its hardware - it's worth following this guide for every Nano X, even when you have personally ordered it. And be aware nobody needs to know your private keys - no reputable company will ask you for it.
5. The celebrity bitcoin scam
Some scams involve adverts with a fake celebrity endorsement on a website promoting high returns from cryptocurrency. The websites look legitimate as they are convincingly designed to look like pages from the BBC or Mirror. Celebrities used on these fake websites include highly-regarded or much-loved faces such as Deborah Meaden and Peter Jones from Dragon's Den, Ant McPartlin, Simon Cowell and Holly Willoughby.
The scam slowly reveals itself when you notice a story of one of the celebrities and clicking on it takes you to a third-party page which appears to be a legitimate website for investors. It describes how the celebrity was impressed with a bitcoin investment scheme on an episode of a show. At the bottom of the page is a form where you can express interest by submitting your name, email and phone number.
A short time later a so-called investment manager calls you and encourages you to buy £250 worth of bitcoin. From there you receive a link and login details to a so-called trading platform where you can see your bitcoin being held and appearing to increase. The investment manager calls frequently and encourages you to buy more, releasing small amounts - or so-called profits - to your bank account to lull you into a sense of security to carry on investing. Months down the line when you are keen to withdraw all your money, the manager instructs you to pay their commission into their bank account and await a call about releasing your funds - a call that never happens.
You need to be sceptical of grand claims of high returns and seek independent financial advice.
6. Social media and dating apps
Scammers exploit people looking to make meaningful connections. There are cases of users of dating apps being convinced to sign up to fake crypto investments and hand over thousands of pounds.
Such scammers will win your trust by telling a story about themselves to make them seem reliable. They will often ask for your contact information straightaway to continue the conversation off the dating app, as they know they could get banned quickly. Never send any money and use the dating app's messaging system until you decide to meet in person.