Cost of living payments scam warning - how to spot it
As the cost of living payments are being rolled out, DWP has issued a cost of living payments scam warning. Here's everything you need to know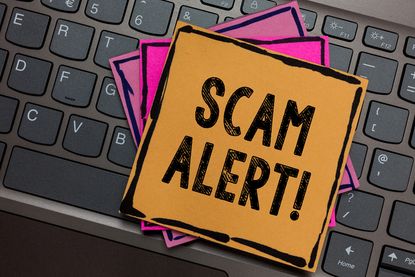 (Image credit: Getty images)
Millions of people across the UK are set to receive their cost of living payments, but the Department for Work and Pensions (DWP) is worried about scammers taking advantage.
With energy bill discount scams and Whatsapp scams already circulating, the cost of living payments scam is the latest scam to be aware of.
Here, we reveal how to spot cost-of-living payment scams and how to protect yourself from them.
The latest cost of living payment scams
The Department for Work and Pensions (DWP) took to Twitter to warn millions of Brits to watch out for scammers targeting those who receive up to £1,350 in cost-of-living payments.
Watch out for scammers targeting people about #CostOfLiving PaymentsIf you're eligible- You do not need to apply for the payment- You do not need to call us- Payment to you is automatic- We will never ask for personal details by SMS or emailVisit https://t.co/CuNagQH0cG pic.twitter.com/j3YHqQhSUrJanuary 9, 2023
See more
Action Fraud (opens in new tab) gives an example of a cost of living payment scam. You might receive a text message or email that tells you to apply for the payment by registering via a link they have provided.
If you click the link, it will look like you're going to a legitimate website, but they are designed to steal sensitive information like personal and financial.
In DWP's tweet, they tell you how to identify if you ever receive the scam.
You don't need to apply for the payment
You don't need to call DWP
DWP will never contact you via SMS or email to ask for your personal details
You will receive the payment automatically.
Other scams to be aware of
Other common scams you need to be aware of include:
Energy bill discount scam - The scam that is circulating, asking people to apply for the £400 energy rebate and the link given takes you to a fake Ofgem website.
The gov.uk email scam - This one asks people to open up a 'letter' sent via email, which opens up a link and tells you to enter your vehicle registration number.
It's worth checking all of the other latest scams to be aware of, how to protect yourself and what to do if you fall victim to one.
How to spot a scam
Citizens Advice offers some useful tips on signs to spot which are big giveaways that it's a scam.
You're being pressured to transfer money quickly
If the offer seems extravagant or too good to be true, it might be a scam
Check for typos or grammatical errors
You are asked to make a payment in an odd way, for example by using a transfer service
What should I do if I have been scammed?
The first step, if you have given sensitive information or made a payment, you should contact your bank provider straight away.
You can report the scam to Action Fraud on 0300 123 2040 or if you received a text, you can report it to your mobile provider by forwarding the text to 7726.
Citizens Advice also take scam reports, so if you've received a post, telephone or doorstep scam you can report this on their website or call 0808 223 1133.
Citizens Advice chief executive Dame Clare Moriarty said: "We know scammers prey on our worries and fears and the cost of living crisis is no exception.
"By reporting scams and sharing our own experiences, we can work together to protect ourselves and each other."
More on scams
Vaishali graduated in journalism from Leeds University. She has gained experience writing local stories around Leeds and Leicester, which includes writing for a university publication and Leicester Mercury.
She has also done some marketing and copywriting for businesses.
When she is not writing about personal finance, Vaishali likes to travel and she's a foodie.