Are you in line for £1,500 of cost of living payments? Everything you need to know
Working out the cost of living payment can be tricky as you may be due one or more payments, depending on your financial situation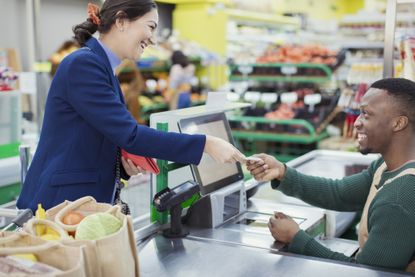 (Image credit: Getty images)
Millions of cash strapped households are in line for payments of up to £1,500 as part of the government's £15 billion cost of living package - but who gets what and when? Here's what you need to know.
Working out exactly how much you will get from the Chancellor's cost of living support package – announced in May - can be tricky as you might be due one or more payments depending on your financial situation.
These cost of living payments are intended to help households struggling with higher food (opens in new tab) and energy bills (opens in new tab) but could cause problems for families trying to balance their budgets because there's no single fixed date for payments to be made according to Sarah Coles, personal finance analyst at Hargreaves Lansdown (opens in new tab).
"Any help with runaway costs is enormously welcome at a time like this, but for the cost-of-living payments to be really useful you need to know how many of these payments you qualify for, what you'll be getting, and when",
"You also need confirmation of how you'll be paid, and anything you need to do to be certain to get the money. Right now, an awful lot of us are in the dark on several fronts".
Some households for example have already received the first £326 instalment of their £650 cost of living payment – yet others could be forced to wait until the end of July before they see the money in their account. And more recent benefit claimants who submitted applications after 25 May could miss out.
Here's what you need to know about whether you're due any of the cost of living payments and when you'll get your money.
What are the cost of living payments and who is eligible?
The Chancellor announced a package of 'cost of living' payments back in May intended to provide a financial lifeline to many households.
These payments included extra financial help for those on low incomes, pensioners and disabled people, as well as a flat one off energy bill rebate for all households.
The five cost of living payments:
A £650 cost of living payment, split into two payments for around 8 million low income households who claim means tested benefits or tax credits including Universal Credit and Pension Credit.
Around 8 million Pensioner households stand to get an extra £300 payment. This will be paid to those who get the Winter Fuel Allowance and made as an additional one off payment.
£150 Disability payment – this is being made to around six million people who claim certain disability benefits including Disability Living Allowance and Attendance Allowance.
Every household that pays for their energy will be due a £400 energy bill discount from October. This will be paid regardless of your income.
The Chancellor had also previously announced a £150 council tax rebate for households living in properties with a council tax banding of A – D. This will also be paid regardless of your household income as eligibility depends on your council tax band.
How much will I get and when will I get it?
How much you will get depends on which payment, or payments you are due.
The cost of living payment is £650 and is being split into two payments. If you were claiming one or more of these benefits or tax credits on, or before 25 May this year – or were in the process of making a claim – that turned out to be successful - you should get the first payment. Those who are eligible will get a first payment of £326 during July – followed by a second payment in the Autumn – however the Government has yet to announce a date for this.
Pensioners claiming the Winter Fuel Allowance should get the extra £300 in November or December however once again there is no fixed date. There is no need to apply for this as payment will be made automatically to your bank account.
The disability payment is worth a flat £150 and will be paid to those eligible automatically from September. This should be made directly their bank account – in the same way they get their benefits paid.
The Council Tax rebate is a fixed £150 that will be paid directly to your bank account or if you don't pay by direct debit – your local council will be in touch to arrange another payment method.
Under the £400 energy bill rebate scheme – around 28 million households across the UK will see their electricity bill reduced by £400 from October. And unlike the original £200 version that the Chancellor announced, you don't have to repay the £400 payment - so it's free cash
Many households who are due to receive a £150 council tax rebate have already had the money in their bank account – however some councils are processing payments faster than others and the Government guidelines say payments should be made between April and September.
But be on the look out for scammers, there have been a spate of fraudsters contacting households posing as local councils to get bank details.
Sue Hayward is a personal finance and consumer journalist, broadcaster and author who regularly chats on TV and Radio on ways to get more power for your pound. Sue's written for a wide range of publications including the Guardian, i Paper, Good Housekeeping, Lovemoney and My Weekly. Cats, cheese and travel are Sue's passions away from her desk!