What to do if you haven't received the first instalment of the cost of living payment
The first instalment of the £650 cost of living payment should have been made by 31 July -here's what to do if you if you believe you were eligible and did not get the payment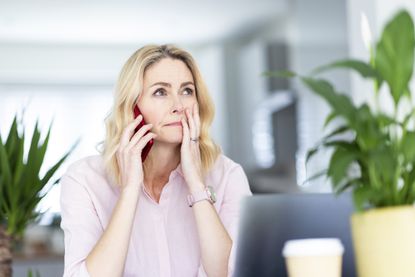 (Image credit: getty images)
Look After My Bills Newsletter
Get the best money-saving tips, tricks and deals sent straight to your inbox every week. Make sense of your money in partnership with The Money Edit.
Thank you for signing up to The Money Edit. You will receive a verification email shortly.
There was a problem. Please refresh the page and try again.
More than 7.2 million cost of living support payments were made to eligible households in July, who should have received the payment of £326 directly in their bank account by 31 July 2022. The second payment of £324 will be paid in the autumn (a date for which is yet to be confirmed).
Although the government said there are some complex cases where there may be a delay in making the payment, the majority of those who are eligible should have had the payment by now.
Here's what you need to know if you did not get the cost of living payment.
Check your bank statement
Payments are made automatically into the same account your benefits are paid, so check your account for payments with the reference as 'DWP Cost of Living' or 'DWP COL'.
The payment will be made separately from your benefits payment.
If you've closed your account or switched to a different bank, the Department for Work and Pensions (DWP) won't be able to pay you until you have provided your new account details, so let them know as soon as possible if this is the case.
Check your eligibility
If the money isn't there, double check you're eligible.
To get the first payment, you must have been entitled to a payment of at least 1p from either Universal Credit or Income-based JSA, income-related ESA, Income Support or Pension Credit during the assessment period that ended between 26 April and 25 May 2022.
You won't get the payment if you receive New Style Employment and Support Allowance, Contributory Employment and Support Allowance, or New Style Jobseeker's Allowance, unless you get Universal Credit.
DWP and HMRC are using a computer program to identify those eligible to receive a cost of living payment. It says: "If you are not content with this you can contact the office that pays your benefit or tax credits to discuss it."
Is your claim a 'complex' case?
The DWP says there will be some cases where the initial payment might not arrive by the end of July.
These include claimants whose cases are deemed 'complex' or who won backdated entitlement on appeal. The DWP says these people will get the cash "as soon as possible".
Do you make a joint benefits claim?
If you have a joint benefits claim with your partner, you will only get one support payment for both of you.
The first payment of £326 will be paid into the same account your joint benefits are paid into.
Are you claiming Tax Credits?
If you receive Working Tax Credit or Child Tax Credit, but not other benefits, you'll be eligible for the support payment – but you won't get your first payment until "autumn" this year (and the second payment in winter). The exact dates have not been announced yet.
These payments are administered by HMRC rather than the DWP – that's why the dates are different.
Did you earn too much?
If you normally receive Universal Credit, you might not get the cost of living support payment if you had a 'nil award' of Universal Credit in the qualifying assessment period.
This might be because you earned too much money from your job or if two paydays fell within the assessment period.
This might not seem fair, but it's the DWP rules and there's nothing you can do.
Is your money due yet?
It is just the first £326 payment due in July.
If you are also eligible for the disability cost of living payment (£150), this will be paid from September.
What should you do if your money hasn't arrived?
The DWP estimates that more than 99% of claimants due to get their money in July will receive it by the end of the month.
However, before the roll-out begun, DWP minister David Rutley admitted that some payments might not arrive before the end of the month.
He said that while the DWP "currently expect the majority of payments to be made by the end of July, there may be potential delays for a small minority of cases due to their unique characteristics."
The DWP says complex applications and those processed after the qualifying period or on appeal may be paid in early August.
If this applies to you, and the money still isn't there in the first week in August, contact the DWP office that normally pays your benefits. The Universal Credit helpline is 0800 328 5644.
How to get financial help?
If you're struggling for cash, you can get advice about budgeting or debts from StepChange or Citizens Advice.
Lenders are required to help you if you're struggling to repay debts.
If you're not claiming benefits but earn a low income, you should use an independent benefits calculator, such as Turn2Us, to find out if you're entitled to any benefits.
Remember, you don't need to apply for the cost of living support payment – it will arrive automatically. Don't respond to emails or texts telling you to apply for the cash – these are likely to be scams.
Look After My Bills Newsletter
Get the best money-saving tips, tricks and deals sent straight to your inbox every week. Make sense of your money in partnership with The Money Edit.
Emma Lunn is an award-winning freelance financial journalist who specialises in money and consumer affairs. She has more than 17 years' experience writing for national newspapers, trade and consumer magazines, and specialist websites. She has a particular interest in writing about property and mortgages, and enjoys explaining complex issues in an easy-to-understand way.