Millions to receive up to £1,500 with new government cost of living help package
A new cost of living help package announced this week will see vulnerable households get extra financial help worth up to £1,500. Here's everything you need to know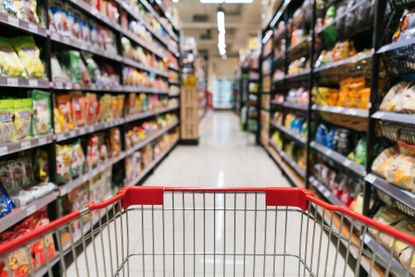 (Image credit: getty images)
A new £15 billion cost of living package unveiled this week will see those on low income and pensions, as well as those with disabilities, get up to £1,500 to help with soaring costs, such as energy prices for example. In addition, EVERY household will get £400 off their energy bill this autumn. Here's everything you need to know about this week's cost of living announcement.
Every household in Britain will receive a £400 discount off their energy bill while those on low incomes will get a one-off £650 payment, pensioners to get £300, and those with disabilities will get £150, as part of a cost of living support package announced by the chancellor today.
The energy bill discount will be paid from October and does not need to be paid back - we explain this in our article on the £400 energy grant.
Sunak also unveiled one-off payments for millions of pensioners and disabled people, extra cash for councils to distribute via the Household Support Fund, and confirmed that the triple-lock on the state pension would return next year.
According to the government, the new measures mean that almost 8 million vulnerable households will receive £1,500 in total this year to help with the cost of living.
We explain the financial help contained in Sunak's £15 billion support package, who is eligible, and when you'll receive it.
£650 payment for lowest-income households
The chancellor said he wanted to provide significant, targeted support to the most vulnerable households. He announced a £650 payment to more than 8 million low-income households on means-tested benefits such as Universal Credit, Tax Credits, Pension Credit and old-style benefits like Working Tax Credit and Child Tax Credit.
It will be paid directly to households across the UK in two tax-free instalments, in July and in the autumn. It will not count towards the benefit cap.
To be eligible for the first payment, claimants will need to be in receipt of one of the benefits, or have begun a claim which is later successful, as of 25 May 2022. The government will provide further guidance about the second instalment at a later date.
Sunak pointed out in his speech to parliament today that many pensioners who are eligible for Pension Credit do not claim it. According to figures from the Department for Work and Pensions, about 850,000 families could be missing out on Pension Credit.
Jon Greer, head of retirement policy at the wealth manager Quilter, said: "There are numerous reasons why pensioners don't claim Pension Credit including a lack of awareness, feeling like they would not qualify and simply feeling that they do not want to take up the benefit because of a negative attitude to asking for help or feeling like a burden to the state. "However, the message is clear: if you don't claim the credit, you won't get the help."
£300 payment for pensioners
More than 8 million pensioner households who receive the Winter Fuel Payment will receive an extra £300 this year to help them cover the rising cost of energy this winter.
It will be paid automatically on top of any other government support, such as Pension Credit or disability benefits, and is in addition to the £650 payment which those receiving Pension Credit are eligible for.
Pensioner households will get the one-off cost of living grant - which will likely be paid by direct debit - as a top-up to their annual Winter Fuel Payment in November/December. People will be eligible for the £300 payment if they are over state pension age between 19 and 25 September 2022.
Sunak said pensioners were disproportionately impacted by higher energy costs, as "they can't always increase their incomes through work, and because they spend more time at home, and are more vulnerable, they often need to keep the heating on for longer".
£150 disability payment
Sunak pledged to help another group of people who are most vulnerable to rising prices: disabled people. About 6 million people across the UK will receive a one-off tax-free payment of £150 in September. To be eligible, people must be in receipt of, or have begun an eventually successful claim for, one of these benefits: Disability Living Allowance, Personal Independence Payment, Attendance Allowance, Scottish Disability Benefits, Armed Forces Independence Payment, Constant Attendance Allowance or War Pension Mobility Supplement.
Many disabled people will be eligible for both the £150 payment and the £650 payment, which will also be paid automatically.
Like the £650 payment, the £150 payment will not count towards the benefit cap, and will not impact on existing benefit awards.
£500 million increase to Household Support Fund
The chancellor announced a £500 million increase to the Household Support Fund, which is distributed by local councils. The fund is designed to help the most vulnerable households who are struggling with the rising cost of food, fuel and energy - as well as those who "fall through the cracks" and don't qualify for government handouts.
The fund is also being extended from October until March 2023. The cash injection brings the total Household Support Fund to £1.5 billion.
The government said it will issue extra guidance to local authorities to ensure support is targeted towards those most in need of support, including those not eligible for the measures announced by the chancellor today.
£400 energy bill discount
Every household in England, Wales, Scotland and Northern Ireland will receive a £400 discount on their energy bill from October. This replaces the previous energy rebate, which was supposed to be repaid over five years.
State pension triple lock returns
The chancellor confirmed that the so-called triple lock on the state pension would return next year.
The triple lock guarantees that the state pension increases by earnings, inflation or 2.5% - whichever is higher. For the current tax year, the triple lock was downgraded to a "double lock" after Sunak stripped the earnings element out, saying that earnings figures had been "distorted" by the pandemic. Last month, the state pension increased by just 3.1% - at a time when inflation is running at almost three times that level.
Sunak previously said it was a temporary move, and today, after unveiling the £300 cost of living payment for pensioners, he added that the triple lock would return next year.
"The chancellor said if inflation remains high, then pensioners will receive a further boost [from the triple lock]," said Helen Morrissey, senior pensions and retirement analyst at the investment platform Hargreaves Lansdown.
However, she pointed out that pensioners would not see the increase until next April and "many pensioners will need to battle through a winter where their costs will likely soar".
Look After My Bills Newsletter
Get the best money-saving tips, tricks and deals sent straight to your inbox every week. Make sense of your money in partnership with The Money Edit.
Ruth Emery is contributing editor at The Money Edit. Ruth is passionate about helping people feel more confident about their finances. She was previously editor of Times Money Mentor, and prior to that was deputy Money editor at The Sunday Times. A multi-award winning journalist, Ruth started her career on a pensions magazine at the FT Group, and has also worked at Money Observer and Money Advice Service. Outside of work, she is a mum to two young children, a magistrate and an NHS volunteer.