Co-op Member Prices: Supermarket unveils discount scheme for loyal shoppers
New Co-op scheme means reduced prices for shoppers who join the co-operative. How much does it cost to join, and how does it compare to similar schemes run by Sainsbury's and Tesco?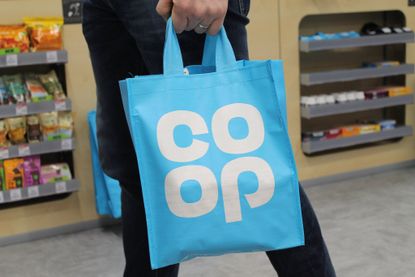 (Image credit: Co-op)
Co-op has become the latest supermarket to launch a scheme for its loyalty card members, offering lower prices on certain items.
Co-op Member Prices follows the launch last week of Nectar Prices by rival Sainsbury's. It also mirrors Clubcard Prices, a discount scheme run by supermarket giant Tesco, which has been going for several years.
A host of supermarkets offer some form of membership or loyalty scheme, which deliver benefits such as personalised offers and discounted prices.
Taking advantage of such programmes can be a smart way to reduce the cost of your food shopping, which is all the more important given the soaring rate of food price inflation.
We explain how much it costs to join the Co-op loyalty scheme, and how the discounts compare to those offered by its rivals.
How does the Co-op Member Prices scheme work?
The scheme went live today (19 April), with Co-op claiming it could save members up to £300 a year on their food shopping.
There are currently discounts on at least 17 products. Deals include £1.45 off the supermarket's range of Irresistable pizzas, and £1 off the "freezer filler" deal where shoppers can get five frozen items for £5. Members can also get Co-op's lunchtime meal deals for £3.50, rather than £4.
Deals will be rotated every three weeks, with future discounts set to include money off ready meals and wine.
Across the five main forms of discounts included in member prices, we calculated the average saving to be 18.9%.
Alongside the new Member Prices scheme, Co-op has said it is investing a further £15m in May to reduce the prices of a host of items in-store, covering things like fresh chicken breasts, bread and milk. These reductions will be as much as 33%, with an average price cut of 13%, and will be available to all shoppers.
How do I join Co-op?
Co-op is a little different from other supermarkets, in that ‒ as the name suggests ‒ it is a co-operative business.
That means members get a say in how the business is run, as well as the ability to benefit directly from the Co-op's performance.
When you buy certain items, such as own-brand products, 2p in every £1 spent goes into your digital wallet. You can then cash that money in and reduce the size of your shopping bill at a later date.
The same amount is also donated by Co-op to local causes and charities, while members benefit from personalised offers on top of the new Member Prices programme.
Membership does come at a price though, costing £1.
Lower prices for supermarket members
Co-op is not the first supermarket to go down this route, offering reduced prices to shoppers who have signed up to their membership or loyalty schemes.
Just last week for example Sainsbury's announced the launch of Nectar Prices. It is available to members of the Nectar loyalty scheme, entitling them to discounts on around 300 products initially.
For example, Nescafe Gold Blend instant coffee will cost £4 for members rather than £8.10, while Heinz baked beans will cost 95p instead of £1.40.
The Nectar Prices scheme is free to sign up for, and the discounted prices are obtained by scanning your membership card or app at the till. If you are shopping online, and your Sainsbury's account is linked up with your Nectar account, the discounts will be applied automatically.
It follows the release of Clubcard Prices by Tesco, which again delivers reduced prices to members of the Clubcard loyalty scheme on select products.
It currently offers lower prices on more than 300 items. Examples of the discounts include paying £4 for Cathedral City mature cheddar, rather than £5.40, and £1.35 for New York Bakery plain bagels, rather than £1.90.
Clubcard, like the Nectar loyalty scheme, is also free to join. The reduced prices are applied at the till when you scan your Clubcard or the Clubcard app.
Combatting food price inflation
A big driver for supermarkets like Co-op in launching these membership schemes is the incredible rate at which the cost of our food is increasing.
According to the latest inflation figures from the Office for National Statistics, food prices grew at a rate of 19.2% in the year to March 2023. Not only is that up from February's rate of 18.2%, it's the highest rate of food price inflation seen since 1977.
Those rising prices would be painful enough if other regular household costs were static, however given overall inflation remains above 10%, it means household finances are under ever greater strain.
Delivering some level of discount to loyal shoppers is one way for supermarkets to try to retain the custom of those who might otherwise look to switch to a cheaper supermarket.
John Fitzsimons has been writing about finance since 2007, and is a former editor of Mortgage Solutions and loveMONEY. Since going freelance in 2016 he has written for publications including The Sunday Times, The Mirror, The Sun, The Daily Mail and Forbes, and is committed to helping readers make more informed decisions about their money.