Clampdown on sharing Netflix passwords to begin soon
If you're sharing your Netflix password, the streaming giant has announced plans to clamp down on it. It could even be classed as a criminal offence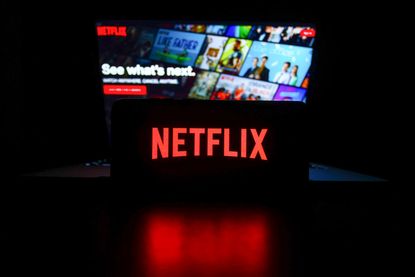 (Image credit: Getty Images)
Netflix has said it will crack down on password sharing with an aim to convert 'borrowers' into paid account holders.
And now, the UK's Intellectual Property Office (IPO) says sharing Netflix passwords breaks a copyright law and therefore makes it against the law, the BBC reveals (opens in new tab).
Sharing Netflix passwords is not surprising, especially when pockets are strapped and inflation is high at 10.5%.
Up until now, it's been a great money-saving hack to share the subscription cost and the same goes with cutting the cost of your other streaming subscriptions for example, Apple TV Plus, Amazon Prime or Disney Plus subscription.
But, analysts Kantar (opens in new tab) found paid-for streaming subscriptions like Netflix fell in numbers in the UK by two million, from 30.5 million users to 28.5 million. And with a further clamp down on passwords, it's only going to add to these cancelled subscription numbers.
One user has taken to Twitter to express his frustrations:
Anyone else planning on boycotting @netflix and cancelling their subscription, the moment they send me a notification asking for more money for sharing my password with my family.January 29, 2023
See more
Why sharing Netflix passwords will get tougher
Netflix has confirmed in its earning report (opens in new tab) it is rolling out a password-sharing crackdown near the end of March 2023 and by April, it plans to ensure anyone using its streaming service is paying their way.
It believes more than 100 million households are consuming Netflix through an account they don't directly pay for.
Netflix offers four different packages (opens in new tab). The basic with adverts package (£4.99), the basic package (£6.99) only allows one user, the standard package allows 2 users (£10.99) and the premium package allows 4 users (£15.99).
The catch is, even though the more pricey packages allow between two to four users on one account, Netflix terms state this must be users in a single household.
So, regardless of package, you shouldn't be sharing Netflix passwords outside of your household.
With the rising cost of living over one million subscriptions were ditched last year and to make matters worse, Netflix isn't a fan of offering many discounts or perks.
One of the few ways you can get Netflix at a discounted rate is if you have a Sky broadband deal, as most of its packages include Netflix in the price, saving you around £130 per year.
Cheaper streaming options
If this crackdown isn't good news for you and you find the subscription is too expensive, there are other streamers offering discounts.
You can get Apple TV Plus deals at a discounted price or even a few months free if you buy an Apple TV if you're an EE customer, a Three or Tesco Mobile customer or a Barclaycard customer. Get the full list of Apple TV Plus deals and how to claim them.
If you're an O2 customer, you can cut £24 off your Amazon Prime bill.
And if you're a fan of Disney, streamer Disney Plus also has deals with third-party companies, for example, if you own a Samsung Galaxy, if you have a Tesco Clubcard or if you're an O2 customer. Get a full list of Disney Plus deals where you could save around £100 on the best offers.
If your broadband or phone contract is coming to an end and you haggle the right way, you could bag yourself a few months free on a TV subscription with your new deal.
Related articles
Vaishali graduated in journalism from Leeds University. She has gained experience writing local stories around Leeds and Leicester, which includes writing for a university publication and Leicester Mercury.
She has also done some marketing and copywriting for businesses.
When she is not writing about personal finance, Vaishali likes to travel and she's a foodie.