How to find the cheapest lateral flow tests
Now that Covid tests are no longer universally-free, here's where you can find the cheapest lateral flow tests if you need to buy them yourself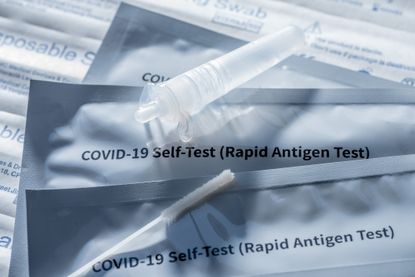 (Image credit: Getty images)
Look After My Bills Newsletter
Get the best money-saving tips, tricks and deals sent straight to your inbox every week. Make sense of your money in partnership with The Money Edit.
Thank you for signing up to The Money Edit. You will receive a verification email shortly.
There was a problem. Please refresh the page and try again.
Free Covid testing for the general public came to an end on 31 March with lateral flow tests no longer universally free.
Scrapping free testing from 1 April is part of the government's 'Living with Covid' plan. Under the plan most people will have to pay for lateral flow tests and there is no longer an obligation to stay at home if you have, or think you have, Covid-19.
SEE MORE: How to save money on prescriptions
Going forward, Brits who test positive are simply advised to 'try to' stay at home and avoid contact with other people until they feel better.
The end of free Covid testing
Free universal testing came at a significant cost to the taxpayer, with the testing, tracing and isolation budget costing more than £15.7bn in 2021 to 2022.
The government says the success of the vaccination programme and access to antivirals, alongside natural immunity, means the UK population now has much stronger protection against Covid-19 than at any other point in the pandemic.
Free testing could be reinstated if a dangerous new variant arises, so the government is storing lateral flow tests as a pre-emptive measure.
Whatever your opinion on the end of free testing when case numbers are still rising, there will be no more free lateral flow tests for everyone.
Who can still get lateral flow tests for free?
Sub-sections of the population will still be able to get free Covid tests, with the rules differing depending on whether you are asymptomatic or symptomatic.
If you are symptomatic
If you have Covid symptoms, you'll be able to get a free PCR test if you're in hospital and a test is required for your care and to provide access to treatments.
You'll also be eligible for free testing if are "at higher risk of getting seriously ill from Covid-19" and you develop Covid symptoms. You can also get free tests if you have a health condition which means you're eligible for new Covid treatments.
Some people living or working in some high-risk settings will also get free lateral flow tests if they have Covid symptoms.
This group includes staff in adult social care services, NHS workers and those working and living in hospices and prisons where infection needs to be identified quickly to minimise outbreaks. People will also be tested before being discharged from hospital into care homes and hospices.
If you are asymptomatic
Asymptomatic lateral flow testing will continue from April in some other high-risk settings. People who can get free tests include:
patient-facing NHS staff
workers in hospices and adult social care services
prison staff
people working in domestic abuse refuges and homelessness settings.
Where can I buy lateral flow tests?
Lateral flow tests are being sold in high street chemists and supermarket pharmacies.
Everyone who doesn't fall into one of the above categories will need to pay for Covid tests if they want to know if they have the virus.
Although there's no longer an obligation to self-isolate if you test positive, most people will not want to spread the virus.
Others will want to do a quick test before visiting elderly or vulnerable family and friends to avoid potentially passing Covid on to them.
Where to find the cheapest lateral flow tests
When it comes to the biggest nationwide pharmacies and supermarkets, Morrisons Pharmacy offers the cheapest price for an individual lateral flow test.
Where it's cheaper to buy packs of tests, we've included that in the table below.
We have focused on nationwide retailers in this article, but it might also be worth checking your local independent pharmacy to see if you can get a cheaper test there.
Swipe to scroll horizontally
| Chemist | One test | Two tests | Four tests | Five tests | 25 tests |
| --- | --- | --- | --- | --- | --- |
| Boots | £2 | £3.95 | £7.90 | £9.80 | £49 |
| Lloyds Pharmacy | £1.89 | £3.75 | £7.49 | £9.29 | - |
| Superdrug | £1.99 | - | - | £9.79 | - |
| Tesco Pharmacy | £2 | - | - | - | - |
| Sainsbury Pharmacy | - | - | - | £9.50* | - |
| Morrisons Pharmacy | £1.75 | - | - | - | - |
*available later in April.
Buying packs of tests will save you just a penny or two per test. However, it may be worth buying a pack of tests if you have a family.
Asda Pharmacy said it will sell lateral flow tests at some point but that a price had not yet been confirmed. Sainsbury's will be selling packs of five lateral flow tests later in April.
Cheapest lateral flow tests online
If you fancy taking a punt with an online chemist, you'll find the prices vary quite a lot. Here's what we found:
The government has approved more than a thousand Covid test providers which all offer various forms of testing from self-administered lateral flow tests and supervised PCR tests, to Fit to Fly tests which are still required in some destinations.
The names and contact details of all government-approved providers can be found on the government's website.
Look After My Bills Newsletter
Get the best money-saving tips, tricks and deals sent straight to your inbox every week. Make sense of your money in partnership with The Money Edit.
Emma Lunn is an award-winning freelance financial journalist who specialises in money and consumer affairs. She has more than 17 years' experience writing for national newspapers, trade and consumer magazines, and specialist websites. She has a particular interest in writing about property and mortgages, and enjoys explaining complex issues in an easy-to-understand way.