How to get cheap hotel deals
A TV Travel expert shares the industry secrets he uses to save £100s on cheap hotel deals without compromising quality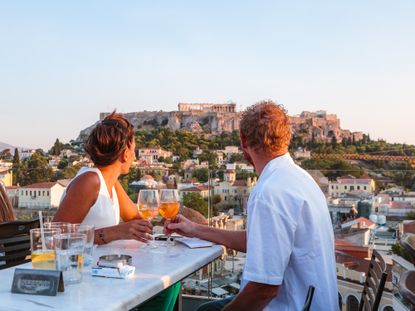 (Image credit: Getty images)
Are cheap hotel deals getting harder to come by? There are good reasons why the cost of a night in a hotel can be higher right now - the price of energy, loss of business due to the pandemic and increasing demand - to name a few.
As a Travel Expert I'm all about getting extra bang for my buck - let's face it, we'd all rather save costs to increase our souvenir-spending budget!
Here, I'm sharing with you my go-to tips for taking the horror out of hotel costs.
How to get cheap hotel deals
Price comparison sites are a great way to find the cheapest deal but it really pays off to search more than one. Major sites like Kayak, Tripadvisor and Trivago have access to different booking sites, so take time to check a few.
But now for the important extra step, armed with the cheapest deal I'll approach the hotel directly and ask if they can price match.
It's likely a hotel will bite your hand off to avoid paying commission to third-party sellers and booking direct can often ensure you get the best service and some added extras.
Join the hotel's loyalty club and they'll love you even more. I've been offered free breakfast, complimentary water (it's something!) and even an upgrade.
This trick really paid off for an upcoming trip to Lisbon. The hotel gladly matched my price and upgraded me to a junior suite instead of a standard double. I saved more than £150 and I'm looking forward to draping myself across a squishy sofa whilst enjoying upgraded views of the River Tagus.
Location, location, location - can save you money
I always carefully consider the location of a hotel. Staying close to the main attractions is convenient but usually comes with a higher price tag. Opt for accommodation a bit out of town with good transport connections.
Not only will you save but you'll often get a more authentic feel for a destination, experiencing it more like a resident - with cheaper bars and eateries frequented by locals rather than tourists. I recently stayed in Vrilissia, a beautiful area outside of Athens an easy 30 minute ride into the centre. I saved a huge chunk on hotel costs, made friends in a local taverna and ate food far cheaper and tastier than anything in the city.
Book a hotel and flights as a package
It's tempting to book flights and hotels separately but too often it can be more pricey. Once I've found a flight, I'll check how much it costs to add a hotel to the booking.
My last trip to Madrid, one of my favourite European cities, I saved a whopping £105 per person rendering the hotel virtually free when compared to booking separately. This approach also rewards you with greater financial protections – if your flight is cancelled you'll get a refund on accommodation too – extremely important during these turbulent times!
In summary
So if you want to stretch your spending and get the best bed for your budget, you may want to try what I call the 4 C's -
Compare (prices)
Communicate (directly with the hotel)
Commute (to the centre)
Consolidate (your travel and accommodation)
Happy Travelling!
Rob is a travel expert, commentator and presenter with over 18 year's experience in the travel Industry. Highly knowledgeable about various aspects of travel from consumer rights and industry analysis to destinations and deals, he's a regular in the media contributing to various publications including The Independent, CityAM and Express, numerous radio stations including LBC, national and local BBC channels and appears on TV shows such as BBC's Morning Live, Rip Off Britain and The Jeremy Vine Show on Channel 5.
His childhood dreams of discovery and adventure became a reality when he first took flight at the age of 15 - he's since visited over 70 countries spanning 6 continents and he's passionate about making travel affordable, accessible and sustainable for all.
When his feet are firmly on the ground, Rob is busy producing and presenting his own radio show and adding an extra splash of colour through his love of art