How to get cheap cinema tickets
10 money saving hacks for cheap cinema tickets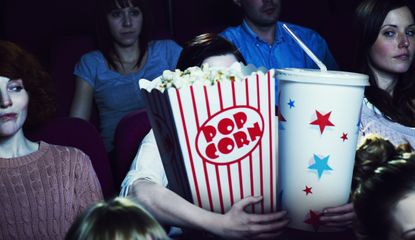 (Image credit: Getty images)
Going to the cinema might seem like a luxury but there's lots of ways to get your hands on some cheap cinema tickets.
Pop along to your local multiplex cinema and you can easily pay over £15 a ticket - especially for one of the big screen blockbusters.
That's before you shell out on overpriced popcorn and snacks, particularly amid the cost of living crisis, with households already struggling with rising energy, fuel, and food costs.
But there's lots of ways to save at the movies and enjoy the big screen experience. Here's ten ways to get cheap cinema tickets.
1. Swap cinemas for a cheaper one
Ticket prices can vary between cinemas even within the same chain so if you have a choice of two cinemas in different directions - it can be worth checking their websites to find which one is cheapest.
Going to Cineworld (opens in new tab) in Milton Keynes to see a blockbuster movie on a Saturday afternoon costs £13.99 for a standard adult ticket. But less than twenty miles away you can see the same movie at Cineworld's Bedford location for £6.99 – saving £7.
2. Trade Tesco vouchers for cinema tickets
You can swap Tesco Clubcard vouchers (opens in new tab) for up to three times their value on treats including cinema tickets at both Picturehouse (opens in new tab) cinemas and Cineworld.
Check prices on the cinema website first and then head back to the Tesco site to swap your vouchers.
Once done, you'll get a confirmation email and code you can show on your phone in the cinema or use online if you want to buy extra tickets.
3. Get free cinema tickets from your bank
Some banks dish out rewards each month including cinema tickets.
But it's usually only if you've got one of their fee paying accounts – although you may be able to avoid the monthly fee if you pay in a fixed amount each month.
If you've got a Club Lloyds account (opens in new tab) with Lloyds Bank (opens in new tab) you can choose a lifestyle benefit each year and one option is six cinema tickets for Vue (opens in new tab) or Cineworld.
If you've got the Reward Extras (opens in new tab) option on your Halifax Reward (opens in new tab) or Ultimate Reward account, monthly offers include free cinema tickets.
You can get one ticket a month which lasts for a year - so you can save them up to take the whole family for free. Tickets can be used at any UK Vue cinema.
4. Go to an independent cinema
Buying a ticket to see a movie at one of the big multiplex cinemas like Cineworld or Odeon (opens in new tab) means you can often pay around £15.
But finding a smaller independent cinema can knock around 60% off the price.
Tickets start from just £5 at the Rex in Berkhamsted (opens in new tab), £7 at the Palace Cinema in Broadstairs (opens in new tab), and around £8 at the Kinema in the Woods (opens in new tab) in Woodhall Spa in Lincolnshire.
All are retro old school cinemas so you get a whole new cinema experience along with the savings.
5. Two for one cinema tickets with Meerkat Movies
You can get 2 for 1 cinema tickets every Tuesday or Wednesday for a year with the Meerkat Movie (opens in new tab) deal from Comparethemarket.com (opens in new tab).
To snap this up you'll need to buy a qualifying product. And if you just want to buy something to activate the deal, you can buy a one night travel policy for just over £1.
Then all you do is download the app - and set up and sign into your account to claim your ticket code which you show when buying another ticket.
You can also use the app to find your nearest participating cinema which includes Cineworld, Odeon, Vue and smaller independent outlets.
6. Join the club at Odeon
It's free to sign up to MyODEON (opens in new tab) which means tickets from just £6.
It saves around 60% on ticket prices but it's only available on selected screenings from Tuesday to Sunday as well as all day on Member Mondays.
Deals are on standard tickets only – so you'll pay more for showings like 3D or IMAX.
Cineworld also offers a 10% discount when booking tickets online if you join its My Cineworld Plus scheme - but it isn't free and costs £6.95 a year.
7. Get a cinema season ticket
If you're a movie fan and regularly at least once or twice a month – you could save money with a season ticket. Deals vary but with Odeon's MyLIMITLESS (opens in new tab) you pay £14.99 a month.
With Cineworld's Limitless subscription (opens in new tab) the cheapest deal is £9.99 a month, but monthly subscription prices can cost considerably more depending on the cinema you want to visit.
The £9.99 deal covers you for group one locations including Plymouth, Weymouth and Runcorn but with other cinemas in groups two and three you can pay up to £18.40 a month and up to £20.90 to include London's West End.
With cinema subscriptions you often need to sign up for a year – however with both these cinemas it's currently just a three month minimum term. And with these deals it's only standard screenings you can get into unless you pay to upgrade your ticket.
8. Free cinema tickets with Vitality health and life insurance
If you have Vitality health or life insurance (opens in new tab) you can get one free cinema ticket a month to use at Vue or Odeon cinemas.
You need to register through the Vitality member zone, take a health review and start earning points based on exercise.
You'll need 48 points a month for each cinema ticket but it's case of 'use it or lose it' as tickets only last until the end of the following month. Check the Vitality website (opens in new tab) for terms and conditions as some screenings may be excluded.
9. Book a family cinema ticket
You can save around £12 booking a family ticket at Cineworld.
With this deal you get four tickets. One must be used by an adult, two for children and the fourth can be for an adult or child.
Booking a family ticket this way to see Top Gun: Maverick at the Cineworld in Hemel Hempstead costs £27.96 whereas buying two adult and two child tickets separately would cost £39.96.
10. Cheap kids' cinema tickets
Most cinema chains offer special discounted kids' screenings at weekends and during school holidays. It's a chance to see family favourites again but don't expect to see the latest movies this way.
Vue runs Mini Mornings with tickets for both children and adults from £2.49 when booked online or £3.49 at the box office.
Cineworld has Movies for Juniors sessions with tickets from £2.50 and Odeon has Odeon Kids screenings at weekends and during school holidays.
Check screenings as not all cinemas within each chain will do this.
Sue Hayward is a personal finance and consumer journalist, broadcaster and author who regularly chats on TV and Radio on ways to get more power for your pound. Sue's written for a wide range of publications including the Guardian, i Paper, Good Housekeeping, Lovemoney and My Weekly. Cats, cheese and travel are Sue's passions away from her desk!