Charity Christmas cards – the retailers donating the most and least to charity revealed
How much of your money goes to good causes when you buy charity Christmas cards?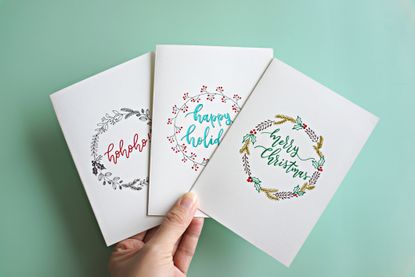 (Image credit: Getty images)
It's the season of goodwill and if you buy a pack of charity Christmas cards, you'd like to think deserving causes get a decent cut of the cash. We look at how much retailers donate to charity.
If you buy a pack of charity Christmas cards, it's often not clear how much of the money you spend will be donated to good causes.
In the past, some stores have donated a fixed amount from each box or pack sold in aid of charity. But, these days more retailers are now dipping their hands in their pockets and making a fixed flat donation, regardless of how many packs of charity cards they sell.
When it comes to the rules, the Charity Retail Association says there's no regulation on the amount that must be donated to charity - but "how the money is split must be disclosed to consumers".
We asked a range of retailers how much they donate from the sale of charity Christmas cards, plus we highlight other ways to support good causes during the festive period.
Which retailers are the most generous?
Sainsbury's - £400,000
The supermarket says: "When customers purchase a pack of cards, they will be helping Sainsbury's donate £400,000, split evenly between its chosen charities, the Royal British Legion Trading Limited and Comic Relief."
Sainsbury's says its charities get the full promised donation, regardless of the number of boxes of charity Christmas cards it sells.
Marks & Spencer - £200,000
Marks and Spencer sell various packs of charity-branded Christmas cards. It says by purchasing these packs customers will be helping M&S to donate £200,000 to its charity partners.
The £200,000 is split with 48% going to Shelter, 48% to Breast Cancer Now and 4% to the Marie Keating Foundation.
John Lewis - £200,000
John Lewis has various packs of charity Christmas cards for sale, and how much is donated will depend on the pack you buy.
With its own branded packs of charity cards, John Lewis is donating £200,000 (including VAT) to be shared equally between Fare Share, Together For Short Lives, Home Start and NHS Charities Together.
If you buy charity cards from its Museums & Galleries selection – which start from £5.25 for five cards - it says that "10% is shared between NSPCC, British Heart Foundation, Mind, Marie Curie and Shelter".
Tesco - £110,000
Tesco says it will donate £100,000 from sales of its boxed charity Christmas cards and £10,000 from sales of its individual Christmas cards to three charities.
Donations will be split between Diabetes UK, British Heart Foundation and Cancer Research UK, and this is paid regardless of how many boxes or cards are sold.
Morrisons - £75,000
Morrisons told The Money Edit "our donation is not based on sales" and instead it donates £75,000 to its partner charity, Together for Short Lives.
It says this is the only charity supporting children's hospices in the UK.
Which retailers donate a percentage of the purchase price?
Most retailers seem to now adopt the practice of giving a fixed donation regardless of how many charity cards they sell. But, we found some retailers choose to donate a percentage of the purchase price.
WH Smith donates 10% of the purchase price of packs of Christmas cards (excluding VAT) to charity. This is split equally between Cancer Research, the National Literacy Trust and Mind.
Out of 15 packs of Christmas cards on the WH Smith website, 12 were advertised as charity cards along with details of how the donation was split.
Boots says it will donate 10% of the sale price of its charity cards sold in the UK to The Prince's Trust. This applies to cards sold up to and including Christmas Eve.
Buying Christmas cards from charities direct
If you buy cards from charities direct, many including the RNLI and British Heart Foundation say they will donate 100% of the profits to the charity.
Cancer Research UK says all net profits from the sale of its Christmas cards go directly to the charity.
Other ways you can give to charity
If you don't buy Christmas cards, there are a couple of other ways to easily give and donate.
Gift Aid
When you make donations to charities, they can claim an extra 25p for every £1 you give through the Gift Aid scheme.
The charities themselves claim this money and it won't cost you a penny. This also applies when donating to community amateur sports clubs.
You need to be a UK taxpayer and fill in a Gift Aid declaration for each charity you donate to. With some charities you can download the form from their website; with others, you may have to call them for a form.
Donate items
If you've got items to give to a charity shop, it's worth handing them over in person at a shop, rather than dumping them in charity bins.
You can often find charity bins in supermarket and shopping centre car parks; however many may be run by commercial organisations, which means the charities may not get as much as if you donate items directly.
If donating at a charity shop, you may be asked for your details so the staff can claim Gift Aid on the sale of your items, boosting your donation even further.
If you donate M&S branded clothing or textiles to Oxfam, you can get a £5 M&S voucher to spend against a purchase of £35 or more on clothing, home or beauty products.
Sue Hayward is a personal finance and consumer journalist, broadcaster and author who regularly chats on TV and Radio on ways to get more power for your pound. Sue's written for a wide range of publications including the Guardian, i Paper, Good Housekeeping, Lovemoney and My Weekly. Cats, cheese and travel are Sue's passions away from her desk!