Buy now, pay later: warning over shoppers using credit cards to cover payments
Two-fifths of BNPL customers borrowed money to make repayments, according to new research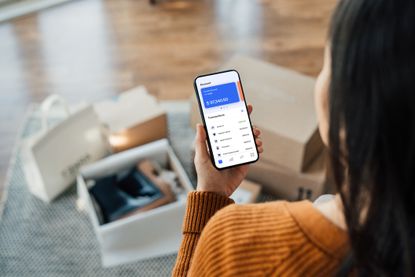 (Image credit: getty images)
Half of 18 to 24 year olds have borrowed money to make their buy now, pay later (BNPL) repayments, according to worrying research by Citizens Advice.
The charity found that shoppers were using credit cards, overdrafts, payday loans and borrowing from friends and family to pay for their purchases.
While young people were the most likely to turn to credit (51%), 39% of 35-54 year olds and a quarter of over-55s also borrowed money to make their BNPL payments.
DClare Moriarty, chief executive of Citizens Advice, says: "Shoppers are piling borrowing on top of borrowing, and sinking into ever more desperate situations that can feel impossible to escape from."
The charity also found that more than one in 10 BNPL customers didn't fully understand how the repayments would be set up.
The findings come as the BNPL market continues its meteoric growth. As well as providers like Klarna, Clearpay, Paypal and Laybuy, NatWest is set to become the first UK high street bank to enter the market when it launches a product this summer.
Apple is also planning a BNPL service as part of its new operating system, iOS 16. Apple Pay Later will allow users in the US to spread the cost of a purchase over six weeks, with no interest or fees. It is not clear if the feature will become available to users in the UK too.
Why is the new research on BNPL worrying?
The BNPL sector has already been widely-criticised, as customers do not always understand how the payments work - and that they could be hit with late fees and a black mark on their credit file. See our story on how Klarna now reports transactions to credit reference agencies.
While some providers claim to be transparent and responsible, there have been many stories of shoppers landing themselves in serious debt. The ease and convenience of BNPL payments can lead to customers buying things they can't really afford, and the cost of living squeeze has brought this into sharp focus.
"What scares me most is how easily people can slip into using BNPL," says Millie Harris, a debt adviser at Citizens Advice East Devon. "They come to rely on it much more quickly than other forms of credit. It's just a few clicks at a checkout. Too often that means people don't realise how serious it is; that it is credit and there are consequences if they don't repay it."
The revelation that shoppers use credit cards, overdrafts and even payday loans to pay off BNPL purchases highlights how many people are relying on one debt to pay off another debt. This causes a spiral of debt that can be difficult to escape from.
Myron Jobson, senior personal finance analyst at the investment platform interactive investor, says: "It also completely mitigates the main draw of BNPL arrangements in that they allow consumers to delay or split the cost of purchase without paying interest. Interest applied to loans [or credit cards] means the debt would increase, the longer it takes to pay off."
Is the buy now, pay later sector regulated?
The sector is not currently regulated. However, the Financial Conduct Authority is expected to start regulating it later this year.
Citizens Advice is calling for the sector to be regulated urgently to protect customers, including having affordability checks and clearer information at checkouts.
"Shoppers are piling borrowing on top of borrowing, and sinking into ever more desperate situations that can feel impossible to escape from," says Moriarty.
"BNPL is part of the credit industry and must urgently be regulated as such."
Jobson agrees. "Regulation of the BNPL industry can't come soon enough," adding:
"You can now buy essential groceries through some BNPL services, which is particularly disconcerting. It is never a good idea to borrow to pay for essentials - it is a shortcut to unmanageable debt."
What should I do if I am struggling with payments and debt?
If you have used BNPL and are unable to make payments, speak to the creditor as soon as possible to see if they can come up with a repayment plan.
If you need help with other bills too and need help, speak to a debt charity like Stepchange or National Debtline to get free advice. They can also speak to creditors for you to help come up with repayment plans.
Look After My Bills Newsletter
Get the best money-saving tips, tricks and deals sent straight to your inbox every week. Make sense of your money in partnership with The Money Edit.
Ruth Emery is contributing editor at The Money Edit. Ruth is passionate about helping people feel more confident about their finances. She was previously editor of Times Money Mentor, and prior to that was deputy Money editor at The Sunday Times. A multi-award winning journalist, Ruth started her career on a pensions magazine at the FT Group, and has also worked at Money Observer and Money Advice Service. Outside of work, she is a mum to two young children, a magistrate and an NHS volunteer.