Refunds for buy now, pay later shoppers
Buy now, pay later shoppers may be entitled to a refund after being wrongly charged late payment fees - we explain what you need to know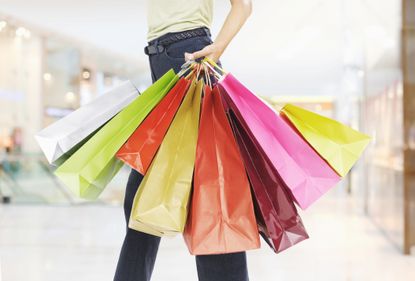 (Image credit: Getty)
Shoppers who have been wrongly charged late repayment fees by buy now, pay later (BNPL) services could be in line for a refund following an intervention from the Financial Conduct Authority (FCA), the financial services regulator.
Clearpay, Laybuy and Openpay have agreed to repay customers who have been hit with penalties despite having cancelled their online orders in full. The concession follows an investigation by the FCA which uncovered potentially "unfair and unclear terms" in the contracts of several BNPL providers; these included industry leader Klarna, though it does not charge late payment fees. All the firms have voluntarily agreed to make changes so that issues such as contract cancellations and payments are easier for consumers to understand.
"The changes are welcome first steps, but more regulation of the BNPL industry can't come soon enough," says Myron Jobson, senior personal finance analyst at interactive investor.
While BNPL offers an easy and cheap way to pay for items over a period of time, there are concerns that customers could be getting into unmanageable debt. Moreover, the sector remains much less closely policed than other areas of financial services - the FCA does not yet have powers to scrutinise providers' activities.
"The escalating cost-of-living crisis risks even more people turning to BNPL schemes to help tide them over," adds Jobson.
"You can now buy essential groceries through some BNPL services, which is worrying. It is never a good idea to borrow to pay for essentials."
What is BNPL?
Buy now, pay later is a popular form of short-term consumer credit that allows customers to pay for their shopping in interest-free instalments rather than forking out the full price upfront. The BNPL provider pays the retailer for your goods and you then pay the provider back over several weeks or months, staggering the cost.
Unlike with credit cards or payday lenders, customers do not typically pay interest on BNPL loans. Instead, providers make their money by charging the retailers instead - however, this means the companies avoid the strict regulation that applies to other lenders
The use of BNPL products has exploded since the onset of the pandemic, nearly quadrupling in 2020 alone, according to the FCA. The market is now worth an estimated £6.4bn a year in the UK, according to consultancy firm Bain & Company, with around 10million shoppers using BNPL services - double the figure just a year ago.
Why are some customers owed refunds?
Clearpay, Laybuy and Openpay have all agreed to repay customers who have been charged late repayment fees in specific circumstances. These include cases where the shopper cancelled an entire order, paid for via BNPL, but did not cancel the loan; some such customers were then charged. Not all BNPL providers hit customers with late repayment penalties - Klarna does not, for example - but where charges do apply, they can be as high as £36. Research by Citizens Advice found BNPL customers were charged £39million in late fees in 2021.
In the absence of regulatory scrutiny, it is not clear how many customers have been affected by late charges or over what timescale. But if you think you have a claim for a refund, pursue your case - while Clearpay says it will be contacting the 'small number' of customers affected, it is worth getting in contact with your BNPL provider to check if you are entitled to a refund.
The FCA says only those people who cancelled the full order are eligible, not those who returned some of the goods in an order.
Why is BNPL controversial?
Critics of BNPL schemes say they encourage people to spend money they don't have, putting them at risk of falling into large, unmanageable and hidden debt. Moreover, the schemes have become ubiquitous. The consumer watchdog Which? says more than half of the UK's biggest online retailers offer at least one form of BNPL payment plan. And a number of retailers, while promoting these options, did not offer customers information on the consequences of late payment, Which? warned.
The FCA, which has been carrying out a review of the sector, worries that shoppers could 'easily' rack up to £1,000 worth of debt using these products. It has warned that further regulation of the sector is a 'matter of urgency'.
"Many BNPL services don't subject customers to a 'hard' credit check that can leave a footprint on their credit report," explains Jobson.
"As such, BNPL may attract people who are already in the red and may be struggling to pay existing bills. So, it is likely that a large number of people making BNPL repayments are also racking up credit card debt."
The Government is currently looking at regulating the industry more formally, but says any regulation must be 'balanced and proportionate, ensuring customers are given appropriate protections'.
If you are planning to use such schemes, Jobson has this advice: "Make sure you consider your entire financial circumstances. If you are already struggling to repay credit card debt, getting yourself deeper in the red through BNPL isn't the best call.
"Remember, if you don't make payments on time you might have to pay penalty fees, and could damage your credit rating.
"Those struggling with debt do not have to suffer in silence – there is support out there. They should act swiftly and contact their creditors for more support. It is worth consulting a debt advice charity such as StepChange or Turn2Us and they will go through all of your options."
Look After My Bills Newsletter
Get the best money-saving tips, tricks and deals sent straight to your inbox every week. Make sense of your money in partnership with The Money Edit.
Georgie is a multi award-winning financial broadcaster and journalist. She is a trusted voice on all matters personal finance and consumer affairs, hosting a number of money podcasts and appearing regularly on TV, radio and in print. Georgie speaks with both authority and personal experience. Before moving into money journalism, Georgie spent a decade traveling around the country as a BBC sports broadcaster, however a spinal injury changed that. Georgie's journey into and out of debt due to her injury sparked a deep interest in consumer rights, financial education and social mobility, which drives much of her work today.