What is buy now, pay later?
BNPL allows you to spread the cost of your shopping. But how does it work, what are the fees, and is it regulated?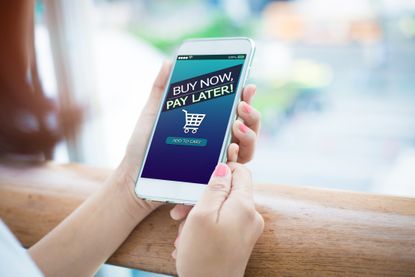 (Image credit: getty images)
You may have spotted the Klarna adverts or been asked if you want to "buy now, pay later" while shopping online, but what is buy now, pay later? We explain what it is, how it works and the risks involved.
Buy now, pay later (or BNPL for short) is a fairly simple concept: instead of paying at the till or online checkout, the BNPL provider pays the retailer for you. You then pay the provider back over several weeks or months. Providers include Klarna, Clearpay, Openpay, Laybay, plus PayPal's Pay in 3 product.
There is normally no interest or fees to pay, as long as you make your repayments on time. However, it can be tempting to overspend with BNPL, and you may incur fees and a black mark on your credit report if you're late with payments.
Many users are unaware of the risks, and do not realise they are taking on debt, according to research by consumer group Which?
The Financial Conduct Authority (FCA) is expected to start regulating the industry later this year. It has already ordered a trio of providers to refund borrowers who were charged late fees in specific circumstances. It has also told providers to amend terms in the contracts that were unfair or unclear.
BNPL has soared in popularity in recent years. The biggest provider, Klarna, now boasts 13 million customers in the UK. Its average user is aged 34.
According to the FCA, the industry nearly quadrupled in 2020 to £2.7 billion.
How does buy now, pay later work?
Retailers tend to work with particular BNPL providers. For example, Marks & Spencer works with Clearpay, while Klarna has partnerships with thousands of retailers including H&M, Expedia and Nike. PayPal's Pay in 3 can be used at millions of online stores such as Asos and B&Q. Klarna and Clearpay also have their own shopping apps.
This means if you want to buy something online, you could either purchase it directly through the retailer's website – and use whichever BNPL provider is offered – or use a BNPL app.
When you apply for buy now, pay later, the provider checks your credit file before approving it – but it only does a "soft search", meaning no other lenders will see you've applied for that credit. Shoppers receive a credit limit from a BNPL provider, based on their credit rating, affordability and its own algorithm.
There are normally several payment options. For example, you could spread the cost into a series of instalments. The first payment is made at point of purchase, with the remaining instalments scheduled over the coming weeks or months. Or you could avoid paying anything on the day of purchase, and make the full payment later.
The payments are either taken automatically from your card or bank account, or reminders are sent for you to make manual payments.
With Klarna, there is also the option to "pay now", where UK consumers can pay immediately and in full.
Where can I use buy now, pay later?
From clothing and gardening to homeware and toys, thousands of retailers accept BNPL. Some of the biggest include Amazon and Ikea.
Travel firms like National Express and Alternative Airlines also allow customers to pay using buy now, pay later.
When shopping online, the BNPL option is normally clear to see. When in store, ask at the checkout if you can pay using this method.
Why is it BNPL popular?
The huge rise in BNPL is arguably down to three factors: a surge in online shopping, millions of people struggling during the coronavirus crisis - and most recently the cost-of-living crisis - and clever marketing by BNPL providers using social media influencers and glossy adverts to make it look easy and affordable.
Some of the advertising has been banned. For example, in December 2020, a campaign by Klarna was banned by the advertising watchdog after Instagram posts were found to be encouraging people to turn to its credit service to cheer themselves up during lockdown.
"The cost-of-living crisis means more people risk falling into the buy now, pay later trap," comments Sarah Coles, senior personal finance analyst at the wealth manager Hargreaves Lansdown. "The expansion of services means you can now spread the cost of the supermarket shop."
Many people do not view BNPL in the same way as, say, using a credit card or going into debt; instead it can seem like a lifestyle product rather than a financial product.
According to research by the financial advice firm OpenMoney, the easy BNPL checkout experience has led to four in ten people being tempted into buying something they couldn't afford, with 80% worrying that their online spending habits will result in long-term debt.
Is BNPL regulated?
BNPL is currently unregulated - but the FCA is planning to start regulating BNPL products later this year.
The FCA has previously said that buy now, pay later comes with "significant potential for consumer harm". It found that more than one in ten customers of a major bank using BNPL were already in arrears. Anyone in arrears could be racking up late fees and getting themselves into serious debt.
The proposed regulations mean that providers will have to clearly explain to customers how a product works, and what happens if they don't pay the money back. They will also have to do extensive checks to ensure customers can afford repayments – just like when you apply for a credit card or loan. This means the number of people being approved for BNPL will likely decrease in future, and shoppers may see their credit limits fall too.
The way the services are promoted on retailers' websites will have to comply with the FCA's financial promotions regime. Those who miss payments and those in financial difficulty must be treated consistently and fairly.
Section 75 will also apply to BNPL, in the same way that credit card providers are. This means the provider must refund certain purchases when there's a problem, such as faulty or non-delivered goods.
As part of the regulation, unhappy BNPL customers will be able to complain to the financial ombudsman.
Hayley Millhouse, managing director at OpenMoney, notes: "The sooner the law changes to ensure BNPL is properly regulated, the better for consumers."
How do providers make money if they don't charge interest or fees?
BNPL providers make money by taking a cut from the retailer, rather than the customer. Providers argue that if a retailer offers a BNPL option it can significantly boost its sales.
They may also make money from late fees, when customers fail to make their repayments. "While spreading the cost is free, if you fail to make payments, some will impose late payment fees, and according to a study by The Centre for Financial Capability, a third of millennials who have used BNPL have paid these fees in the past," says Coles.
What if I can't pay later?
The repayments are normally taken automatically from your bank account, but if there isn't enough money in your account, you may be charged a late fee. These fees can range from £6 to £12, although Klarna does not charge any late fees. Depending on the provider, the fees may be capped at a certain level like 25% of the order's cost. But watch out, as you can be charged several late fees per transaction.
Missed payments may harm your credit score, and any debts could be passed on to a debt collection agency.
If you know you're going to miss a payment, the important thing is to contact the BNPL provider in advance. They may be able to give you extra time to pay, or help you make a repayment plan.
What are the pros and cons of buy now, pay later?
Pros
It's an easier way to get credit than a credit card, overdraft or loan
It's quick – you just apply as part of the shopping transaction
It means you've got longer to pay off the full cost, which might help with cash flow
In some circumstances, you only pay for what you keep – for example, if you opt to make the full payment via BNPL in 30 days' time, and then return an item, you won't have to pay for it
Cons
It can be tempting to overspend if you don't have to pay straight away
If you can't repay, you could incur late fees and it could impact your credit score
A 0% credit card or 0% overdraft could be a better option, plus they are regulated, so you can go to the ombudsman if something goes wrong. However, once BNPL becomes regulated, customers will be able to use the ombudsman service
You lose valuable consumer protection – even if you use BNPL with your credit card, you won't be able to use Section 75. However, this is set to change once BNPL becomes regulated
Look After My Bills Newsletter
Get the best money-saving tips, tricks and deals sent straight to your inbox every week. Make sense of your money in partnership with The Money Edit.
Ruth Emery is contributing editor at The Money Edit. Ruth is passionate about helping people feel more confident about their finances. She was previously editor of Times Money Mentor, and prior to that was deputy Money editor at The Sunday Times. A multi-award winning journalist, Ruth started her career on a pensions magazine at the FT Group, and has also worked at Money Observer and Money Advice Service. Outside of work, she is a mum to two young children, a magistrate and an NHS volunteer.