Free childcare for working parents – how much could it save you?
We reveal how the government's extended childcare support framework can help save working parents up to £6,500 a year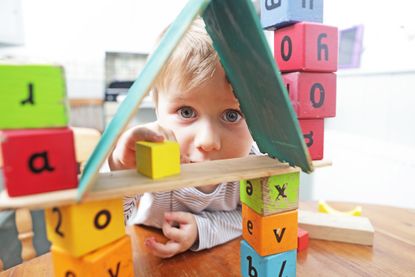 (Image credit: Getty images)
Millions more working parents could receive thousands of pounds a year after the government extended childcare support in its Spring Budget in a bid to encourage more women back into work.
These measures will be introduced in several stages until September 2025 and be worth up to £6,500 a year for families.
Currently, working parents can claim 30 free hours for 38 weeks of the year for three- and four-year-olds, but those with younger children have not had access to free childcare.
The government's move means working parents will receive 30 hours of free weekly childcare for children as young as nine months old, extending the current regime.
From September 2025, every working parent with a child aged over nine months and under the age of five will be able to access up to 30 hours of free childcare each week. 
However, the extension will be rolled out slowly which means not everyone will be able to instantly access the full 30 hours.
It will generally only apply within term time and to households where both parents are working. Under the current system, you can get 30 hours free childcare at the same time as claiming Universal Credit, tax credits, childcare vouchers, or Tax-Free Childcare.
When can I access free childcare?
From April 2024: Working parents of two-year-olds will be able to access 15 hours of free care, helping around half a million parents.
From September 2024: The package will be extended to all children from 9 months up, meaning nearly one million parents will be eligible.
From September 2025: Every single working parent of under-fives will have access to 30 hours free childcare per week.
Childcare support will help during cost-of-living crisis
If you're a parent who wants to work, increased support for childcare costs will help especially at a time when the cost of living is high. Childcare costs in the UK are among the most expensive in the world, according to the Organisation for Economic Cooperation and Development.
The package is worth on average £6,500 every year for a family with a two-year-old child using 35 hours of childcare every week, reducing their childcare costs by nearly 60%, said the chancellor in his Budget speech.
Annabelle Williams, personal finance specialist at Nutmeg, the digital wealth manager, said paying for childcare is often a big chunk of the family budget and is not something that parents can easily cut back on.
She said: "It can be incredibly stressful looking at the different options for childcare and finding that all of them would be a stretch financially – but this is the lived experience of many parents.  
"Every parent wants the best for their child, but the reality is that the sheer costs involved force many families to make compromises when it comes to childcare, so parents really shouldn't feel bad that they cannot have their little ones going to 'the best' nursery or the ideal environment."
Boost for women in the extended childcare package
The move aims to help women who typically exit the workforce to full-time parent and end up weighing up whether a return to work makes financial sense.
Laura Suter, head of personal finance at platform AJ Bell said this move will remove the huge barriers that many in returning to work, as often childcare fees are more than they earn.
"This is a policy that will specifically boost women, who are typically the ones who drop out of the workforce to be a full-time parent", she said.
"We know that these career gaps are big contributors to the huge gender wealth gap, from earnings to savings to pensions. If those women who want to work can afford to return to paid employment, it will not only boost the economy but the pockets of families across the country."
DIY investment platform Bestinvest estimates more than 1.46 million women are unable to work alongside their caring responsibilities, compared to just around 230,000 men.
Alice Haine, personal finance analyst at Bestinvest said getting women back into work is essential to support growth and ensure household bills can be paid on time.
"It is also important to advance women's careers and protect their finances from the gender pay gap and smaller pension pots they typically have compared to men in retirement. Women are more likely to be lower paid or not participate in the labour market fully due to family commitments at home."
Look After My Bills Newsletter
Get the best money-saving tips, tricks and deals sent straight to your inbox every week. Make sense of your money in partnership with The Money Edit.