How to book a cheap holiday
Here are seven ways you can book a cheap holiday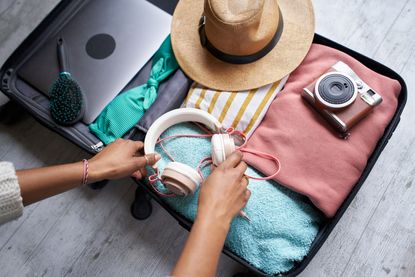 (Image credit: Getty images)
Booking a summer holiday can feel like a luxury but you don't have to break the bank to get a break. Here are seven ways to book a cheap holiday.
January is typically the most popular month for holiday bookings and holiday company Kayak says online searches are up 477% on this time last year.
As well as sales on the high street January is also the month when the travel industry starts its sales.
According to the Travel Association ABTA (opens in new tab), "January and February is the traditional sales season for travel companies and it's at this time that they put out their best deals with potential savings of hundreds of pounds".
These offers may also include a limited number of free child places – which can help cut costs especially if you're restricted to travelling in school holidays when prices go sky high.
Here are seven ways to save on the cost of your holiday.
How to book a cheap holiday
1. How to book a cheap flight
Flight prices are expected to be around 57% higher this year compared with 2022 according to Kayak (opens in new tab) but there are still ways to bag a cheap flight.
If you're on a fixed budget – make use of Kayak's 'explore' tool (opens in new tab) to find flights within your price range and set up price alerts.
Booking midweek and on 'unpopular' days like Friday 13 can save you money.
Evan Day, UK Country Manager at Kayak said: "We've found flying out and returning midweek compared with weekends can be up to about 60% cheaper on short-haul, and up to about 30% cheaper for longer haul flights".
"Flight prices seem significantly lower on Friday 13. Last year flights on Kayak were about £103 cheaper on average compared with the average price of other Friday flights". Savvy travellers may want to make a note of Friday 13 January and Friday 13 October 2023.
If you're booking a budget flight – don't get clobbered for excess baggage fees. Check luggage allowances as you may think you're saving money opting for 'free' cabin bags but if your bag is too big at the gate – you can pay hefty fees. For example, with EasyJet it can be up to £48 a time.
2. Consider going all-inclusive
If you're on a budget – booking an all-inclusive deal can sound like a cheap option.
Booking this way means you pay a fixed price and you can pay in pounds – which saves worrying about fluctuations in exchange rates. Once you arrive, there's no need to shell out for meals, ice creams, drinks at the bar or even pay to hire the sun beds.
But the consumer group Which? (opens in new tab) says it's down to your destination whether it's worth going all-inclusive. It found holidaymakers could save up to £700 per person booking an all-inclusive one-week holiday in Barbados.
By comparison, a one-week trip to the Algarve worked out £300 per person cheaper if you organised everything yourself including flights, accommodation and meals instead of booking all-inclusive.
If you are booking all-inclusive – check what's included – so whether you get a choice of restaurants and bars and if water sports, trips or entertainment are included.
If you want to spend money on souvenirs at the airport – make sure you pack the best travel credit cards or the best-prepaid travel cards.
3. Buy now pay later holidays
When booking a holiday – you usually have to pay a deposit and often the remaining balance may not be due until nearer your departure date.
Some holiday companies including TUI are now offering zero-deposit holidays (opens in new tab) – so you can lock in your trip at the price you want without having to pay a penny.
In TUI's case - this can be done on a selection of holidays when booking over six months in advance. Interest-free payments are then made in at least three instalments. In the event you cancel your trip – you will still be liable for the full deposit.
Jet2 (opens in new tab) also offer 'pay monthly' trips which can be secured for a deposit of £60 per person and then monthly interest-free payments.
If your holiday company offers a deal like this – check the terms and conditions and if you'll pay interest for spreading payments.
4. Make the most of free cancellation policies to shop around
Booking accommodation through sites including Booking.com and Airbnb may mean you get free cancellation.
If you can secure this option – it could enable you to pre-book and lock in a deal with the added bonus of being able to keep shopping around. This way you can cancel if you later find a cheaper option or your plans change.
In both cases, check terms and conditions as free cancellation may not be available on all properties or for a limited time.
5. Book holiday homes instead of hotels
Bagging a cheap hotel deal could prove a false economy if you end up blowing your budget on the cost of eating out – especially if you're in an expensive city or location.
According to Vrbo (opens in new tab) – over half of UK travellers say they want to cut down on costs – and plan to save an average of £417 by cooking in their holiday home compared with eating out or getting a takeaway.
6. Book a package holiday
This doesn't necessarily mean an 'off the peg' flight and hotel package complete with a rep in the resort.
If you book at least two parts of your trip at the same time in one single payment – it means automatic package holiday protection. This gives you extra rights if the tour operator or travel agent goes bust.
Turning your holiday booking into a package deal can be as easy as adding in even a one-night hotel stay or car hire along with your flight.
The other benefit to doing this is that travel agents may have access to insider industry promotions that you can't source yourself.
7. Shop around for extras
Paying to park at the airport can put a dent in your holiday spending so the golden rule is to shop around and always pre-book your airport parking. This can typically save up to around 60% on the gate price.
If you want a treat - you may even be able to get cheap or free airport lounge access before take off. This can save costly meals and drinks in the departure lounge and may mean free fizz, food and a chance to unwind ahead of your trip.
However cheap your holiday price tag – and your desire to save money - always buy travel insurance before you go. This can cost from the prices of a couple of drinks and be invaluable if you need to make a claim for medical expenses or a lost or stolen passport while you're away.
Sue Hayward is a personal finance and consumer journalist, broadcaster and author who regularly chats on TV and Radio on ways to get more power for your pound. Sue's written for a wide range of publications including the Guardian, i Paper, Good Housekeeping, Lovemoney and My Weekly. Cats, cheese and travel are Sue's passions away from her desk!