Black Friday scams you need to know about
Here's how to protect yourself from Black Friday scams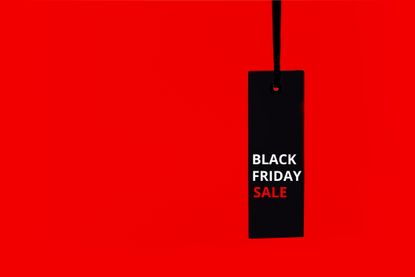 (Image credit: Getty images)
Black Friday scams may be far from shoppers' minds when they think of November 25. While your focus will be on the potential bargains, VPNOverview reveal scams treble since 2020, so we tell you how to stay safe when shopping.
With the rising cost of living, people are searching for the best deals, especially on national sale days like Black Friday as Security expert VPNOverview found searches for 'best Black Friday deals' is up by 400% in the last month.
Inflation is at a 41-year high which means households are struggling to do the bare minimum- keep up with extortionate weekly food shops and pay high energy bills, leaving people more vulnerable to scams on days like Black Friday.
Scammers will take advantage of any opportunity to con people out of their hard earned cash, so Black Friday is an occasion to be extra vigilant.
We explain the scams to look out for.
Black Friday scams - when your item does not arrive
Ever bought something and find it doesn't arrive? It's known as a purchase scam and happens when you make an authorised push payment (APP), also known as a bank transfer, for products that do not exist and never arrive.
Do not pay for items using a bank transfer as you will not be protected against fraud it you do. Most genuine retailers will not ask for payments via a bank transfer either.
Fraudsters rely on online anonymity to advertise non-existent products on websites - sometimes cloning genuine websites or using paid adverts to lure you to a fake website - and social media.
If you find something you think is a good price, research what a fair price is for similar goods in the same condition. Remember the old but golden rule: If the offer sounds too good to be true, it probably is.
Check online to see if there are warnings and bad reviews about the company. Google the name of the website with the words "scam" or "fraud". Ignore any reviews the company has on its own website as they may be fake.
How professional does the website look? Is it well laid out, are there obvious grammar and spelling mistakes and other irregularities? Double-check the website address and contact details of the company in case it's a 'clone firm' pretending to be a real firm.
Check that the website is secure. The web address should begin with 'https://'. The 's' stands for 'security' and indicates that the link between you and the website owner is secure, not that the website itself is genuine.
Black Friday promotion phishing emails
The Anti-Phishing Working Group (APWG) estimates around one million phishing attacks have already taken place in the first half of 2022.
These emails will appear to be from a big-name retailer like Amazon and contain a link to their website, which will urge you to click on if you want to access the 'deals'. This, however, will actually take you to a fake website which has been designed to steal your information. Malicious websites like this may hit you with a double whammy by also downloading viruses and malware onto your device.
Scammers will also get you to update payment information, so be particularly careful before giving payment details to anyone.
To make sure it is a genuine email, look closely at the sender's email address. Fraudsters won't be able to use the genuine retailer's domain so they will spoof it to look as similar as possible - but there will be random numbers, letters, or symbols that don't make sense.
The email is also likely to have spelling or grammar errors and dodgy formatting. Phishing emails are getting more difficult to detect, so it's these small details that are the giveaway.
Delivery scams
It starts with a text or email from Royal Mail, or another courier firm, about a problem with your delivery. It will urge you to follow a link to rearrange delivery and indicate your item will be returned to the retailer if you don't hurry! The link will take you to a malicious website, designed to look like the genuine website of the company they're spoofing, which will capture your personal information so they can steal your identity. There may even be the added insult of asking you to pay for your delivery to be rearranged.
If you're expecting a delivery, go to the courier's website through your search engine - not the link in the text or email. It may feel long-winded but find your tracking number (that you'll have received at the point of purchase) and enter this on the courier's tracking portal. This will verify whether there are any delivery problems, and alert you to any fake tracking number in the text or email. In that case, you'll know that the retailer is using a different courier and that the text or email is a scam.
Verification code hijacking
Another common Black Friday scam where criminals pose as a company or a bank you hold an account with. They'll explain there is an issue with your account and ask you to prove who you are.
The scammers could already have a password at hand from a data-leak making it seem that much more genuine.They will try to get your two-factor authentication number which will allow them to process payments.
When scams like this happen, it can be harder to prove to your bank you should be refunded because it sees it as you 'willingly' passed over this information.
To avoid such scams, always set a strong, unique password, set up two factor authentication on the essentials like banking and shoppings apps/ websites, and if you ever get a call and are in doubt, put the phone down.
Bogus retailers
You order a product from a website and then receive something entirely different or nothing at all. This is how bogus retailers operate. These fraudsters will often steal images and descriptions from genuine retailers but advertise the products at a much cheaper price. They will usually use social media and emails to advertise their site. If you try to contact them via email or phone call - if they provide any contact details at all - they will ignore you.
Looking for a good deal sometimes means turning away from well-known and trusted stockists like Amazon. Buying from a website that you haven't heard of before isn't a no-no but you do need to be vigilant. Only shop on websites with a padlock symbol in the address bar and a URL that starts with HTTPS. This means that it's a safe and secure website and any information that you enter will be encrypted and therefore unreadable by prying eyes.
For purchases over £100 consider buying with a credit card. If you never receive your purchase, or if there is a problem with a purchase that the seller won't resolve, section 75 of the Consumer Credit Act give you extra protection and you can claim a refund from your provider.
Small unknown websites
When browsing for the best Black Friday deals, it's easy to click on the cheapest price on offer, no matter the brand/ website. But this is always worth checking.
Really unrealistic deals might get you to fall into a trap of clicking on a small company website that you probably haven't heard of before. If you are going to purchase from them, do your research on the brand first, as a lot of them tend to be scammers.
If you want to keep it safe, only opt for big, legit brands that you already know of, or you can check rating bodies like TrustPilot for proof. If there are quite a lot of bad reviews on the small company or not much information, it's best to move on and shop elsewhere.
Is it really a discounted price?
This can occur with all types of retailers, from the biggest names to small ones. Some websites might increase the price of items on their website just before Black Friday and then reduce it back down to near normal price. But it makes out as if you're getting a great deal and pulls you into buying more.
Research Experts VPN Overview have found a lot of products cost more during Black Friday than on a normal day. The addition of red or yellow sale stickers reels customers in and could end up paying more than what they usually would.
Look After My Bills Newsletter
Get the best money-saving tips, tricks and deals sent straight to your inbox every week. Make sense of your money in partnership with The Money Edit.
Katie is staff writer at The Money Edit. She was the former staff writer at The Times and The Sunday Times. Her experience includes writing about personal finance, culture, travel and interviews celebrities. Her investigative work on financial abuse resulted in a number of mortgage prisoners being set free - and a nomination for the Best Personal Finance Story of the Year in the Headlinemoney awards 2021.