How much is the price of basic foods going up?
The cost of basic foods like pasta has risen much faster than inflation and nearly doubled over the past two years. We look at which foods have shot up the most.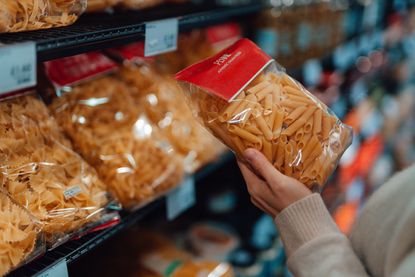 (Image credit: Getty images)
We've all seen price rises on the supermarket shelves and it often seems our weekly supermarket shop costs us more each week even if we stick to buying the same food.
Swapping brands for supermarket budget ranges may seem one way to save money at the till – however price rises on some of the most basic household foods within the supermarket budget ranges have nearly doubled over the last two years.
Both the BBC and consumer group Which? have been number crunching the price of some basic staple foods and found prices soaring much faster than inflation.
While inflation is currently 10.1%, the price of food has been rising much faster. Food inflation is at a record 16.7%, yet some foods like pasta have shot up by a whopping 90% over the past two years.
According to BBC research (opens in new tab), a standard 500g bag of pasta previously cost 50p two years ago, yet the same bag now costs almost double – at 95p.
It also found the price of strawberry jam had shot up by 57% over two years, the cost of a bag of oven chips by 45% and the price of an average basket of 15 staple items had risen by 34% within two years.
The Which? consumer group research (opens in new tab) is based on prices of over 25,000 food and drink items at 8 major supermarkets using the most basic budget range.
Its supermarket food and drink tracker found that the prices of items in the supermarkets' budget or value ranges had gone up by an average of 21.6%.
Which basic foods have gone up the most?
Here are the ten basic food items that have gone up the most according to Which?
Swipe to scroll horizontally
| Item | Supermarket | Average for 3 months to end Jan 2022 | Average for 3 months to end Jan 2023 | Percentage rise |
| --- | --- | --- | --- | --- |
| Hubbard's Foodstore Water 2l | Sainsbury's | 17p | 35p | 105.9% |
| Creamfields French Brie 200g | Tesco | 80p | £1.57 | 96.6% |
| Sainsbury's Simply Muesli 1kg | Sainsbury's | £1.20 | £2.25 | 87.5% |
| Creamfields soft cheese 200g | Tesco | 49p | 85p | 73.5% |
| Creamfields Greek style natural yoghurt 500g | Tesco | 45p | 75p | 67.7% |
| Creamfields Greek feta cheese 200g | Tesco | 88p | £1.46 | 64.8% |
| Grower's Harvest sliced carrots 300g | Tesco | 20p | 33p | 63% |
| Woodside farms unsmoked gammon steaks | Tesco | £1.50 | £2.39 | 59.3% |
| Mary Ann's dairy low fat peach & strawberry yoghurts 4 x 125g | Sainsbury's | 60p | 95p | 58.3% |
| Just Essentials 8 pork sausages 454g | Asda | 80p | £1.25 | 56.8% |
Source – Which? consumer group
Why are prices going up so much?
There's no single reason for the price rises.
Higher manufacturing, transport and packing costs are bumping up the price of foods that are imported from abroad as rising costs are passed on to shoppers.
Foods including milk, cheese, eggs, jam, sugar and chocolate have all seen big price rises with the average price of a litre of milk, now more expensive than a litre of petrol.
Read more
Sue Hayward is a personal finance and consumer journalist, broadcaster and author who regularly chats on TV and Radio on ways to get more power for your pound. Sue's written for a wide range of publications including the Guardian, i Paper, Good Housekeeping, Lovemoney and My Weekly. Cats, cheese and travel are Sue's passions away from her desk!