Are fuel prices going down in the UK?
Drivers may have seen a small drop in fuel prices this week, but petrol and diesel cost are still at record highs. We look at whether fuel prices are going down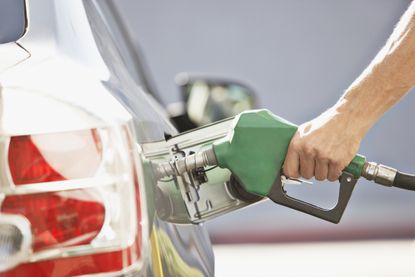 (Image credit: Getty images)
Eagle-eyed drivers will have noticed a small price drop in fuel costs this month as petrol prices went down by a small amount, raising the question: are fuel prices going down?
This week saw petrol prices go down by 0.1p - but this is not necessarily a sign that the extortionate prices are about to drop.
Data from Experian (opens in new tab) showed that petrol at UK forecourts fell by 0.3p on both Saturday (2 July) and Monday (4 July). These were the first daily price cuts seen since 21 May.
But then on Sunday (3 July), petrol prices hit a new record price of 191.53p.
Diesel drivers will have seen prices fall by around 1p every day since Sunday (3 July).
Petrol and diesel prices continue to fluctuate daily, but it could be months before we see any meaningful relief.
Will fuel prices go down as wholesales prices drop?
Wholesale prices of both petrol and diesel have fallen - this week, so far, wholesale petrol prices are 15p lower compared to the record highs at the start of June, but savings are not being passed onto retailers fast enough.
Luke Bosdet, fuel spokesman AA (opens in new tab), said: "Falling pump prices provide the first piece of good news in this cost-of-living crisis, but the reductions should be much bigger and should have started last week if not sooner.
"The question now is how much of the potential savings will be passed on to the consumer.
"As usual, the fuel trade shows itself very reluctant to pass on lower costs and give relief to hard-pressed motorists."
RAC (opens in new tab) fuel spokesman Simon Williams, added: "We can guarantee retailers will be rushing to buy new stock today at these low prices, but they will no doubt still remain reluctant to reduce their forecourt prices.
"If we don't see a significant supermarket cut in the next few days it will be nothing short of scandalous.
"And, even if retailers eventually do the right thing, we still need further help from the government to make the cost of driving more affordable as so many people are being financially impacted by the record high prices."
In the March Spring Statement, the former chancellor Rishi Sunak announced a 5p per litre reduction in fuel duty, but it has done little to ease the cost pressure.
How have petrol and diesel prices changed?
Like other cost of living prices, like food and energy, fuel prices have been steadily rising.
This table* shows how prices have gone up from January 2022 to 30 June 2022.
Petrol
| | Start of the year: 3 January 2022 | Day after fuel duty cut: 24 March 2022 | 30 June 2022 |
| --- | --- | --- | --- |
| Average pump price | 145.55p | 164.59p | 191.43p |
| Cost to fill a 55-litre car | £80.05 | £90.52 | £105.29 |
| Cost per mile (based on 40mpg) | 16.52p | 18.68p | 21.73p |
Diesel
| | Start of the year: 3 January 2022 | Day after fuel duty cut: 24 March 2022 | 30 June 2022 |
| --- | --- | --- | --- |
| Average pump price | 148.75p | 178.13p | 199.05p |
| Cost to fill a 55-litre car | £81.81 | £97.97 | £109.48 |
| Cost per mile (based on 40mpg) | 16.88p | 20.22p | 22.59p |
*Source RAC
Kalpana is the Editor of The Money Edit.
She's an award-winning journalist with extensive experience in financial journalism. Her work includes writing for a number of media outlets, including national papers and well-known women's lifestyle and luxury titles, where she was finance editor for Cosmopolitan, Good Housekeeping, Red and Prima.
She started her career at the Financial Times group, covering pensions and investments.
As a money expert, Kalpana is a regular guest on TV and radio; appearances include BBC One's Morning Live, ITV's Eat Well, Save Well, Sky News and more.
She was also the resident money expert for the BBC Money 101 podcast and co-author of the e-careers personal finance course.
A well-known money and consumer journalist, Kalpana also often speaks at events.
She is passionate about helping people be better with their money, save more and be smarter spenders.
Follow her on Twitter and Instagram @KalpanaFitz.