Best Apple TV Plus deals – get up to 8 months free
Stream for less with the best Apple TV Plus deals. How to make big savings.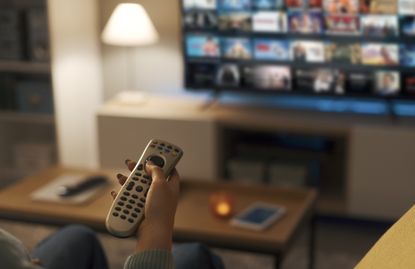 (Image credit: Getty images)
The best Apple TV Plus deals for customers shave around £85 off annual subscriptions.
From Netflix to Disney Plus, Amazon Prime and now Apple TV Plus, these streaming services are making it hard not to spend our evenings and weekends binge-watching, as more of us stay at home to try to spend less money.
A Sky News survey reveals that in response to the cost of living crisis, 48% of households are socialising less and 27% of people have been working from home more since the beginning of this year.
It's hard to put a stop to spending, even at home, but some streaming services like Apple TV Plus have free trials and deals that let you watch your favourite shows and movies for free for the first few months.
Apple TV Plus streaming service
An Apple TV Plus monthly subscription costs £6.99 a month. Unlike other streaming services, Apple doesn't offer a discounted annual subscription so paying monthly for 12 months costs £83.88.
But , you could be eligible for a discounted rate or up to a year's free subscription. We've rounded up all the best Apple TV Plus deals available.
Importantly many of these deal are available to new subscribers. If your already a subscriber you could cancel your subscription, wait for it to end and then take advantage of one of these offers.
Buy an Apple TV – get up to 8 months free
If you have purchased an Apple TV, you get the 3 months free plus a £40 Apple voucher.
You can put the £40 towards your Apple TV Plus subscription which will give you an extra 5 months free, totalling 8 months free of streaming and saving you around £55 altogether.
Don't forget after the free period your subscription auto-renews at £6.99 per month.
Get Sky TV - get 6 months Apple TV Plus free
Sky customers, be that through a Sky Q set-top box or Sky Glass, who aren't already subscribed to Apple TV+ can get 6 months of completely free access to Apple TV+.
Grabbing the free Apple TV+ subscription is easy, too. All Sky TV owners need to do is say "Get Apple TV+" into their Sky voice remote or visit the "Giveaways" section in the Sky VIP section of the My Sky App.
The offer ends on 31 March 2023. After 6 months of free access, you will be charged £6.99 a month unless you cancel (you'll be notified before your first payment).
EE customers get 6 months free
EE is offering new and existing customers half a year free for an Apple TV Plus subscription, reducing your bill by just over £40. This includes EE pay monthly and SIM-only customers who are on at least a 12-monthly plan.
You can claim the offer in two ways:
Text TV PLUS to 150. You should receive an activation code which you can use when purchasing through Apple.
Or, you can log into My EE online or on the My EE app, select Plan & Add-ons, then click Add-ons and choose Apple TV. EE will then send you instructions to follow.
This is well worthwhile if you're an EE customer and you can get half a year Apple TV Plus free even if you're already a subscriber.
The small print: If you are an existing Apple TV Plus customer, you will need to cancel your subscription directly with Apple before going through EE, following the instructions above to claim the 6-month offer.
Make sure your device is compatible with Apple TV Plus before claiming the offer. All Apple devices must be using iOS 14.7 or a later version, and if you're on an Android, check that you have a supported web browser for streaming Apple TV Plus.
Existing customers might receive the message '"This subscription is being used with another Apple ID". At this point, you will need to contact Apple Support and ask to change the Apple ID linked to your Apple TV subscription.
Whilst you are taking advantage of the offer, the Apple TV subscription will show as an included benefit. Once the offer ends, unless you cancel, you will be charged £6.99 per month which will be charged under EE entertainment.
Barclaycard customers get 5 months free
Barclaycard customers who have never had Apple TV Plus can claim 5 months free (saving nearly £35) and anyone who's previously had an Apple TV Plus free trial (and then cancelled it) can get 4 months free (saving around £28).
Unfortunately, if you already have an Apple TV subscription, you aren't eligible for this offer.
If you're planning on getting a Barclaycard anyway don't need to do anything to claim the offer, you'll get a code sent to you automatically for you to use when you sign up for an Apple TV Plus subscription.
Existing Barclaycard customers can get details on how to claim their code on the Barclaycard website.
The small print:
You will need an Apple ID and payment method on file – if you don't get in touch with Apple customer service.
Make sure your devices are compatible with Apple TV Plus. Check if your device is on the Apple TV Plus supported services list
The offer ends at 11:59pm on 22 September 2023.
Sign up to Currys emails and get 3 months free
The easiest offer of them all! Just sign up for Currys' marketing emails and you get Apple TV Plus free for up to 3 months – saving you just over £20. There's no need to purchase anything from the retailer to be eligible for the free subscription deal.
A few days after you sign up you'll be sent a unique Apple TV Plus code with instructions on how to redeem the offer.
However, If you already have a current Apple TV Plus account, you are not eligible to claim this offer. New Apple TV customers get 3 months free and returning customers get 2 months and 3 weeks free.
This offer is 1 subscription per Apple ID. After the offer, you will be charged £6.99 per month unless cancelled. You can cancel at any time.
Three and Tesco Mobile customers can get 3 months or 1 year free
You could be eligible for a 3-month or 1-year free Apple TV Plus subscription if you buy an Apple device or Apple bundle with Three or Tesco Mobile.
With Tesco Mobile, you are eligible if you buy any new iPhone. If you're with Three, these are the qualifying products:
iPad
iPhone
Three Home Broadband with Apple TV bundles
The small print: For both mobile providers, if you activated your eligible device on 30 June 2021 or before, you can get 1 year free – saving you nearly £85. If you activated your eligible device on July 1 2021 or after, you get 3 months Apple TV Plus subscription for free, which is around £20 off.

If someone in your family has taken advantage of the 1-year free offer, you cannot claim the 3-month subscription offer.
Note: once the deal expires, you will be paying £6.99 per month unless you remember to cancel your subscription beforehand.
How to claim the offer:
With Tesco Mobile, all you need to do is make sure your iPhone is updated to the latest version, open the Apple TV app on your phone and the offer should appear. If it doesn't, keep scrolling through "watch now" until the offer appears.
To claim the offer with Three, the easiest way to claim is to call Three (333 from any Three mobile). You must redeem the offer within 90 days after purchase.
Get 3 months free when you buy an Apple product
If you're an Apple fanatic this is a good deal for you. When you purchase an Apple device you can get a 3-month free trial of Apple TV Plus, saving you just over £20.
To be eligible, you will need to have bought one of the following:
iPhone
iPad
iPod touch
Mac
Apple TV
You can redeem the offer on the Apple website – it must be done within 90 days. After the 3-month offer period, your subscription will auto-renew at £6.99 per month.
If you want to cancel, go to settings on whatever Apple device you are using, click your name, go to "manage subscriptions" and click Apple TV Plus, where you can cancel. If you prefer, you can sign in on tv.apple.com and cancel via the website.
Note, this offer is only one per family, regardless of how many Apple devices you buy. The good news is a standard Apple TV subscription allows you to share with up to 5 family members.
PS4 owners can get 3 months free
If you own a PS4, you can claim 3 months of Apple TV Plus free but you must be a new Apple TV customer. Here's how to claim your offer:
Find the Apple TV app on your PlayStation (in the TV and video section)
Download and open the app. Follow the instructions that pop up onscreen.
Create an Apple ID. If you already have one, use that.
Once you're logged in, your 3-month offer is applied and you can stream on your PlayStation or Apple devices.
Note, this offer is only valid on PS4s and not other models like PS5.
Apple TV Plus student offer
Students who already take advantage of the Apple Music offer from UNIDAYS get Apple TV Plus for free for a limited time.
To be an eligible student, you must be studying a bachelor's degree, postgraduate degree or equivalent Higher Education course at a UK university.
As you will already have claimed the Apple Music offer, you can start streaming on the Apple TV app, there is no need to sign up for that offer separately.
More ways to get Apple TV Plus for free
If you aren't eligible for any of the Apple TV Plus subscription offers, there are a couple of alternatives you might want to try:
One-week free trial: If you sign up for an Apple TV Plus subscription, you get a one-week free trial, before you have to pay.
Free premieres: Apple TV Plus lets you watch the first episode of its TV shows for free. It's a good idea to check this option out if you want to get a taste of what's available before signing up.
The Apple One plan: if you're on this plan but haven't signed up for Apple TV Plus then you get a free 1-month trial for any of the Apple services that you don't already have (including Apple TV Plus, Apple Music and Apple News Plus)
Related articles
Vaishali graduated in journalism from Leeds University. She has gained experience writing local stories around Leeds and Leicester, which includes writing for a university publication and Leicester Mercury.
She has also done some marketing and copywriting for businesses.
When she is not writing about personal finance, Vaishali likes to travel and she's a foodie.