Top Amazon scams to avoid in 2023
Amazon scams use every trick in the book to convince you they're genuine. Here are some of the most common attempts we've seen so far.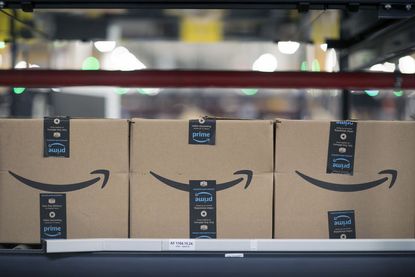 (Image credit: Bloomberg / Getty images)
Amazon scams are big business, the world's biggest brands will always be popular targets for scammers to impersonate due to huge customer bases, global presence and brand familiarity.
With millions of customers and subscribers to its Prime delivery and video service, fraudsters regularly target Amazon customers (and the wider public) with cold calls and a variety of different phishing emails in attempts to capture sensitive personal information, including your bank and card details.
This is a round-up of some of the most common Amazon scam attempts spotted throughout 2022, revealing how you can spot the phoney cold calls, recognise the fake emails and keep your Amazon account secure.
Amazon Prime cold call scams
An extremely common nuisance call posing as Amazon has been plaguing the UK for years - its goal is to connect you to a fictional 'account manager' and often involves the installation of remote access software on your device, which gives the scammer control.
The call is initially automated (sometimes known as a 'robocall'), with an electronically generated voice telling you that your subscription to Amazon Prime is about to be 'renewed' - the figure quoted for this fake renewal is often £39.99, though scammers may change their tactics now that Amazon has hiked its own prices.
The voice goes on to tell you to 'press 1' in order to be connected with someone who can supposedly stop the renewal from taking place. But it's all a ruse - the person you're connected with will begin the process of extracting your personal information, such as bank details and passwords, and implore you to install the software that will allow them to take control of your device.
How can you tell if a call from Amazon is genuine? Amazon will never ask you to disclose or verify sensitive personal information. It states that it will not offer a refund you do not expect and is imploring customers to report suspicious activity involving its brand.
In depth: What is the Amazon Prime 'renewal' scam call and how does it work?
An Amazon spokesperson said: "Scammers that attempt to impersonate Amazon put our customers and our brand at risk. Although these scams take place outside our store, we will continue to invest in protecting customers and educating the public on scam avoidance.
"We encourage customers to report suspected scams to us so that we can protect their accounts and refer bad actors to law enforcement to help keep consumers safe. Please visit our help pages to find additional information on how to identify scams (opens in new tab) and report them. (opens in new tab)"
Fake Amazon 'locked account' email
Fake emails using convincing Amazon branding have been reported throughout 2022. The emails tell the recipient that their Amazon account has been 'locked', and that they must take urgent action to verify it.
The emails provide a convincing-looking button designed to take you through to a website that has nothing to do with Amazon.
🚨SCAM WARNING: Watch out for these FAKE Amazon emails. We received over 2,000 reports in one week. Received an email you're not quite sure about? Forward it to: report@phishing.gov.uk pic.twitter.com/lfQ4bxtBOIFebruary 23, 2022
See more
Fake websites like this pose as the brand they purport to be from and encourage you to enter your log-in information and/or card details into a fake log-in screen or form. Once you've done this, the scammers will be in possession of the information you entered.
You can often spot phishing emails by taking a moment to assess the communication. An email may appear genuine at first glance, but has it arrived from a genuine Amazon email address? Does the text of the email contain spelling and grammatical errors? Is it linking to a website that isn't Amazon's usual domain name?
Fake Amazon 'order' email
Operating in exactly the same way as the fake 'locked account' email, scammers will also send fake emails confirming an 'order'.
The scammers are relying on you becoming panicked by being charged for an order that you didn't place and are hoping that you'll click through to their fake site directly via the email.
But once again you should take the time to assess the email before making any rash decisions. Visit the official Amazon site via a separate browser window and log in to your account in the usual way - are there any orders on your account that match what the email is telling you?
If not, the email is almost certainly fake. However, if you're unsure, contact Amazon via the official site (not the suspicious email) and ask it to clarify.
An Amazon spokesperson said:
"We've introduced email verification technology for emails sent by Amazon to protect customers from phishing scams. For customers with email clients supporting the technology, including many of the large providers – Gmail, Yahoo!, and AOL – emails from Amazon will now include our 'Smile' logo in thumbnails, indicating that they've passed security checks. If customers see the 'Smile' logo next to emails coming from an @amazon.co.uk sender, that will indicate that the email is genuinely from Amazon."
Before:
After:
Amazon gift card scam
⚠️ Amazon scam emails⚠️Watch out for these fake emails claiming to offer you the chance to win Amazon gift cards.✅Forward suspicious emails to: report@phishing.gov.uk#PhishyFridays pic.twitter.com/kaYG5RXqdMJuly 22, 2022
See more
Another common phishing email tactic is to notify a potential victim that they've won a 'gift card' or some sort of 'reward. In July, Action Fraud said that it had received nearly 300 reports of the fake gift card emails, with the links including in them leading to phishing websites designed to steal personal and financial information.
Amazon will not suddenly offer you a gift card out of the blue. Inspecting these emails closely will likely reveal additional hallmarks of a fake email in the same style as the 'locked account' and 'delivery' attempts.
Fake Amazon texts
While not as common as other Amazon scam attempts, occasionally fraudsters will attempt to lure you to more fake websites via SMS text message.
Like the phishing emails, these sites link to a website that has nothing to do with Amazon, which will likely ask you to enter sensitive information, such as your Amazon password.
Amazon says it will never ask for your password or personal information by text message. If you've received a text message like this, do not follow the link and instead check if there's an issue with your account with Amazon via its official channels.
Amazon 'Brushing' fraud
'Brushing' is a process in which sellers on Amazon's marketplace send out packages to people that they didn't order. The purpose of this is so that they can use the fabricated 'transaction' to leave themselves positive reviews, boosting their seller rating/scores and making themselves appear popular and trustworthy.
The issue of 'brushing' has been widely reported across the media with millions of UK households potentially affected.
Amazon says that the packages are being sent to publicly available names and addresses, so while there's no obvious sign that your personal data has been breached, and that this isn't a 'scam' in the traditional sense, the unsolicited packages can quickly become a nuisance with some households inundated with unwanted items.
According to Amazon, third-party sellers are prohibited from sending unsolicited packages to customers. Amazon says that these deliveries should be reported immediately via its Customer Service, but there's no need to return the item.
Amazon says (opens in new tab) it will take appropriate action against bad actors that violate its policies. This could include suspending or removing selling privileges, withholding payments and even working alongside the police.
An Amazon spokesperson said: "Third-party sellers are prohibited from sending unsolicited packages to customers, and we take action when our policies are violated, including by withholding payments, suspending selling privileges, and reporting bad actors to law enforcement."
What to do if you've been scammed
If you think you may have given your banking/card details away to scammers then you should let your bank know what's happened immediately by calling it on its official fraud number.
The bank should work with you to get your money back after a scam, but this will vary depending on how the scammer stole your money. Here's everything you need to know about recovering your money after a scam.
You should also report the incident to Action Fraud (opens in new tab).
Two-factor authentication
Amazon accounts support two-factor authentication, which adds a vital layer of extra security to your account when you log in.
With two-factor authentication enabled, Amazon will request that you also enter a security code after entering your password. This security code is sent by text message to your phone or can be generated via your own authenticator app.
Amazon's guide to two-factor authentication (opens in new tab)
This will ensure that even if someone has gained access to your password, they still will not be able to proceed without the security code.
Experts recommend that you switch on two-factor authentication for any of your accounts where it's an option, but especially accounts which hold sensitive information.
How to report Amazon scams
Amazon has a dedicated page explaining how you can report suspicious phone calls, emails or text messages:
For 'Brushing' fraud specifically, it encourages you to report to its Customer Service.
Outside of Amazon directly, phishing emails can be reported to the National Cyber Security Centre (NCSC) on report@phishing.gov.uk (opens in new tab)
The NCSC can then work to remove the fake websites that phishing emails link to.
Amazon has recently issued advice via email to customers containing the following four rules to follow if you're unsure about a communication you've received:
Never feel pressured to give information (such as your credit card number or account password) over the phone, especially if the call was unexpected.
Never pay over the phone. Amazon will never ask you for payment over the phone.
Trust Amazon-owned channels: always go through the Amazon app or website when seeking customer support.
Be wary of false urgency: be wary if something tries to convince you to 'act now'.
Related articles:
George is a freelance consumer journalist with a keen interest in scams and housing. He worked for the Consumers' Association for seven years where he was the editor of Which? Conversation - his work on exposing new scams saw him often quoted in the national press.
George has been at the forefront of the cladding and building safety crisis, campaigning for the rights of leaseholders and giving a voice to those caught up in the scandal - as a result he was nominated for Property Journalist of the Year in 2021 at the Property Press Awards.