Cancelling your Amazon Prime subscription just got easier
Amazon has made it clearer on their website on how to cancel your Prime subscription just before its price hikes. We explain how.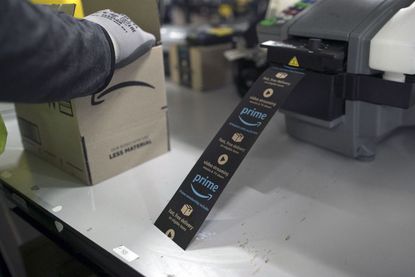 (Image credit: Bloomberg / Getty images)
Amazon Prime is now easier to cancel in the UK after changes were made on 1 September 2022, following a nudge from the European Commission.
There was concern Amazon wasn't acting in line with EU consumer protection rules. It also resulted in changes on Amazon's sites across Europe, including Spain, Italy, Poland and Germany to make cancelling subscriptions more simple.
Given the recent price hikes on energy, fuel and food prices, it's no surprise that many households are going to have to change their lifestyles in order to 'get by,' which means reviewing whether subscriptions like Amazon Prime are worth having, or if there is a need to downgrade.
On top of that, Amazon is set to increase their subscription prices from 15th September 2022. If you're paying monthly, your subscription will increase by £1 from £7.99 to £8.99 and if you're paying annually the membership will rise from £79 to £95. That's a £16 increase.
Find out how to get around the Amazon price hikes before 15th September 2022.
HOW CAN I CANCEL MY AMAZON SUBSCRIPTION EASILY?
Before the changes, cancelling your Amazon Prime membership could be long winded.
It made you go through the options of wanting to either change from a monthly to annual subscription or annual to monthly.
After all of that, one of the last steps was asking if you want to cancel your subscription. To get there it took a minimum of 5 clicks.
Now, the navigation on the Amazon website to cancel your subscription has gotten a whole lot easier. Here's how to cancel:
On the Amazon homepage, click on 'accounts & lists' and then 'your Prime membership.' Then you simply click on 'end membership'.
This will take you to a page where the benefits of your current package will be listed.
There will be a button 'continue and cancel' which you click, and then it will tell you 'end on [your end date]' which you click to confirm and finish.
Personal Finance Editor of The Money Edit, Adam French welcomed the news, saying: "Firms should make it as easy to cancel as it is to sign up in the first place. As the cost of living crisis continues to squeeze household finances it's more important than ever that we can all take better control of our finances and easily manage regular payments.
"Remember, it's important you're getting value out of your membership, if you're not using the perks, it might be time to cancel."
Vaishali graduated in journalism from Leeds University. She has gained experience writing local stories around Leeds and Leicester, which includes writing for a university publication and Leicester Mercury.
She has also done some marketing and copywriting for businesses.
When she is not writing about personal finance, Vaishali likes to travel and she's a foodie.