Aldi selling £10 of food for £3.30 via Too Good To Go app - how to get a bag for yourself
Like saving money and food? You can grab a bag containing Aldi food items worth at least £10 that are approaching their use-by dates for just £3.30. But how does it work - and is it worth it?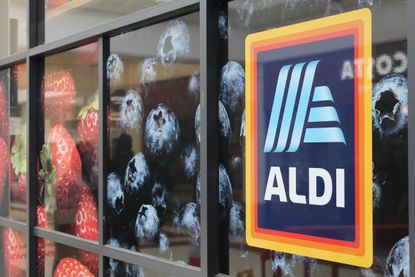 (Image credit: Anadolu Agency )
Look After My Bills Newsletter
Get the best money-saving tips, tricks and deals sent straight to your inbox every week. Make sense of your money in partnership with The Money Edit.
Thank you for signing up to The Money Edit. You will receive a verification email shortly.
There was a problem. Please refresh the page and try again.
Aldi now sells £3.30 "magic bags" through the Too Good To Go app, containing unsold food worth at least three times the value.
Shoppers receive a random assortment of grocery products that are nearing their sell-by or use-by date, which are worth at least £10.
The app, which is free to download, aims to tackle food waste. Customers buy the magic bag on Too Good to Go and then collect it from their chosen Aldi store.
Customers that have already picked up a bag have been excited about what they've discovered inside. One shopper bagged a whole chicken, battered fish, cream cakes, crumpets and more - all for £3.30.
Another received a whole box - not just a bag - containing meatballs, cooked Mexican chicken, bread, bananas and lots of vegetables.
However, one customer moaned on social media that he had got 48 hot cross buns.
We explain how the app works and how you can bag a magic bag for yourself.
How to get a magic bag
Aldi ran a trial with Too Good To Go last year, and it has now rolled out the partnership across all of its 990 UK stores.
Too Good To Go is the world's largest surplus food platform. It works with almost 25,000 businesses offering discounted food, including a wide range of independent shops, bakeries and cafes, as well as supermarkets like Morrisons and chains like Greggs and Costa.
A spokeswoman told The Money Edit that while it couldn't say how many Aldi magic bags had been sold so far, its Aldi partnership had "certainly experienced the biggest reaction from press and consumers".
The Too Good To Go app can be downloaded on Google Play or on the Apple Store. To find an Aldi near you, you can use the search function on the app. Some stores may say "Nothing today" if they have no unsold food that needs "rescuing". You may also spot some stores that say "Sold out" - you need to be quick!
If you find an Aldi that is selling magic bags, you'll see the price (£3.30) and the collection time (which varies depending on the store). To grab it, you pay via the app, visit the store during the collection time, show a staff member the receipt on the app, and pick up your bag or box.
Top tip: you can "favourite" your local Aldi store in the app to save you from searching for it each time. Too Good To Go may also give out tips, like when the store is likely to add more magic bags, such as between 8pm and 9pm on weekdays, in which case you can check back to see if any more are on sale.
What could I get?
The magic bag is a surprise, so it just depends on what food is leftover when you arrive at the Aldi to collect it.
Customers have taken to social media to discuss what they've received. One shopper called their bag "unreal value". Their haul contained several chicken products, cheese, potatoes and two salads.
Another said they could create several different lunches and dinners from their magic bag, which contained chicken, meatballs, bread, fruit, vegetables and cakes.
Be aware that companies like Aldi that use Too Good To Go can't normally cater for allergies or special requests - although it's always worth asking, just in case they can give you a different magic bag.
The food items are highly likely to "go off" the day you collect them. That's fine if you're happy to eat them that day, or you can put them in your freezer. If you receive a glut of vegetables that look like they're past their best, consider cooking them that day in a stew or soup, which you can freeze for later.
Ollie Wright, a radio newsreader and reporter at BBC Scotland News, recently tweeted a picture of his Aldi magic bag. He'd received only bakery products, including 48 hot cross buns.
He joked: "Anyone need any? I'll be eating these for weeks."
How to save money on food shopping
The cost of our supermarket shop continues to climb. While the overall rate of inflation has started to come down, food inflation has hit a record-high.
However, there are lots of ways to reduce the cost of your grocery shopping, such as using the Too Good To Go app, making sure you've signed up to supermarkets' loyalty schemes, and looking for discounted "yellow sticker" items.
Aldi reduces its perishable products such as bread and meat by 30% or 75% as they near the end of their shelf life, so it's worth looking out for these deals. Other cupboard staples such as rice, pasta, cereal and tinned food may also be marked down by 30% if the packaging is imperfect.
Waitrose is also known to sometimes offer generous discounts on its yellow stickers, such as reducing cream cakes from £2 to 20p.
Meanwhile, swapping your branded products (like Heinz and Kellogs) for supermarket brands could shave hundreds of pounds off your annual bill.
You can also switch to a cheaper supermarket, like Aldi or Lidl.
Batch cooking meals for the week ahead can make your money go further.
More on food shopping…
Look After My Bills Newsletter
Get the best money-saving tips, tricks and deals sent straight to your inbox every week. Make sense of your money in partnership with The Money Edit.
Ruth Emery is contributing editor at The Money Edit. Ruth is passionate about helping people feel more confident about their finances. She was previously editor of Times Money Mentor, and prior to that was deputy Money editor at The Sunday Times. A multi-award winning journalist, Ruth started her career on a pensions magazine at the FT Group, and has also worked at Money Observer and Money Advice Service. Outside of work, she is a mum to two young children, a magistrate and an NHS volunteer.