UK's cheapest supermarket revealed
The cheapest supermarket has been crowned, according to Which? - and you could save £17 on your weekly shop by switching to it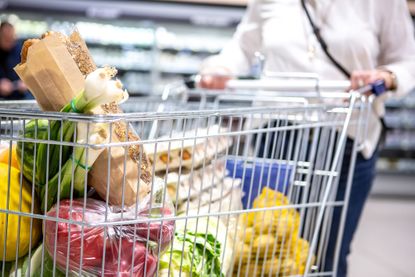 (Image credit: Getty images)
With food prices soaring over the past year, more of us have been switching supermarkets to find the cheapest deal. And while we all have our own favourite, doing the weekly shop for as little as possible is now more important than ever.
Every month consumer group Which? checks hundreds of thousands of prices on grocery items across eight big supermarkets to find the cheapest place to shop.
Aldi has come out on top for April, with shoppers saving £17 on an average basket of shopping in comparison to the most expensive retailer.
The supermarkets Which? checks are Aldi, Asda, Lidl, Morrisons, Ocado, Tesco, Sainsbury's and Waitrose.
The group examines the price of a basket of 39 basic grocery items including bread, eggs, tea bags, coffee and milk along with a larger trolley load, including more branded items, with 135 goods.
Special offers are included in its number-crunching – but not multi-buys.
Lidl held the title of Britain's cheapest supermarket from January to May 2022, but Aldi has consistently been the cheapest supermarket since, according to Which?.
Cheapest basket of goods in April
Last month, a basket of goods from Aldi cost an average of £69.99.
Lidl was the next cheapest, at an average price of £70.64, while Waitrose, the most expensive supermarket, averaged a total of £87.33 - almost 25% more expensive.
Ele Clark, Which? retail editor, said: "The price of food and drink has continued to soar as people suffer through the worst cost of living crisis in decades. It's no surprise to see many people turning to discounters like Aldi and Lidl when our research shows they could save up to £17 on a basket of everyday groceries by doing so."
A saving of £17 per week could mean an annual saving of roughly £425 for households who switch from the most expensive supermarkets to the discounters like Lidl and Aldi.
Which? also ran the numbers on a larger shop - a trolley containing 135 items including Andrex toilet paper and Cathedral City cheese. The discount supermarkets were not included as they tend not to sell the full range of branded items included in the analysis.
Asda was yet again the cheapest for this larger trolley of groceries - a title it has held since January 2020.
In April it cost £343.46 for this shop, widening the gap between Asda and the next cheapest, Sainsbury's (£353.96), which was £10.50 more.
How much has your supermarket shopping gone up by?
As we have all discovered, it's impossible to entirely avoid skyrocketing food costs, with some prices rising by more than 50%. Analysis by money.co.uk found the cost of one litre of vegetable oil has increased by 65.2% over the past year - the highest of all grocery goods.
Pasta (59.9%), tea bags (46%), chips (38.7%), bread (37.7%) and biscuits (34.4%) have also risen by the greatest amount.
With prices creeping upward over the past year, it's become trickier to keep track of which of our regular buys have increased in cost and by how much.
Now a new tool from the Office for National Statistics (ONS) sheds some light on how much our own grocery shop, and other day-to-day living costs, have increased.
The shopping prices comparison tool allows you to compare the average prices of over 450 items in the consumer prices inflation basket.
The tool contains items ranging from bananas to nursery fees, allowing you to track average price trends to see just where your money is going.
It also lets you create your own bespoke basket of items and calculate the total average price change across these items, such as the cost of a roast dinner.
How to cut the cost of your supermarket shopping
As well as making sure you shop at the cheapest supermarket, there are lots of other ways to save on the cost of your food bill.
You can find lots more tips on ways to save in our article on how to cut the cost of your weekly food shop.
Read next
Look After My Bills Newsletter
Get the best money-saving tips, tricks and deals sent straight to your inbox every week. Make sense of your money in partnership with The Money Edit.
Tom Higgins is a journalist covering all aspects of the financial world, from investing and sustainability to pensions and personal finance. He graduated from Goldsmiths, University of London in June 2020 and has since written online and in print for the Financial Times group, New Statesman media group, numerous trade magazines, and has worked with Bloomberg on social media projects. He has a deep interest in environmentalism, social change, and data-driven storytelling. He can be found tweeting at @tomhuwhig.