Air fryer scam warning this Black Friday - how to spot a fake
Air fryer scam warning as shoppers could be ripped off £10 million between Black Friday and Christmas as fraudsters flood the market with fake goods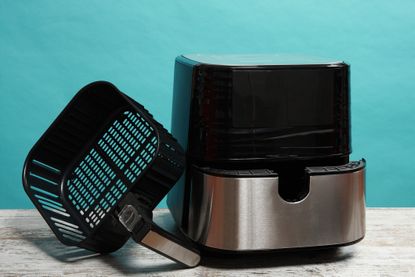 (Image credit: Getty images)
Experts sounding an Air fryer scam warning as scammers make use of the popularity of the latest must-have kitchen gadget to flog fake and non-existent goods online.
Natwest is warning air fryers, electric heaters and games consoles will be among the most common purchase scams in the sales this Black Friday and into the new year.
Cash-strapped households could fall victim to fraudsters who are eager to cash in on the cost of living crisis if they unwittingly snap up Black Friday scams and fake festive deals.
Air fryer scam warning
Stuart Skinner, Fraud and Scams expert at NatWest said, "Black Friday is a great time of year to pick up a bargain but unfortunately it is also exploited by criminals. If you're being sold something at a knock-down price from a private seller on social media or a website you're not familiar with – don't do it".
"Your goods won't turn up and you'll be left out of pocket. If it's an unusually good bargain for an item you know is worth a lot more, chances are it's a scam."
A purchase scam is usually when fraudsters advertise items that sound genuine but at hugely discounted prices but don't exist.
With these deals, there's usually a time pressure factor too with warnings that if you don't buy quickly you could miss out.
According to Natwest these scams are happening on sites like eBay, Facebook Marketplace, Instagram and Twitter.
The majority of these purchase scams are for items costing under £1,000 according to UK Finance. And those most at risk of purchase scams are between the age of 18 – 45.
How to spot an Air Fryer scam - and other purchase scams
Sounds like a cliché but if something looks 'too good to be true' it probably is – so steer clear and save your money!
Check websites carefully and avoid clicking through links posted on places like Facebook or random emails.
While some online reviews can be faked it's worth looking at established feedback sites like Trustpilot (opens in new tab) for store and product reviews.
When buying tech and gadgets check brand names and model numbers carefully. Are they models other sites are also selling or a brand you've never heard of?
If you're buying on eBay check a seller's feedback and see if there are negative comments from buyers.
When you're buying online always use the secure payment system recommended by the website, for example using PayPal on eBay.
Never pay by bank transfer, however convincing the seller's excuse is to pay this way – it's like handing cash to a random stranger. If things go wrong you're less likely to see your money again.
With other shopping sites always pay by debit card or credit card if the item costs over £100 for extra protection.
If you think you've fallen for a scam – contact your bank immediately by calling 159 and report it to Action Fraud (opens in new tab).
Related articles
Sue Hayward is a personal finance and consumer journalist, broadcaster and author who regularly chats on TV and Radio on ways to get more power for your pound. Sue's written for a wide range of publications including the Guardian, i Paper, Good Housekeeping, Lovemoney and My Weekly. Cats, cheese and travel are Sue's passions away from her desk!