Inflation rises to 10.1% ‒ what does it mean for your money?
UK inflation has risen above 10% for the second time this year and there are warnings inflation could hit 11% by the end of the year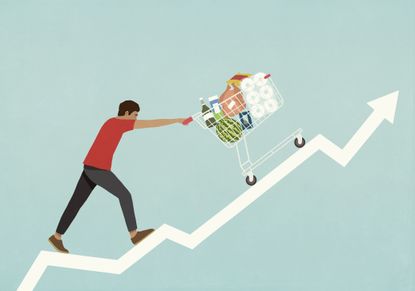 (Image credit: Getty images)
Look After My Bills Newsletter
Get the best money-saving tips, tricks and deals sent straight to your inbox every week. Make sense of your money in partnership with The Money Edit.
Thank you for signing up to The Money Edit. You will receive a verification email shortly.
There was a problem. Please refresh the page and try again.
The UK's rate of inflation rose to 10.1% in September, new figures from the Office for National Statistics (ONS) show.
This is the second time this year that inflation has risen above 10% and marks a 40-year high. It means that the prices we pay are growing at almost the fastest rate seen in four decades.
Food prices were the biggest driver behind the rise: Food and non-alcoholic beverage prices rose by 14.6% in the 12 months to September 2022, up from 13.1% in August.
What's more, inflation is predicted to grow still further in the months ahead with the Bank of England warning inflation could top 13% this year.
Foreign Secretary James Cleverly told the BBC that the Energy Price Guarantee, the government's energy support package, will have helped to lower inflation but that the figure was concerning for households: "I think the response to the energy price increases that we brought out in the statement a few weeks ago will have helped to suppress some of that inflation, but of course it is still something which is concerning,"
For pensioners and benefit claimants there is further uncertainty: September's inflation figure is usually used to increase the state pension and benefit payments the following April. However, it's unclear if this will happen next year, with the government warning that it may u-turn the pensions triple lock, meaning a single pensioner could lose out on £442 a year. We explain more below.
Myron Jobson, Senior Personal Finance Analyst, interactive investor, says: "Rising prices eat into the amount many people have to save for everything else, whether that's other living expenses, emergencies, leisure or saving for their future. Any savings you can make now will help you build up reserves for winter when you'll really need it most - but that's easier said than done in a cost-of-living crisis."
We look at what the change in inflation means for the money in your pocket.
What does high inflation mean for savers?
High inflation is disastrous for savers. As prices rise, it means that the purchasing power of your money falls ‒ what would have cost £100 a year ago may now cost you £110, for example.
As a result, in order to grow your savings in real terms, you need to find savings accounts that pay rates above the rate of inflation. These simply don't exist right now. The best savings account on the market is Barclays Rainy Day Saver that pays 5.12% on savings up to £5,000. (Note you need its current account)
While current rates on savings accounts and cash ISAs still don't beat the rate of inflation, rates are slowly rising and worth considering when looking to deposit extra cash somewhere.
See our article on the best savings rates for more.
What does high inflation mean for pensioners?
There's uncertainty for pensioners today after the government failed to commit to reinstating the triple lock yesterday.
Former pensions minister Steve Webb if the government break the triple lock again it would cost a single pensioner £442 a year:
Based on this morning's inflation figures, I calculate that breaking the triple lock again, and linking the pension to earnings instead, would cost a single pensioner £442 a year. Coming on top of a cut in energy bill support, surely this would be political suicide?October 19, 2022
See more
Alternatively, if the government does uprate the state pension by 10.1% it would give pensioners a much-needed uplift.
For those who receive the new state pension - currently £185.15 a week or £9,627.80 a year - a 10% rise would mean weekly payments of £203, providing an annual income of around £10,600.
For those who retired before 6 April 2016 and receive the old basic state pension, the same 10% rise would mean weekly payments would rise from £141.85 to £156.03, meaning an increase in their annual income from £7,376.20 to £8,113.82.
Helen Morrissey, senior pensions and retirement analyst at Hargreaves Lansdown said: "Under today's CPI inflation figure the new state pension will soar 10.1% giving pensioners a weekly income of over £200 per week.
"To be denied such an increase would come as a bitter blow to the many pensioners who rely on state pension as the foundation of their retirement income."
Look After My Bills Newsletter
Get the best money-saving tips, tricks and deals sent straight to your inbox every week. Make sense of your money in partnership with The Money Edit.
Katie is staff writer at The Money Edit. She was the former staff writer at The Times and The Sunday Times. Her experience includes writing about personal finance, culture, travel and interviews celebrities. Her investigative work on financial abuse resulted in a number of mortgage prisoners being set free - and a nomination for the Best Personal Finance Story of the Year in the Headlinemoney awards 2021.