Should I cancel my direct debit to my energy company: what happens if you refuse to pay your energy bill?
Experts warn against Don't Pay UK campaign and the dire financial and legal consequences of not paying your energy bills in October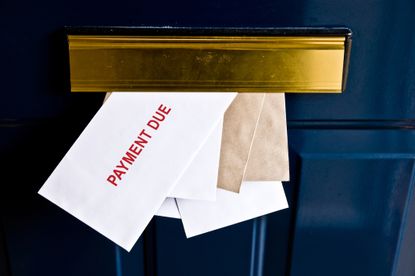 (Image credit: getty images)
Look After My Bills Newsletter
Get the best money-saving tips, tricks and deals sent straight to your inbox every week. Make sense of your money in partnership with The Money Edit.
Thank you for signing up to The Money Edit. You will receive a verification email shortly.
There was a problem. Please refresh the page and try again.
In response to the news that the October energy cap will rise by 70%, a campaign group called Don't Pay UK is urging households to refuse to pay energy bills.
So far the group has the support of more than 90,000 people who are prepared to stop paying their energy bill from 1 October.
It has compared its cause to the Poll Tax revolt in 1990 when more than 17m people refused to pay the tax and forced the government to reverse its policy. It says mass non-payment will only take place if one million people sign up to its cause.
But experts and charities have warned there could be serious consequences for anyone not paying their gas and electricity bill.
Consumer expert Martyn James describes the Don't Pay campaign as irresponsible. "If you don't pay you can find yourself in breach of the contract that you have with your energy provider, so you could face debt collection procedures or even court action.
"Most people just seem to be sharing around the Don't Pay flyer, without any context about what happens if they don't pay and how long they refuse to pay. I'm hugely concerned that people will simply think this is a protest then find themselves in debit - or much worse situations."
Gary Rycroft, a solicitor, spells out some of the consequences: "If you are in breach of your contract ultimately they can cut you off. Your credit score will tank and you run the risk of getting a county court judgement (CCJ) which will make life difficult if you are trying to rent, remortgage or take out a credit card or personal loan - we are talking about being affected for months and years down the line."
We explain the different ways you can be affected if you refuse to pay your energy bill.
What happens if you don't pay your energy bill?
If you don't pay your energy bill, your energy supplier may appoint a debt collection agency to chase what they are owed.
It could even go to court to obtain a warrant to install a prepayment meter in your home. Alternatively, if you have a smart meter this could be remotely switched to a prepayment meter. It means your arrears would be added to the meter in order to deduct a set amount each week.
Prepayment meters are ultimately more expensive: cancelling a direct debit means losing the slight discount you get so you'll be around an extra 7% overall added to your energy bill.
There's often fees for late payments too, which would be added on top.
And if you continue to refuse to pay your bill, your energy supplier could then take you to court to get a county court judgement (CCJ).
You can also damage your credit score in the process. This will impact your ability to borrow money. If you apply for a credit card, to remortgage or take out a personal loan, for example, the lender will check your credit score to decide if you're likely to pay them back.
A default or CCJ shows you are high risk to lend to and reduces your borrowing options. You may be refused credit or have to take out credit on much higher interest terms - costing you considerably more.

And this could follow you for a long time: a default or CCJ will stay on your credit file for six years, according to credit agency Experian.

A poor credit score can also affect you if you are looking to rent or take out a mobile phone contract.
What help can I get with my energy bills?
Sadly, it looks like high energy prices will be with us for the rest of this year and throughout 2023 and 2024. But some help is available.
The first thing you should do if you are struggling is to contact your energy supplier because it has a duty to help you if you are struggling.
Some 116,000 people have already done this in the first six months of 2022, according to Citizens Advice. You will likely be put on a personalised payment plan.
If there's been a dramatic jump in your direct debit that you don't understand, do question it. The Money Edit helped a reader, 79-year-old Christine, bring her direct debit to Scottish Power back down after she saw a nonsensical 215% increase.
Rycroft strongly suggests talking to your energy firm. "It would be better for people to overwhelm energy firms with such requests for help, that way they will be forced to go to the government for help."
Many energy suppliers have hardship funds too that, in some cases, involve writing off some of your bill.
While all households will receive the £400 energy grant from October, double-check to see if you qualify for the government's cost of living package that offers help up to £1,500.
Debt charities such as Citizens Advice Bureau and Step Change can also help.
Look After My Bills Newsletter
Get the best money-saving tips, tricks and deals sent straight to your inbox every week. Make sense of your money in partnership with The Money Edit.
Katie is staff writer at The Money Edit. She was the former staff writer at The Times and The Sunday Times. Her experience includes writing about personal finance, culture, travel and interviews celebrities. Her investigative work on financial abuse resulted in a number of mortgage prisoners being set free - and a nomination for the Best Personal Finance Story of the Year in the Headlinemoney awards 2021.