Warning: £400 energy bill discount scam
Scammers are using the cost of living crisis to target households. The latest scam involves the £400 discount households will receive towards their energy bills. We explain what to look out for.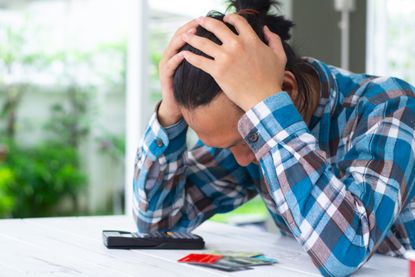 (Image credit: getty images)
Look After My Bills Newsletter
Get the best money-saving tips, tricks and deals sent straight to your inbox every week. Make sense of your money in partnership with The Money Edit.
Thank you for signing up to The Money Edit. You will receive a verification email shortly.
There was a problem. Please refresh the page and try again.
While millions of households in England, Scotland and Wales will receive a £400 discount off their energy bills from this October, officials are warning of a new energy bill discount scam.
Just as scams relating to the council tax rebate arose, fraudsters are jumping on the £400 discount to get people to hand over cash.
New research from the Citizens Advice in June found more than three quarters of UK adults say they have been targeted by a scam this year - that's a 14% increase compared to June last year.
And almost a third of scams reported include those relating to rebates and refunds.
Dame Clare Moriarty, chief executive of Citizens Advice says: "We know scammers prey on our worries and fears and the cost-of-living crisis is no exception. Anyone can be targeted by a scam, and as the purse strings are tightened and financial pressures pile on, it's more important than ever we recognise the red flags."
Here we explain how the £400 energy bill discount scam works, and how to avoid it.
How the £400 discount scam works
Scammers are sending a text message that appears to be from the energy regulator, Ofgem. The message invites you to apply for your £400 rebate.
The text instructs you to follow a link to a fake Ofgem website to then provide personal details and set up a direct debit to receive the rebate. But it's all a lie.
Scammers are also using email to target potential victims.
Action Fraud says over a four-day period in early June it received around 750 reports of fake emails targeting people about the £400 energy rebate.
Ofgem is not paying the £400 energy rebate. Instead, energy suppliers are giving most households the £400 discount on their energy bills in six monthly instalments from October.
For most people the discount will be applied to your energy bill automatically – there's absolutely no need to apply.
But be aware that if you have an older prepayment meter you will get energy bill discount vouchers sent you in the first week of each month from October, via SMS text, email or post, that you will then need to redeem at your usual top-up point.
If you're every unsure check the validity of what you've received with your energy company.
Action Fraud has also issued a warning over the dodgy text messages that claim to be from Ofgem offering the £400 discount:
🚨 Scammers are sending text messages appearing to be from @Ofgem offering rebates.THIS IS A SCAM.The link could harvest your personal data so be #ScamAwareRead more on how to avoid scams and what to do if you are affected ⬇️https://t.co/QNkA6e4ntu pic.twitter.com/TNuUR0zojhJune 24, 2022
See more
What to do if targeted by a scam
If you're worried you've responded to a scammer, immediately end all communication.
Call your bank to cancel any recurring payments. You can use the new 159 hotline for speed.
You can also report your scam to the police via Action Fraud. Dame Moriarty says: "By reporting scams and sharing our experiences, we can work together to protect ourselves and each other."
Report the scam to Action Fraud on 0300 123 2040 or anonymously via the Action Fraud website.
Meanwhile, in other scam news, the number of WhatsApp scams has rocketed by more than 2,000% in the last 12 months. The latest has been dubbed the 'Mum and Dad Scam' and involves fraudsters convincing parents their children need an emergency cash transfer. You can read how Money Edit reader Christine caught out her Whatsapp scammer pretending to be her daughter.
Look After My Bills Newsletter
Get the best money-saving tips, tricks and deals sent straight to your inbox every week. Make sense of your money in partnership with The Money Edit.
Katie is staff writer at The Money Edit. She was the former staff writer at The Times and The Sunday Times. Her experience includes writing about personal finance, culture, travel and interviews celebrities. Her investigative work on financial abuse resulted in a number of mortgage prisoners being set free - and a nomination for the Best Personal Finance Story of the Year in the Headlinemoney awards 2021.