Silicon Valley Bank UK bought by HSBC - what does it mean for bank customers?
Silicon Valley Bank is an American bank that you won't have seen on the UK high street - but its collapse this weekend caused the government much alarm. We explain everything you need to know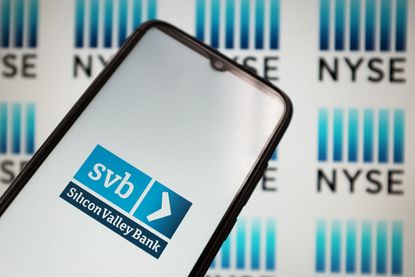 (Image credit: NurPhoto)
Silicon Valley Bank UK (SVBUK) has been bought by HSBC in a bid to save thousands of jobs and businesses in the tech industry.
The UK arm of the American bank is relatively small compared to high street banks, with just 3,000 customers and deposits of £7 billion.
But the government and tech firms who bank with (SVBUK), many of them start-ups, feared they would not be able to access their money or pay staff wages or bills amid the collapse of Silicon Valley Bank in the US at the weekend.
Since the bank collapsed, The Financial Conduct Authority (opens in new tab) (FCA) said it had been "working closely with the Bank of England, Prudential Regulation Authority (PRA), Financial Services Compensation Scheme (FSCS) and the UK Government".
This morning (13 March) the news broke that HSBC had snapped up SVBUK for just £1.
How will HSBC buying Silicon Valley Bank UK affect me?
Unless you're one of the tech companies with money tied up in SVBUK, you won't be affected by any of this.
Unlike bank bailouts in the past, in the case of SVBUK – there is no taxpayer money involved as HSBC is buying it.
If you own or run a company with funds held with SVBUK, it should be business as usual. The bank remains authorised by both the PRA and the FCA, and according to the FCA, it will stay operating as usual.
Any money held in SVBUK accounts is safe and customers can contact the bank in the usual way.
What happens to your money if your bank goes bust?
Cash in banks, building societies and credit unions is protected to the tune of £85,000, or £170,000 in the event of joint accounts, under the Financial Services Compensation Scheme (FSCS). This applies to financial institutions that are regulated by the Financial Conduct Authority.
In certain circumstances, you may be covered for higher amounts, up to £1 million, on a short term basis. This may apply for example if you have the proceeds of a house sale in your account, or just received a large inheritance.
In the unlikely event your bank goes bust, you don't need to do anything, as the FSCS automatically kicks in and you would receive your money directly.
Read more
Sue Hayward is a personal finance and consumer journalist, broadcaster and author who regularly chats on TV and Radio on ways to get more power for your pound. Sue's written for a wide range of publications including the Guardian, i Paper, Good Housekeeping, Lovemoney and My Weekly. Cats, cheese and travel are Sue's passions away from her desk!