Five ways women can boost their pension savings
Women have substantially less pension savings than men, with one study showing them to be worth less than a fifth. We explain ways to bridge the gap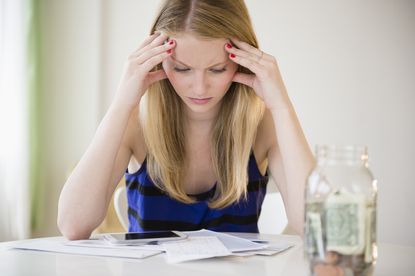 (Image credit: Getty images)
Look After My Bills Newsletter
Get the best money-saving tips, tricks and deals sent straight to your inbox every week. Make sense of your money in partnership with The Money Edit.
Thank you for signing up to The Money Edit. You will receive a verification email shortly.
There was a problem. Please refresh the page and try again.
Pensions are the main source of savings for later life, but the gender pension gap persists, leaving many women's pension savings lower than men's and at risk of a retirement shortfall.
Women have workplace pensions worth less than a fifth of male colleagues, driven by the unequal division of caring responsibilities and having to work part-time in order to look after children, according to research from the Trades Union Congress (TUC).
Meanwhile, women will have typical private pension savings of just £69,000 at retirement age, compared to £205,800 for men, a separate study by provider NOW: Pensions has found.
The gap between pension pots results has a tangible impact on your financial health in retirement ‒ a previous piece of research from campaign group Waspi revealed that retired men have 70% more income than women.
TUC's research shows women pensioners effectively go for four and a half months each year without getting a pension and find it harder to build a workplace pension.
But, having such a substantial gender pension gap is not inevitable. There are steps that women can take today to boost the size of their pension pots, and mean they enjoy a more comfortable retirement.
Ask for help with your pension saving
Women in the UK still don't take home an income comparable to their male counterparts, with the regular gender pay gap reaching 8.3% last April, figures from the Office for National Statistics show.
It means the onus is on women to be vocal about their finances, however uncomfortable that may initially feel. This may involve asking for a pay rise, being comfortable saying no to friends or asking for specific financial support from your partner or family.
For example, your partner or parents can contribute into a pension for you. There are limits in place, based on your own circumstances. If you are working, they can pay in up to £40,000, or 100% of your income, whichever is lower. Or if you are not working, they can pay in up to £2,880 per year into your pension and still qualify for tax relief at the basic rate, which would take the gross contributions to £3,600.
This can be a win-win situation if you're taking time out of work to raise children and your partner is ready to share the financial toll, or if your parents prefer to give you some of your inheritance that you can't access until at least the age of 57.
Be ready to persevere when there's pushback: a tweet about a woman laying out the financial implications of having a baby and her partner's discomfort about her proposal to share those implications sparked a debate online about how to handle such situations.
Save into your pension when you can - even small amounts
Even when times are leaner, know that the smallest of increases to your pension contributions can make a real difference.
For example, let's say you earn £30,000 a year and get a 1% pay rise.
Rather than have an extra £20 in your pay packet each month, you could increase your pension contribution from 8% to 9% of your salary and end up with an impressive £20,928 extra in your pension pot by the time you retire.
This kind of token effort two or three times over your working life can be a significant boost to your pension.
Investing in a pension
It can be tempting to rely on cash savings, given their more secure nature, but investing can give you a better shot at outperforming inflation and growing your money in real terms.

While we know women do invest, research shows there's still a preference for cash savings. Cash accounts are more appealing to women (31% of respondents) than men (22%) and shares are more appealing to men (23%) than women (9%), according to research by NFU Mutual.
Over the long term, investing tends to outperform cash savings, though it's certainly true that there will be more volatility involved. Should things go wrong, there is a danger that you will end up with less than you paid in, which is why it's important to view investing as a long term endeavour. That way your investments have a chance to ride out any bumps in the road.
Save thousands of pounds in pension fees
It's not just the performance of your pension investments that matter, but the fees and charges you are paying for that pension too. As a result, it's a really good idea to check the fees on any pensions you hold, and consider switching to a lower cost provider.
You could save £259 a year (or £12,000 over a working life) this way, according to research by Interactive Investor.

Fees are often charged as a percentage of the value of your pot, and paying above 1% is considered on the high side. Sometimes a flat fee can prove better value, depending on the amount you have in your pension. You should be able to see pension charges on your annual statement, but ask your provider directly if it's not clear.

It's important to make sure that switching providers would not mean you lose out on any valuable benefits, such as a generous guaranteed annuity rate or an option to withdraw more than 25% as a tax-free cash lump sum.
Create other financial security nets besides your pension
If you can't save and invest as much as you'd like, it's worthwhile to look at other areas of personal finance that can still add to your overall financial security.
These include steps like taking out income protection insurance, critical illness insurance or mortgage protection insurance, writing a will or setting up a Lasting Power of Attorney (LPA).
Look After My Bills Newsletter
Get the best money-saving tips, tricks and deals sent straight to your inbox every week. Make sense of your money in partnership with The Money Edit.
Katie is staff writer at The Money Edit. She was the former staff writer at The Times and The Sunday Times. Her experience includes writing about personal finance, culture, travel and interviews celebrities. Her investigative work on financial abuse resulted in a number of mortgage prisoners being set free - and a nomination for the Best Personal Finance Story of the Year in the Headlinemoney awards 2021.