Why women are missing out on investment opportunities
Women are missing out on investment opportunities that could boost their wealth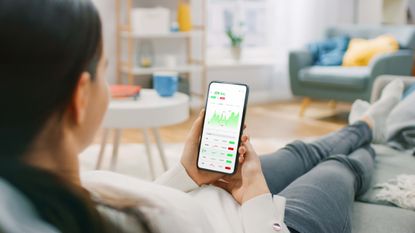 (Image credit: Getty)
Look After My Bills Newsletter
Get the best money-saving tips, tricks and deals sent straight to your inbox every week. Make sense of your money in partnership with The Money Edit.
Thank you for signing up to The Money Edit. You will receive a verification email shortly.
There was a problem. Please refresh the page and try again.
Women are missing out on investment opportunities that could boost their wealth, with the gender ISA gap almost doubling in a decade.
To mark International Women's Day (IWD22), the wealth manager Hargreaves Lansdown analysed the amount held in cash and stocks and shares ISAs by men and women over the past 10 years. On average, men have £2,991 more in their ISAs than women, according to the latest official statistics for 2018/19. This compares to a gender ISA gap of £1,550 in 2008/9.
Women generally hold more money in cash ISAs than men, while men are more likely to invest using a stocks and shares ISA.
Separate IWD22 analysis by financial platform Boring Money reveals that only 40% of investors are women, a slight decline on last year, when 41% were women. Chief executive Holly Mackay says it is "hugely disappointing" that "the gender investment gap has got worse, despite all the lip service paid to fixing it".
The 2021 Global Women and Money study by investment firm Fidelity International found that 35% of women don't think investing is for them.
It also revealed that only a third (33%) of women in the UK see themselves as investors, much lower than their male counterparts (41%).
Becky O'Connor, head of pensions and savings at the investment platform interactive investor, said: "Women often don't see themselves as 'investors', but that self-image needs to change. Investing is not a man's thing (nor is money, nor is maths). Whether you are single or in a relationship, have kids or don't have kids, the only way for women to look after themselves and their loved ones long-term is to invest."
Tapping into investment opportunities
Saving your cash is an admirable habit: you can build up a pot of money to pay for a holiday, or a new car, and also create a buffer in case that car breaks down, or you lost your job. If you do it within a cash ISA – essentially a tax-free wrapper – you get extra marks.
Everyone should aim to have three to six months' worth of essential spending in an easy access account. Once you have this in place – and cleared any expensive debts – it's time to think about investing opportunities.
Failing to invest your money can be risky. "We all know interest rates have been at rock bottom for more than a decade, so even the most diligent saver would have seen their savings enjoy paltry growth," says Maike Currie, investment director at Fidelity International.
"With inflation rising and expected to increase further, the dangers of leaving money languishing in cash becomes even more pertinent."
Inflation is currently running at 5.5%, which means even if you try and find a decent interest rate of, say, 0.75%, you'd still be losing money in real terms. Yes, you'd earn 0.75% interest on your savings, but when you come to spend that money you'd find the cost of goods had increased by more than your money had grown.
Sarah Coles, personal finance analyst at the investment platform Hargreaves Lansdown, said: "Women tend to over-estimate the risk that investments will lose money over the long term – overlooking the fact that on average they tend to rise. They also underestimate the risk their cash ISA will lose value after inflation."
Why aren't women investing?
There are myriad reasons why fewer women invest, and as a result, have less wealth than men.
"On average, women earn less than men, and the more you earn, the more likely you are to have a stocks and shares ISA," said Coles. "It tends to reach a tipping point when our income reaches £30,000 – before then we're more likely to have a cash ISA, and after that we're more likely to favour stocks and shares ISAs.
"Women also tend to have less secure incomes, because they're more likely to have breaks in their career for caring responsibilities or work part-time and face a drop in income. It means some may feel they cannot face the risk involved with investment."
The pay gap essentially exacerbates the wealth gap (the differing amounts of savings and investments that men and women hold). Women already have less money to put aside for the future, so if they experience lower growth – by keeping their cash in savings accounts - the wealth gap between the genders widens.
Women also tend to be more risk-averse than men, which partly explains their preference for cash. However, if you're happy to keep your money locked up for at least 5 -10 years, a diversified mix of investments will often perform better than a savings account, meaning over longer time periods investing is the less risky option.
The pandemic effect on women's finances
The Covid-19 crisis has had a profound impact on women's finances – and their ability and appetite to invest.
One in four women (23%) have experienced a fall in income over the past year, impacting their long-term financial plans, according to the Women and Money study.
"Female-centric industries have borne the brunt of job losses, furlough and income reductions, and women continue to balance this with more unpaid work like childcare and elderly care," said Currie.
"While lockdown restrictions have come to an end, the repercussions of women's experiences over the past 18 months may reverberate long into their futures." Currie refers to this as the "pandemic penalty".
A wave of new investors emerged during the pandemic, as some people used the lockdowns to explore different ways to manage their money. However, we again see another gender gap, as men were more likely to start investing than women (18% of men versus 13% of women, according to research by Hargreaves Lansdown).
Why start investing now?
There is no time like the present and it is never too late. As O'Connor put it: "Just do it. The sooner you start, the more time your money has to grow."
Think of it as investing in your future self. Investing is for the long term, so by diverting some of your savings, or budgeting harder to free up cash, you should accumulate a bigger pot for the future. Want to retire early? Want to build up wealth to give your kids options as they get older? Want to buy a bigger house, start your own business or leave an inheritance? All of these are great goals for when you start investing.
It'll also give you independence and could improve your financial wellbeing. "No one wants to think about it, but if you are in a relationship and financially dependent on your partner, and that relationship breaks down as many unfortunately do, then you'll need some of your own reserves to fall back on and rebuild from," said O'Connor.
Another reason to get cracking is to take advantage of government incentives. By investing within a stocks and shares ISA, you don't pay a penny in income tax, capital gains tax and dividend tax.
If you are 39 or younger, you can open a lifetime ISA. As well as being a tax-efficient ISA, you also get a 25% cash bonus. Pay in the maximum of £4,000 in a tax year, and the government will pay a further £1,000 into the lifetime ISA. This type of ISA comes in a cash or stocks and shares version, and must be used to buy your first home or for retirement when you're 60 or over.
How women can start investing
Don't assume you need to be a financial whizz to start investing. And forget about bitcoin millionaires or "get rich quick" schemes. This is about growing your money through sensible, long-term investing.
Read how Natasha started investing via a stocks and shares ISA after overhauling her finances.

Here are five tips to help you get started.
Pick a provider. Decide who you want to invest with. Do you want to buy shares using a low-cost app? Would you like to use an online platform that offers a wider range of investments, including shares and diversified funds? If you think you'll need some help, you could try a robo-adviser, which will ask you some questions and suggest a ready-made portfolio for you. Is investing ethically important to you? If so, look for a provider that has some ethical options.
Choose a product. A stocks and shares ISA is a good place to start. It allows your money to grow tax-free, and you can withdraw money whenever you like. There is a £20,000 annual limit on the amount you can pay in, which covers cash ISAs too. So, if you have already paid £20,000 into a cash ISA this tax year, you'll need to wait until April 6, 2022 to pay into a stocks and shares ISA. Alternatively you could open a general investment account - sometimes called a fund and share account - which is similar, but subject to tax. If you're 39 or under, have a look at lifetime ISAs.
Select your investments. It usually makes sense to start with funds rather than shares, as funds spread your cash across a number of investments. This could mean you hold different asset classes, like shares, bonds and property, and not just within the UK but in other regions too. Having a mix of assets and geographies is good for diversification, which in turn lowers the risk. As the name suggests, "multi-asset" funds hold a wide range of investments. You may have a particular interest in a country, such as China, or a sector, like tech – if so, you could invest in a fund focused on that. "Index funds" (or "exchange traded funds") aim to copy the movement of a market over time, and tend to be cheap. Before you invest, carefully check the fees the provider is charging, as well as the fund fees.
Set your amount: You can start with as little as £25 a month (or less), depending on the provider. You can also invest with a lump sum, such as £100 or £1,000. A good tip is to start investing a small amount monthly and increase it if you realise you can afford more.
Review. The mindset that makes women good savers is exactly the type of mindset that is required for investing. Having a goal in mind, and avoiding the tendency to constantly tinker and trade (which men are much more prone to do), is great for your investments. If you keep fiddling with your portfolio, you may not actually increase your returns, but you will increase your costs. However, don't forget about it completely. Set an annual reminder to review your investments. Don't panic if your investment value has gone down in the short term – this is a marathon, not a sprint.
Look After My Bills Newsletter
Get the best money-saving tips, tricks and deals sent straight to your inbox every week. Make sense of your money in partnership with The Money Edit.
Ruth Emery is contributing editor at The Money Edit. Ruth is passionate about helping people feel more confident about their finances. She was previously editor of Times Money Mentor, and prior to that was deputy Money editor at The Sunday Times. A multi-award winning journalist, Ruth started her career on a pensions magazine at the FT Group, and has also worked at Money Observer and Money Advice Service. Outside of work, she is a mum to two young children, a magistrate and an NHS volunteer.