Women are better budgeters but don't realise it: how to boost your budgeting self-belief
New Starling bank research reveals that while women are better budgeters than men, they're less confident. We share straightforward budget plans to boost your budgeting self-belief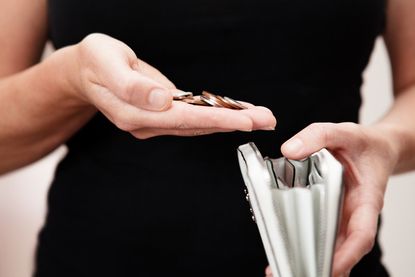 (Image credit: Getty images)
Starling Bank has found men and women's different budgeting response to the cost of living crisis, with women sticking to their budgets and men relying more on credit and loans.
Cash-strapped households are doing everything they can to cut back on spending, but new research by Starling Bank (opens in new tab) reveals gender differences have played a role in how individuals have responded:
Helen Bierton, Chief Banking Officer at Starling Bank (opens in new tab) said: "With women budgeting so diligently, they shouldn't be reporting lower levels of confidence than men when it comes to their money, but they do.
I believe it's because there are systemic differences in how men and women are spoken to about money, how they are taught about money, and how much money they are given, which can alter both men's and women's attitudes towards it."
Budgeting self belief
Why is gender playing a role in finances?
We might not like to hear it, but gender roles conventionally link money to men as that's what the media feed us.
Previous research (opens in new tab) by Starling Bank found in 2018 that 70% of financial media articles aimed at men portrayed 'money making' as a masculine ideal.
Starling Bank put it down to attitudes towards money management and how men like to accumulate more money whereas women work with what they have.
As a result, the study found 21% of women are more likely to downsize their lifestyle compared to 16% of men are 22% of women are eating into their savings compared to 15% of men.
The study conducted by Starling Bank with 2,000 adults in the UK were asked about money management during the cost of living crisis. Here's what they found.
Swipe to scroll horizontally
| Expenses | Percentage of men that regularly pay for these items but forget to budget for them | Percentage of women that regularly pay for these items but forget to budget for them |
| --- | --- | --- |
| Loan and credit payments | 19% | 10% |
| Utility bills | 22% | 15% |
| Broadband bill | 22% | 15% |
| Insurance bills | 25% | 17% |
| Phone bill | 22% | 14% |
| Children's school lunches | 16% | 6% |
| Pocket money | 25% | 14% |
| Children's clubs and activities | 18% | 11% |
| Pet supplies | 20% | 11% |
How to budget
If you are looking to give budgeting a go and don't know where to start, here are some ways you can try. And don't feel you need to start with big money, saving even pennies adds up in the long run.
Vaishali graduated in journalism from Leeds University. She has gained experience writing local stories around Leeds and Leicester, which includes writing for a university publication and Leicester Mercury.
She has also done some marketing and copywriting for businesses.
When she is not writing about personal finance, Vaishali likes to travel and she's a foodie.