What is budgeting and how can you do it?
We explain what budgeting is and how it can help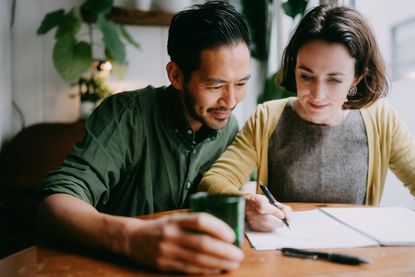 (Image credit: Getty images)
Look After My Bills Newsletter
Get the best money-saving tips, tricks and deals sent straight to your inbox every week. Make sense of your money in partnership with The Money Edit.
Thank you for signing up to The Money Edit. You will receive a verification email shortly.
There was a problem. Please refresh the page and try again.
What is budgeting and how can it help you? It is essential for most of us right now as price surge.
While budgeting can't protect you from sky-high bills, it can ensure you're making the absolute most of your money.
What is budgeting?
Budgeting is quite simply being aware of your income and outgoings, allocating it in a decisive way, managing it in a way that leaves you with no debt - or simultaneously pays off debt if you have it - and hopefully leaves you with something more.
Kalpana Fitzpatrick, senior digital editor of Money Week, says: "Budgeting is an empowering tool that will ensure your finances stay healthy, you can spend with peace of mind, make positive decisions and even save enough to build financial resilience."
How to budget
1. Make a plan
Having a plan is the most vital starting point.
Be honest with yourself.
What are your goals over the short, medium and long term and how would you prioritise them? This includes any goals for later life or to help your children financially.
2. Work out your budget now
You need a couple of hours to create a proper budget.
It involves going through your latest bank statements or your banking app carefully and, if you prefer, making a spreadsheet.
Write down your income and outgoings for each month and double-check your figures. Think about what is essential and how much you need to allocate for this – plus what isn't essential.
Don't forget infrequent spending on things like Christmas, birthdays and a car MOT.
Enoch Omololu, personal finance expert and founder of Savvy New Canadians says: "Even if you're paying your bills and debt comfortably, it's still a good idea to know exactly how much is being allocated where.
You might estimate you're spending about 10% of your monthly income on entertainment, for example, but when you actually jot down all your expenditures, it's closer to 30%. Making a budget allows you to see your money in the most exposed way so you can make better spending decisions."
3. Make changes to your spending
Creating a budget will hopefully make you realise how much you can potentially save and motivate you to make changes to some of your spending habits.
This can include boring but easy wins such as shopping around for the best deals in regards to broadband, insurance, petrol prices and food.
You might even want to consider turbo-charging your budgeting: tactics like borrowing things rather than buying them, sharing lifts to work or selling unused clothes.
Adrian Yearwood, director of Love Savings, says: "Set out a strategy for how you're going to hit any budgeting goals. It could be cutting back on certain luxuries, or finding cheaper alternatives, using a discount code or taking your time when making purchases to ensure you're getting the best price."
4. Think about your future
It might be hard to think beyond your current circumstances, but it's vital to not lose sight of financial planning for a more secure future.
The cost of living continues to rise, as does the age you can access your pension.
You are unlikely to be able to live the life you want in retirement on the state pension alone, so you must look at saving options for later life such as SIPPs versus ISAs and lifetime ISAs.
5. Be pragmatic and get help
It's important to make informed decisions about how to budget for your personal circumstances.
It can feel easier to avoid making decisions, delaying changes or waiting for the "right time". Ask a friend for a pep talk, buy a financial planner, consider a budgeting app, embrace automation or seek help from a free debt charity like StepChange or the National Debtline if struggling with debt - whatever works to help you kick start your new budgeting habit.
Money Edit reader Natasha Evita explains how she got herself into the budgeting mindset by bingeing on money shows, podcasts and newsletters before saving £20,000 in 18 months.
There are many ways to budget. The 50/30/20 budgeting rule encourages you to split your finances into three categories while the cash-stuffing' trend on Tik Tok involves envelopes.
Related articles
Look After My Bills Newsletter
Get the best money-saving tips, tricks and deals sent straight to your inbox every week. Make sense of your money in partnership with The Money Edit.
Katie is staff writer at The Money Edit. She was the former staff writer at The Times and The Sunday Times. Her experience includes writing about personal finance, culture, travel and interviews celebrities. Her investigative work on financial abuse resulted in a number of mortgage prisoners being set free - and a nomination for the Best Personal Finance Story of the Year in the Headlinemoney awards 2021.