The trick to getting a 1% interest easy access savings account
How to get the top 1% savings rate for easy access savings with Virgin Money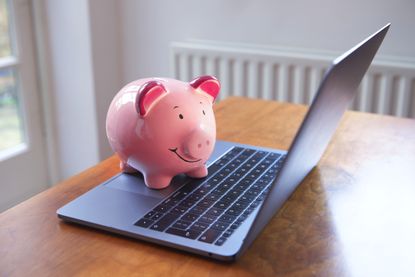 (Image credit: getty images)
Generous savings rates can seem like a distant memory and if you've got cash savings you may need to dip into, an easy access account with a 'top' rate of 1% can be worth snapping up.
Virgin Money's M Plus Saver offers instant access to your money and pays 1% interest on balances up to £25,000. By comparison the next best savings rates on easy access accounts are up to 0.8%.
While easy access accounts don't generally pay as much as fixed deals, the big plus is that you can withdraw your money penalty free, whenever you need it, say for unexpected car repairs or if the washing machine breaks down.
How to open the Virgin Money's M Plus Saver account
The M Plus Saver is a 'linked' account, which means you need to open a Virgin Money M Plus current account first, which you can do in branch, online or by phone.
But the good news is, you can open the Virgin current account without the need to switch from your exisiting account.
As part of the application process, you will be asked if you want to 'switch' across your existing current account to Virgin, but there's no need to do this to bag its 1% savings account.
Along with the bank account part, you get a debit card, and can earn 2.02% interest on the first £1,000 in your current account.
If you do decide to 'switch' your existing current account however, you will get other benefits including a £100 voucher for Virgin Experience days out plus up to 5% on savings in your current account up to £1,000, instead of the 2.02% rate.
Any funds you withdraw from your M Plus Saver, will be paid directly into your M Plus current account, or can be transferred to other accounts via phone or online banking.
What to look out for when opening the Virgin Money M Plus Saver
Right now the M Plus Saver pays 1% interest on balances up to £25,000 - anything above that is paid a 0.5% rate.
This means keeping a balance of £1,000 in the account for a year, will earn you £10 in interest, and £250 if you have £25,000.
Interest is calculated on a daily basis and paid four times a year, always on the last working day in March, June, September and December.
How long will the 1% rate last?
It's impossible to say, as it's a variable rate - however if there are plans to reduce it, Virgin will contact account holders giving them at least two months notice of any rate change.
In the past some popular savings deals have been pulled quickly if there is a huge rush of interest from new savers, so it's worth making a quick decision if you want to open this account, before it goes.
Sue Hayward is a personal finance and consumer journalist, broadcaster and author who regularly chats on TV and Radio on ways to get more power for your pound. Sue's written for a wide range of publications including the Guardian, i Paper, Good Housekeeping, Lovemoney and My Weekly. Cats, cheese and travel are Sue's passions away from her desk!