Unions call for urgent action on pensions gender gap
Childcare and caring responsibilities still holding women back from building a decent workplace pension, TUC says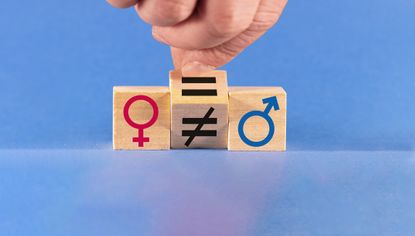 (Image credit: Getty images)
Look After My Bills Newsletter
Get the best money-saving tips, tricks and deals sent straight to your inbox every week. Make sense of your money in partnership with The Money Edit.
Thank you for signing up to The Money Edit. You will receive a verification email shortly.
There was a problem. Please refresh the page and try again.
A pension is one of the most important pots of savings you'll contribute to, but the gender pensions gap continues to widen leaving more women at risk of a retirement shortfall.
Women have workplace pensions worth less than a fifth of male colleagues, with unequal division of caring responsibilities and part-time working to look after children as the main drivers, according to latest research from Trades Union Congress (TUC).
TUC's research shows women pensioners effectively go for four and a half months each year without getting a pension and find it harder to build a workplace pension.
Research from campaign group Waspi also found earlier this year that retired men have 70% more income than women.
The TUC is calling on the government to tackle the "huge problem" of the gender pension gap, saying it needs to "urgently fix" pensions auto-enrolment and invest in childcare to improve retirement incomes for women.
It added that gaps in pensions auto-enrolment mean employers do not have to enrol low-paid workers into a workplace pension. The rules currently state that anyone who earns less than £10,000 does not have to be auto-enrolled. You can read more about auto-enrolment in our guide on what is auto-enrolment.
TUC general secretary Frances O'Grady said: "At current rates of progress, it could take more than 50 years to close the gender pensions gap.
"Too many women are paying the price in retirement for taking time out of work or cutting back their hours when their children were small. We need to fix our pension system so that all women can benefit from a workplace pension with decent contributions from their employer, regardless of how much they earn."
Investing in childcare is key, she added. "Caring responsibilities are one of the key drivers of the pensions gap, and the gender pay gap. Making childcare cheaper is a vital part of our economic recovery and essential for enabling mums to stay in work."
TUC president Sue Ferns, deputy general secretary of the Prospect union, added: said: "It's shocking that we're almost halfway through the year before we've reached the equal pensions point – how can it be right that women pensioners earn almost 40% less than men?
"It is time for the Government to acknowledge the huge problem of the gender pension gap and start doing something about it."
How can I boost my pension pot if I haven't saved enough?
There are things you can do to boost your pension, such as increasing how much you pay into your workplace pension. Many, though not all, employers will also match your contributions, so if you pay in more, so will they.
Take a look at our article on 10 ways to boost your pension savings and get a comfortable retirement to find out what you can do to increase your income in life after work.
Millions of us don't save enough for retirement. The average UK pension pot stands at £61,897, according to the Financial Conduct Authority.
With current annuity rates, this sum would provide an annual income of £3,000 from age 67. If you add that to the state pension (worth £9,339 a year if you qualify for the full payout), you'll have about £12,000 a year for retirement.
Additional reporting by PA
Look After My Bills Newsletter
Get the best money-saving tips, tricks and deals sent straight to your inbox every week. Make sense of your money in partnership with The Money Edit.
Katie is staff writer at The Money Edit. She was the former staff writer at The Times and The Sunday Times. Her experience includes writing about personal finance, culture, travel and interviews celebrities. Her investigative work on financial abuse resulted in a number of mortgage prisoners being set free - and a nomination for the Best Personal Finance Story of the Year in the Headlinemoney awards 2021.