What is the state pension triple lock?
Everything you need to know about triple lock state pension and what it means for you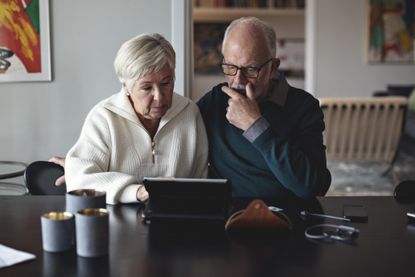 (Image credit: Getty images)
If you've ever heard a government minister talk about state pensions, you may have heard them use the phrase "triple lock". But what is the triple lock - and what does it actually mean for the value of your state pensions?
In short, the triple lock is a formula for guaranteeing that your pension will hold its value over time - that is, that it will rise in a way that reflects the cost of rising prices and match the way the salaries of people in work are rising.
However, a word of warning. In theory, the triple lock is supposed to be enshrined in law, preventing ministers from backing away from the guarantee. But in practice, the government can always amend legislation - and ministers have announced a suspension of the triple lock for the 2022/23 financial year. They argued that the Covid-19 pandemic had caused an artificial spike in wages and inflation - and that the 8% increase in the state pension that this spike should have meant, according to the formula, was not justifiable.
In fact, the state pension will rise by just 3.1% in April. With inflation currently above 5% - and expected to go higher - 12 million pensioners will therefore be worse off in real terms; they will find it harder to cope with the cost of living.
This article explains how the triple lock works, why it's been suspended and what that means for your state pension.
What is the triple lock?
Normally, the triple lock guarantees that the state pension will increase in line with whichever of the following is highest:
- Earnings (the average percentage growth in wages
- Inflation (as measured by the Consumer Prices Index)
- 2.5%
In other words, if earnings and inflation are below 2.5%, pensioners will get a 2.5% increase in their pension; if either measure is higher, they'll get more.
However, the triple lock has been suspended for the 2022-23 financial year, starting on 6 April, because the impacts of Covid-19 have distorted the economy..
What does this mean for my pension?
In the absence of the triple lock for a year, from April 2022, the new state pension will rise by 3.1% from £179.60 a week, or £9,339.20 to:
- £185 a week, or £9,620.00 a year
The basic state pension will also rise 3.1% from £137.60 a week, or £7,155.20 to:
- £141.80 a week, or £7,373.60 a year
Why has the triple lock been suspended?
Millions of workers had their pay cut in 2020 due to the pandemic but salaries recovered in 2021, which artificially inflated wage statistics. This distorted the earnings element of the triple lock guarantee.
It was an awkward situation for the government. On one hand, it wanted to honour its promise to 12 million pensioners, but on the other, it felt an estimated rise of 8%, in line with earnings, would be artificial and unsustainable, particularly given the impact of Covid-19 on the public finances.
Tom Selby, head of retirement policy at the investment platform AJ Bell, explains: "An 8% rise for pensioners would put huge pressure on the public finances at a time when the Treasury is already staring down a fiscal black hole."
On this basis, the government decided to take out the wage element and turning the triple lock into a double lock for a single year..
Why has the triple lock suspension been controversial?
Ministers hoped their decision to raise the state pension by 3.1% would still be in line with inflation, ensuring that pensioners did not end up out of pocket. However, since the decision was announced, inflation has increased very sharply, partly because of the same pandemic disruption that put so much pressure on wages.
By January, inflation had rocketed to its highest level in a decade, at 5.4%. And the Bank of England thinks it may rise further yet - to 7% or even 8% in the spring. That means a state pension increase of 3.1% rise in April will not keep pace with the cost of living.
The result is that 12 million pensioners will be worse off in real terms - some will find it difficult to pay their bills.
What would my state pension be worth if it rose in line with inflation?
If the state pension was to keep pace with the current rate of inflation, it would have to rise by 5.4% from £179.60 a week, or £9,339.20 to:
- £189.30 a week, or £9,843.60 a year from April 2022.
The basic state pension with a rise of 5.4% would go from £137.60 a week, or £7,155.20 to:
- £145.05 a week, or £7,542.60 a year, also from April 2022.
However, bear in mind that inflation is likely to be even higher by the time April comes off. The shortfall between what pensioners will actually receive and what they need to keep pace with the higher cost of living will therefore be even larger.
Moreover while these sums may look relatively trivial on paper, rising energy bills and living costs have the potential to cause real problems. Helen Morrissey, pensions and retirement analyst at Hargreaves Lansdown, says: "The 3.1% increase set by the CPI figure for September looks paltry in the face of rapidly rising inflation. Many pensioners will be struggling to meet their rising bills and every extra penny counts."
Will the triple lock be scrapped? And if so what will it mean for me?
Some experts say the triple lock is ultimately too expensive and should be scrapped on a permanent basis. Others emphasise the intergenerational unfairness of the triple lock, citing the difficulties younger workers face with a crushing mix of tax hiles, energy bill rises and interest rates.
Cheerleaders for the triple lock point out that the policy helps to ensure pensioners have enough to get by in retirement, even if they do not have access to substantial private savings.
The government has said the triple lock will return after its one-year suspension.
What can I do about my state pension?
If you are in a position to delay taking your state pension you can get a higher weekly payment. You don't have to start drawing the state pension as soon as you reach qualifying age.
If you reached state pension age before April 6, 2016:
For every five weeks you defer you'll get a pension increase of 1%, which works out at 10.4% for a full year. So, deferring the basic state pension of £134.25 a week (or £6,981 a year) for a year means you'll get £148.21 a week (or £7,707 a year). That's £726 more a year - the cost of a nice holiday.
If you reach state pension age after April 6, 2016:
For every nine weeks you defer you'll get a 1% uplift, which works out as just under 5.8% per year. Deferring the new state pension of £179.60 a week (or £9,339.20 a year) for a year means you'll get £190.02 a week (or £9,881.04 a year). That's £541.84 more a year - enough to pay for National Trust annual membership, some trips to the theatre, and a fancy meal out.
Either way, however, remember that you'll need to live long enough to recoup the money you forego when deferring - those in poor health should not take this option.
If you are struggling to pay higher energy bills, there are also grants and benefits available.
What else can I do to prepare my finances for retirement?
The state pension alone is not enough to fund a comfortable retirement. There are lots of ways to prepare your finances for later life.
However, a pension is one of the best ways to save for the future, particularly if you have access to a scheme at work, where you'll get a pensions contribution from your employer. In addition, the government offers a generous tax relief to encourage you to do so - for every £100 you save, the government tops it up by at least £20. We explain everything you need to know about pensions.
READ MORE: Naomi explains how she consolidated six pensions into one and calculated how much she needs to save to have £300,000 by the time she is 65.
Katie is staff writer at The Money Edit. She was the former staff writer at The Times and The Sunday Times. Her experience includes writing about personal finance, culture, travel and interviews celebrities. Her investigative work on financial abuse resulted in a number of mortgage prisoners being set free - and a nomination for the Best Personal Finance Story of the Year in the Headlinemoney awards 2021.