State pension underpayment warning - have you been underpaid and eligible for more than £11,500?
New data shows 46,000 retirees have received payments from the government after being underpaid their state pension - but thousands, mainly women, are still owed money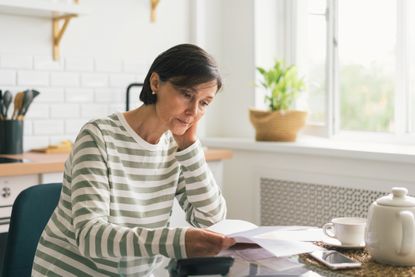 (Image credit: Getty images)
Hundreds of thousands of elderly women are owed cash after being underpaid their state pensions - because of the slow progress of a major government correction scheme.
Around 237,000 pensioners have been underpaid their state pensions, totalling £1.46 billion, according to the National Audit Office (NAO).
A Government correction scheme aimed at making things right has so far returned payments totalling £300million to over 46,000 retirees.
The retirees awarded payments include:
22,276 married pensioners who received an average of £6,630 each
More than 14,500 over-80s who received an average of £2,710 each
9,928 widowed retirees who received an average of £11,521
But thousands more are still waiting - and those mainly affected are predominantly women retiring under the old state pension system.
Who is affected by state pension underpayments?
There are different groups of people affected by state pension underpayments. For example, one group includes women who started to get their state pension before April 2016 while another group includes over-80s who are getting less than £85 a week from the state benefit.
Retired stay-at-home mums who started drawing the old state pension before 2016 may have missed out on a pension increase when their husbands retired.
Because women's pensions under the old system were linked to their husbands before 2016, their state pension payments should have increased to 60% of their husband's basic state pension - the amount women with low National Insurance contributions got under the old pension system.
In the previous tax year when the issue was first uncovered, they would get £80.45 a week, 60% of their husband's £134.25 a week.
Instead, they are getting more like £67 a week.
Compensation for these women depends on when their husband retired.
If it was between April 2008 and 2016, retirees will get all their losses back.
If it was before 17 March 2008, retirees can only get a year back of backdated payments and must apply to the Department for Work and Pensions (DWP): contact the DWP about a state pension correction claim here.
How can I make a claim?
The DWP has no plans to contact women affected by underpayments, meaning the onus is on you to make a claim and get back some of your lost state pension.
Women who file a successful claim will receive a 12-month lump sum and the right amount of state pension going forward.

To check if you are being underpaid, the consultancy LCP has a handy tool that married women can use.
To make a claim, contact the Pension Service, which is run by the DWP.
How to check your state pension
If you're not sure what your state pension is worth, then it's easy to check - take a look at our article on how to check your state pension entitlement.
If you don't already have one you'll need a Government Gateway ID - it will only take a few minutes and an email address to register.
Alternatively, you can call the government's Future Pension Centre on 0800 731 0175 and they will check your state pension for you.
Look After My Bills Newsletter
Get the best money-saving tips, tricks and deals sent straight to your inbox every week. Make sense of your money in partnership with The Money Edit.
Katie is staff writer at The Money Edit. She was the former staff writer at The Times and The Sunday Times. Her experience includes writing about personal finance, culture, travel and interviews celebrities. Her investigative work on financial abuse resulted in a number of mortgage prisoners being set free - and a nomination for the Best Personal Finance Story of the Year in the Headlinemoney awards 2021.