237,000 pensioners underpaid state pension - totalling £1.46bn
Receiving a state pension? You may have been underpaid as new figures reveal more than a quarter of million pensioners have been underpaid, with some claims dating back as far as 1985. We explain how to find out if you are one of them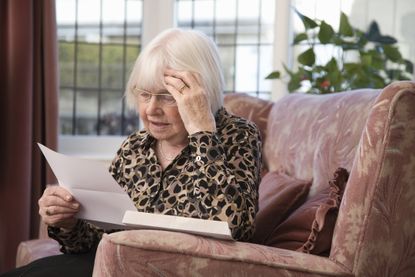 (Image credit: Getty images)
Look After My Bills Newsletter
Get the best money-saving tips, tricks and deals sent straight to your inbox every week. Make sense of your money in partnership with The Money Edit.
Thank you for signing up to The Money Edit. You will receive a verification email shortly.
There was a problem. Please refresh the page and try again.
Around 237,000 state pensioners have been underpaid their state pensions, totalling £1.46 billion, according to the National Audit Office (NAO).
These new figures revealed in the Department for Work and Pensions' accounts mark an increase of 105,000 people owed money - £429m more than its previous estimate at the end of the 2020/21 financial year.
The errors were revealed thanks to new computerised scans that have identified cases that need reviewing by the DWP.
Shockingly, some underpayments date back as far as 1985 and the department will not know the full extent of the underpayments until it has fully reviewed every case.
The DWP aims to now complete its review of state pension underpayments by the end of 2023 for two of the three affected groups: married and pensioners over 80. The third and largest affected group of widowed pensioners may, however, take until late 2024.
The NAO stated: "A delay of this length would increase the total amount underpaid to pensioners by an estimated £14 million." It admitted that it needs to "significantly increase" the speed at which it reviews cases.
Around 510 civil servants in the DWP are working on the project; Therese Coffey, the secretary of state for work and pensions last week claimed the government aims to get this number up to 1,500 by the end of the year.
The DWP has a backlog of state pension underpayments. In March, the department published its progress showing it had paid out £94.3m. These payments were to pensioners who had reached state pension age before 2016 who were entitled to further payments which they should have automatically received, but did not.
Sir Steve Webb, a former pensions minister, described the latest level of error in state pension payments as "shocking", adding: "Far too many people have been underpaid for far too long."
DWP's annual accounts report also said that there were historic errors whereby credits for time at home with children, previously known as "home responsibilities protection", were not recorded accurately on National Insurance (NI) records.
The Waspi group that campaigns for compensation from the government for failing to communicate the rise in state pension age to 3.6m women that has left them out of pocket, said: "Having been disadvantaged by maladministration by the Department for Work and Pensions, WASPI are disappointed to see that yet more women have been identified as having lost out. We urge the Government to move quickly to rectify these issues."
Activity has been under way in HM Revenue and Customs (HMRC), supported by the department, to understand more about the scale, potential causes and options to correct these cases, the report said.
How to check if you've been underpaid your state pension
Check if you have been underpaid using this useful calculator to help you work out if you are owed any state pension money. You can also contact the Pension Service to ask for help.
There are different groups of people affected by incorrect state pension payments. For example, one group includes women who started to get their state pension before April 2016 while another group includes over-80s who are getting less than £85 a week from the state benefit.
How to check your state pension
If you're not sure what your state pension is worth, then it's easy to check - take a look at our article on how to check your state pension entitlement.
If you don't already have one you'll need a Government Gateway ID - it will only take a few minutes and an email address to register.
Alternatively, you can call the government's Future Pension Centre on 0800 731 0175 and they will check your state pension for you.
Additional reporting by PA
Look After My Bills Newsletter
Get the best money-saving tips, tricks and deals sent straight to your inbox every week. Make sense of your money in partnership with The Money Edit.
Katie is staff writer at The Money Edit. She was the former staff writer at The Times and The Sunday Times. Her experience includes writing about personal finance, culture, travel and interviews celebrities. Her investigative work on financial abuse resulted in a number of mortgage prisoners being set free - and a nomination for the Best Personal Finance Story of the Year in the Headlinemoney awards 2021.