State pension increases by 3.1%
State pension has gone by £5.55 per week, but the increase is just half of the current rate inflation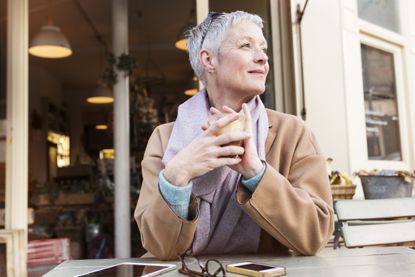 (Image credit: getty images)
The state pension rise of 3.1% came into effect on 11 April 2022. It means those who receive the full new state pension will see their weekly payments go up £5.55 from £179.60 to £185.15. Retirees who receive the basic state pension will see their payments go up £4.25 a week from £137.60 to £141.85.
But the increase has been criticised as the 3.1% rise is just half of the current rate of inflation, which is at 6.2% and expected to increase in the coming months.
It means that amid soaring living costs, such as a rise in energy bills, pensioners will struggle to keep up.
Investment platform Interactive Investor calculates that a retired person dependent on the new state pension could still be an estimated £893 short of what they need to cover the average rise in the cost of food, energy and fuel alone this year, while those on the basic state pension could be £971 short, after today's rise.
Becky O'Connor, head of pensions and savings, Interactive Investor, said: "There is no doubt that the next 12 months will be very tough for those living on their pension. The increase in state pension amounts is dwarfed by inflation, which for pensioners may be even worse than the headline figures suggest, because the current inflation rate does not reflect the much higher personal inflation rate that many pensioners, who spend a high proportion of their income on energy and food, will face."
Inflation could even hit a 40-year high of 8.7% later this year, according to the Office for Budget Responsibility. O'Connor adds: "The reality is that many pensioners may end up falling behind on bills. There is help available from the support funds run by local councils and many may be eligible for pension credit."
How much is the state pension rising by?
To receive the full state pension you need 35 years' National Insurance contributions.
If you reach the state pension age after 6 April 2016 you claim the new state pension. The new state pension goes from £179.60 a week (or £9,339 a year) to £185.15 a week (or £9,628.50 a year). That's an extra £5.56 a week (or an extra £289.50 a year).
If you reach the state pension age before April 6, 2016 you claim the old state pension, known as the basic state pension. The basic state pension goes from £137.60 a week (or £7,155.20 a year) to £141.85 a week (or £7,376.20 a year). That's an extra £221.81 a year.
Katie is staff writer at The Money Edit. She was the former staff writer at The Times and The Sunday Times. Her experience includes writing about personal finance, culture, travel and interviews celebrities. Her investigative work on financial abuse resulted in a number of mortgage prisoners being set free - and a nomination for the Best Personal Finance Story of the Year in the Headlinemoney awards 2021.