Premium Bonds - are they worth it?
With NS&I interest rates the highest in over a decade, we look at how Premium Bonds compare to savings accounts?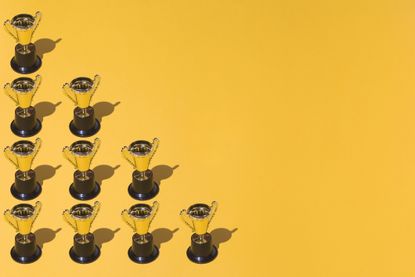 (Image credit: Getty images)
Premium Bonds are the UK's most popular savings product, with almost one in three people saving money in them hoping to land its million-pound jackpot.
Premium Bond customers are set to get a boost, after NS&I confirmed the prize rate will be hiked from 24 January, shortly after giving savers the chance to win an extra £80 million of prize money.
NS&I increased the prize fund rate from 3% to 3.15%, marking the fourth change in the past 12 months and its highest level in over 14 years. As recently as May 2022, the rate was just 1%.
More than 22 million savers collectively hold over £119 billion in Premium Bonds, which are run by National Savings & Investments (NS&I), a government-backed organisation.
Each month, bondholders are entered into a prize draw to win tax-free cash prizes, with two lucky winners taking the £1m jackpot. The other prizes range from £25 to £100,000.
While NS&I increased the odds of winning a prize in May, then in October, and then again in December, the chances of landing a cash payout are still pretty slim. So why are Premium Bonds so popular?
And with interest rates rising, would you get a better return by putting your money in a standard savings account with a bank or building society?
In short, are Premium Bonds worth it?
How do Premium Bonds work?
Premium Bonds have long held a special place in the nation's heart. Harold Macmillan announced their launch back in 1956, with the first draw taking place a year later. Back then the top prize was £1,000. In June, the popular savings product celebrated its 65th anniversary.
Premium Bond savers don't receive any interest, instead, the bonds are entered into a monthly prize draw. The cash prizes range from £25 all the way up to a cool £1m.
Each £1 bond has an equal chance of winning, so the more you buy, the bigger your chances of landing a prize.
The minimum amount you can save in Premium Bonds is £25, and the maximum you can hold is £50,000.
What are the chances of winning with Premium bonds?
According to NS&I, there's a 24,000 to 1 chance of winning a prize for every £1 bond held, after it bumped up the odds from 1 in 34,500 in June and then again from 1 in 24,500 in October.
The annual prize fund rate of 3.15% indicates that for every £100 worth of Premium Bonds, £3 a year on average is paid out, with average luck.
In practice, the average payout of £3 is impossible, given the smallest prize is £25. The annual prize fund rate is also skewed by the enormous £1m jackpots - for every person who wins £1 million, a large number of savers will win nothing.
The odds of winning also depend on how much you have invested. The more bonds you have, the better your chances.
You also have a much better chance of winning a small prize than a large one. For example, there are almost 5 million £25 prizes in the draw each month, compared to just two £1m jackpots.
Note that although NS&I improved the odds of winning a few months ago, the chance of scooping the big £1m prize hasn't got any better, as there are still only two of those available to win each month. But the likelihood of netting a prize worth £100,000 and below has slightly improved.
From January 2023, thanks to an extra £80 million of prize money, customers will have more opportunities each month to win high-value prizes, with more than three times as many prizes worth £100,000, £50,000, £25,000, £10,000 and £5,000 available than previously.
There will be 56 £100,000 prizes in the draw from January (compared to 18 before), 111 £50,000 prizes (36 before) and about 430,000 extra £50 prizes.
The two £1 million jackpots remain unchanged.
Swipe to scroll horizontally
Number and value of Premium Bonds prizes in each monthly draw

| Value of prizes | Number of prizes |
| --- | --- |
| £1,000,000 | 2 |
| £100,000 | 56 |
| £50,000 | 111 |
| £25,000 | 224 |
| £10,000 | 559 |
| £5,000 | 1,116 |
| £1,000 | 11,968 |
| £500 | 35,904 |
| £100 | 1,159,432 |
| £50 | 1,159,432 |
| £25 | 2,617,902 |
Source: NS&I
How do Premium Bonds compare to savings accounts?
The best interest rate on an easy-access savings account is currently First Direct Regular Saver that pays 7% on savings up to £3,600 (but only if you have a First Direct current account), which is higher than Premium Bonds' annual prize fund rate of 3.15%.
There are other savings accounts that also pay more than 3.15% such as those with Barclays and Santander.
And if you're happy to lock your money away for a couple of years and don't need instant access, you could pick up an interest rate of more than 3.15% on the best two-year accounts. See our article on the best savings rates for more.
NS&I has also brought back its one-year fixed rate Guaranteed Growth Bonds and Guaranteed Income Bonds that pay up to 4% and 3.9% respectively. These allow savers to invest between £500 and £1m for just one year in each issue.
Meanwhile, the best easy-access cash ISA with Virgin pays 3% interest. See our article on the best cash ISAs for more.
It's important to remember that very few people will earn 3.15% on their Premium Bonds. Many will win nothing (in which case keeping your money in a savings account or ISA is a much better idea), while a lucky few will scoop prizes worth more than the best savings rate.
It comes down to personal preference: is a guaranteed interest rate more important to you, or would you rather take your chances to see if you could win a prize?
Remember that if you're lucky enough to have a decent amount of savings, you could use both approaches. For example, with £5,000, you may choose to put £4,000 in the top-paying savings account, and the rest in Premium Bonds if you fancy a flutter.
When might it be worth using Premium Bonds?
There are certain types of people who may be attracted to using Premium Bonds. These include those who can't resist the lure of £1m - after all, two people have to scoop the jackpot every month - and would rather gamble on winning a prize than being paid a set amount of interest.
Savers who are very risk-averse may also appreciate that Premium Bonds are backed by the Treasury. A bank or building society is more likely to go bust than the government.
However, the Financial Services Compensation Scheme (FSCS) covers up to £85,000 of money per person, per financial institution, meaning your money is theoretically as safe in any other bank with FSCS protection as it is with Premium Bonds.
Head of personal finance at the investment platform AJ Bell, Laura Suter explains why, despite this protection, some savers still feel safer with Premium Bonds: "The logic is that because NS&I is government-run it can't go bust, whereas a bank could go bust and then you'd have to reclaim your money through the compensation scheme. It's a marginal difference but some people will feel much safer with their savings being with the government."
High earners may also be attracted to Premium Bonds because of their tax-free nature.
Any winnings are tax-free, in contrast to interest earned on savings, which can be subject to tax.
Basic-rate taxpayers can earn up to £1,000 in interest on their savings each year before paying a penny in tax, while higher-rate taxpayers can earn £500. This is courtesy of a tax break known as the Personal Savings Allowance (PSA). Additional-rate taxpayers (those who earn £150,000 or more a year) don't benefit from the allowance.
This means it could make financial sense for higher earners - or those with huge amounts of savings - to opt for Premium Bonds to lower their tax bill.
According to Suter, a basic-rate taxpayer would need to have more than £66,500 in savings to breach their PSA and pay tax (assuming their savings account paid 1.5% interest), while a higher-rate taxpayer would need to have more than £33,000.
"Anyone who is in the additional-rate tax bracket gets no savings allowance, and so will pay 45% tax on any of their savings income, which means the Premium Bond tax-free nature becomes far more attractive," notes Suter. "That's also true for higher-rate taxpayers who have a lot of money sitting in cash and will breach their allowance and pay 40% tax."
How do I buy Premium Bonds?
You need to be 16 or over to buy Premium Bonds. You can buy Premium Bonds online or over the phone using your debit card. You can also download and fill in a premium Bonds application form and post it with a cheque payable to NS&I.
If you already have cash in another NS&I product and want to transfer it to Premium Bonds you can do this via an online form.
To apply, you'll need to give your address and date of birth, your UK bank account details registered to your current address, and a debit card from a UK bank or building society.
If you live outside the UK, you'll need to check the local rules to see if you're allowed to hold Premium Bonds. For example, the US has strict gaming and lottery laws, which mean it might not be possible to hold Premium Bonds while living in the US.
If you are allowed to hold them while living abroad, you'll need to apply by post.
Can grandparents buy them for their grandkids?
Yes, you can buy Premium Bonds for grandchildren, or any other child like a niece or nephew, or the child of a friend.
If they're under the age of 16, you need to nominate a parent or guardian on the application form; that person will look after the bonds, regardless of who bought them. The nominated parent or guardian also receives confirmation of any transactions made, prizes won and payment for cashed-in bonds until the child is 16.
To buy Premium Bonds for a grandchild, or any other child who is not your own, you can apply online or by post. You can also ask NS&I to send you an electronic or paper gift card for you to give to the child.
If buying Premium Bonds for your own child, you can apply online, by phone or by post.
How do I check to see if I have won a prize?
NS&I notifies customers each month about any prizes they have won. If you've registered your email address or mobile number, any prize announcements will be via email or text message; otherwise you'll likely receive a letter in the post.
If you're lucky enough to scoop the £1m jackpot, "Agent Million" will visit you in person to deliver the good news.
You can also use the NS&I online prize checker or the prize checker app to find out whether you've been lucky in the prize draw.
It's worth checking if you have any unclaimed Premium Bonds, especially if you've had the bonds for a very long time or have moved house since owning the bonds.
There's a staggering £26m in unclaimed Premium Bonds prizes, according to NS&I. So make sure you update your details and check for any long-lost prizes.
How do the prizes get paid out?
Prizes are paid straight into your bank account. This is the account that you chose to link to your Premium Bonds when you first bought them.
You normally receive the prize money in your bank account by the seventh working day of the month.
How long does it take to cash in Premium Bonds?
You can cash in all or part of your Premium Bonds at any time, by making a request online, or by phone or post. It'll take up to three working days for you to get the cash from the time the request is received by NS&I.
Related articles
Look After My Bills Newsletter
Get the best money-saving tips, tricks and deals sent straight to your inbox every week. Make sense of your money in partnership with The Money Edit.
Ruth Emery is contributing editor at The Money Edit. Ruth is passionate about helping people feel more confident about their finances. She was previously editor of Times Money Mentor, and prior to that was deputy Money editor at The Sunday Times. A multi-award winning journalist, Ruth started her career on a pensions magazine at the FT Group, and has also worked at Money Observer and Money Advice Service. Outside of work, she is a mum to two young children, a magistrate and an NHS volunteer.