Premium Bond prize rate hiked: what does it mean for your chance of winning?
NS&I has increased the prize rate from 2.2% to 3%, meaning there are hundreds of extra prizes in every draw. It has also hiked the interest rates on a trio of savings accounts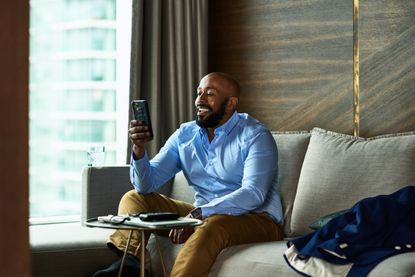 (Image credit: Getty images)
Look After My Bills Newsletter
Get the best money-saving tips, tricks and deals sent straight to your inbox every week. Make sense of your money in partnership with The Money Edit.
Thank you for signing up to The Money Edit. You will receive a verification email shortly.
There was a problem. Please refresh the page and try again.
Premium Bond customers are set to get a New Year boost, after it was confirmed the prize rate will be hiked from January, giving savers the chance to win an extra £80 million of prize money.
NS&I will increase the prize fund rate from 2.2% to 3%, marking the third change this year. In May 2022, the rate was just 1%.
The odds will stay fixed at 24,000 to 1, but customers will have more opportunities each month to win high-value prizes, with more than three times as many prizes worth £100,000, £50,000, £25,000, £10,000 and £5,000 available.
There will be no change to the £1 million jackpots: there will still be two up for grabs each month.
Ian Ackerley, NS&I chief executive, said the New Year increase means the prize fund rate will have tripled in less than a year. He added: "The change to the Premium Bond prize fund rate will mean our products are priced appropriately when compared to the rest of the savings market."
A 3% prize rate means Premium Bonds technically beat the best easy access savings account, where the top rate is currently 2.8%.
However, there is a difference between savings account interest rates and the Premium Bond prize rate as the latter is not a fixed rate of interest, rather an indicator of the average payout for someone with average luck.
We explain what the Premium Bond changes mean for your chances of winning a tax-free cash prize, and also run through some other interest rate increases on NS&I savings products.
What does the higher premium bond rate mean for your chances of winning a prize?
The change to the Premium Bond rate means the total January 2023 prize fund could hit almost £3 million (£299,572,750).
While the pair of £1 million jackpots is unchanged, there will be 56 £100,000 prizes in the draw from January (compared to 18 currently), and 112 £50,000 prizes (36 currently).
At the lower end of the scale, there will be about 430,000 extra £50 prizes. Interestingly, there will be almost 1 million fewer £25 prizes in the draw. This means if you're lucky enough to scoop a prize, your chances of winning a bigger prize than the minimum £25 will go up.
Swipe to scroll horizontally
Current and new prize fund rate and odds

| Current prize fund rate | Current odds | New prize fund rate (from January 2023) | Odds from January 2023 (no change) |
| --- | --- | --- | --- |
| 2.2% | 24,000 to 1 | 3% | 24,000 to 1 |
Swipe to scroll horizontally
Number and value of Premium Bond prizes
Value of prizes in December 2022
Number of prizes in December 2022
Value of prizes in January 2023 (estimated)
Number of prizes in January 2023 (estimated)
£1,000,000
2
£1,000,000
2
£100,000
18
£100,000
56
£50,000
36
£50,000
112
£25,000
71
£25,000
223
£10,000
178
£10,000
559
£5,000
359
£5,000
1,118
£1,000
4,379
£1,000
11,983
£500
13,137
£500
35,949
£100
731,225
£100
1,160,883
£50
731,225
£50
1,160,883
£25
3,496,500
£25
2,621,112
Total £218,993,750
Total 4,977,130
Total
£299,572,750
Total 4,992,880
What other NS&I products are changing?
NS&I is also raising the interest rate on its Direct Saver and Income Bond products from 1.8% to 2.3%.
The change will happen today, benefitting more than 570,000 customers.
The accounts are both easy access, with the Direct Saver paying interest annually, and the Income Bond paying interest monthly. The new 2.3% rate makes it one of the best savings accounts on the market; only a handful of accounts pay a higher rate.
NS&I has also increased the interest rate it pays on its Investment Account from 0.4% to 0.6%. This is a postal-only savings account.
NS&I, which is backed by the government, said the changes ensure it continues to "balance the interests of savers, taxpayers and the broader financial services sector".
How can I buy premium bonds?
Anyone aged 16 or over can buy Premium Bonds. You can do this via the NS&I website, by phone or by post.
While each £1 bond gives you a chance of winning a prize, the minimum investment is £25. The maximum amount of Premium Bonds that you can hold is £50,000.
You can buy Premium Bonds for yourself, for your own child if they're under 16, or for someone else's child as a gift.
Premium Bonds can be a good way to save for grandchildren. However, you do need the parent or guardian's permission before you purchase the bonds.
How do premium bonds work?
Each month your Premium Bonds are automatically entered into a prize draw, with the winning numbers selected at random.
All winnings are tax-free, whether you win £25 or £1 million. Prize wins can be reinvested by buying more Premium Bonds, or you can have the money paid into your current account, or sent to you as a cheque.
Prizes of £5,000 or more aren't paid straight away. Instead, NS&I contacts winners as they will need to complete a claim form. If you're lucky enough to win £1 million, you'll get a visit from NS&I's "Agent Million".
You can cash in your bonds and withdraw your money at any time, either online, by phone or with a postal application.
Trying to work out whether Premium Bonds or a savings account is a better option for your money? We compare the two products in a head-to-head
Tracing lost premium bond prizes
The easiest way to see if you're a winner is to check online, download the NS&I app, or ask Alexa. You will also receive an email or letter every time you win a prize.
However, there's a whopping £80 million lying unclaimed in Premium Bond prizes. Winners may have missed the notification if their contact details haven't been updated, for example.
If you think you may have a missing Premium Bond windfall, you can check using NS&I's prize checker tool or its tracing service.
Best buys
Look After My Bills Newsletter
Get the best money-saving tips, tricks and deals sent straight to your inbox every week. Make sense of your money in partnership with The Money Edit.
Ruth Emery is contributing editor at The Money Edit. Ruth is passionate about helping people feel more confident about their finances. She was previously editor of Times Money Mentor, and prior to that was deputy Money editor at The Sunday Times. A multi-award winning journalist, Ruth started her career on a pensions magazine at the FT Group, and has also worked at Money Observer and Money Advice Service. Outside of work, she is a mum to two young children, a magistrate and an NHS volunteer.