Premium Bond alternatives: savings accounts that pay in prizes - are they any good?
Picking the right savings account could mean you don't just earn interest on your balance, but the chance to pocket a cash prize of up to £1 million.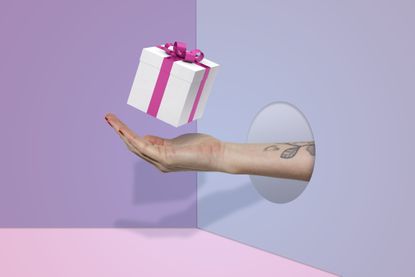 (Image credit: Getty Images)
If you have savings in Premium Bonds, then your chances of winning a prize were increased this week, but it isn't the only savings account that offers the chance to win a little extra money each month.
Premium Bonds savers are entered into a monthly draw, with prizes of up to £1 million available. It was announced this week that an extra £76 million in prize money will be dished out each month, following the increases to base rate.
At a time when interest rates have been in the doldrums, the potential to win a large cash prize has added to the appeal of Premium Bonds, though interest rates are rising once more.
However Premium Bonds are not the only sort of savings account that offers savers the chance to win a little extra money each month.
Here we run through all of the savings accounts that pay prizes:
NS&I Premium Bonds
When it comes to prize-based savings accounts, you don't get any bigger than Premium Bonds. The accounts are issued by National Savings & Investments (NS&I), which is backed by the Government, meaning that every penny you save is protected.
They are the gold standard when it comes to prize-based savings accounts, with prizes ranging in size from £50 to a cool £1 million. In total, almost five million cash prizes will be handed out to savers each month following the changes.
One of the main downsides to saving with Premium Bonds is that absolutely no interest is paid on the money you have stashed away.
That's fine if your luck is in and you happen to win frequent prizes, but if that's not the case you could easily go years without ever bagging a prize, given that your chances of winning a prize in any draw is 24,000 to one.
Halifax Savers Prize Draw
A Premium Bonds alternative comes from Halifax, in the form of its Halifax Savers Prize Draw.
Qualifying savers are entered into a monthly draw, with 1,603 walking away with a cash prize.
The top three winners bag £100,000 each, while there are then 100 prizes of £1,000 and 1,500 prizes of £100.
To qualify, you will need to hold £5,000 or more in qualifying accounts for a whole calendar month. These include all Halifax savings and ISA deals, excluding accounts for children, as well as most Bank of Scotland branded savings accounts.
The £5,000 can be made up of money in different accounts, rather than all in a single savings account. You will then need to register for entry into the draw, which you can do through the Halifax app or mobile banking service.
If you win, your prize will be paid directly into your Halifax savings account.
The added selling point to the Halifax Savers Prize Draw is that any prize you win is a bonus on top of the interest you're already earning on your cash through your savings account. Even if your luck deserts you and you never win a prize, you will at least still have the interest paid on your account.
Of course, the draw isn't a good reason on its own to save with Halifax. It should be viewed as an added perk, should Halifax's accounts already offer the sort of return you're looking for, rather than the reason to open a Halifax account.
Yorkshire Building Society Make Me A Saver
Yorkshire Building Society runs a 'Make Me A Saver' account that offers the potential to win a cash prize.
The Make Me A Saver account is a regular saver, an account designed to reward people that save a little cash each month. As a result, with this one, you can save up to £150 a month, though you also have the option to miss a month if money is tight.
The account can be opened with £1, and currently pays an interest rate of 1.65%.
Each month in which your savings balance increases by at least £50, you'll be entered into a prize draw. 10 winners will be selected each month, winning a prize of £1,500.
The final draw will be held in January 2023.
As with the Halifax draw, the possibility of winning a prize is a nice added perk on top of the fact you'll already earn interest on the money you set aside. It's also much more accessible for those looking to build up savings compared with Halifax.
Chip Prize Savings Account
Chip is an app that allows you to invest and save money automatically, selecting the right assets and accounts for you. The idea is that this saves you time, so you don't have to go to the effort of researching the market yourself.
It now offers a Prize Savings Account, with every £10 you deposit into your account worth one entry into the prize draw, so long as you have at least £100 deposited by the end of the month.
One saver each month will win the £10,000 top prize, while there are 250 prizes of £10 also dished out.
The prize is then added to your account if you win.
Nationwide Start to Save
As the name suggests, Nationwide Building Society's Start to Save account is aimed at people looking to get started with putting some money aside each month.
Not only do you earn interest on the money you save, but you are also entered into a prize draw that takes place quarterly.
To qualify, you will need to pay in between £25 and £50 into the account in each of the six calendar months leading up to the prize draw. Winners will then bag a £250 cash prize.
The number of winners will vary based on how many savers qualify for the draw. Nationwide explains that the prize fund for each draw is equal to 2.5% of the total increase in balances of all of the qualifying accounts for that draw.
As a result, depending on how big the prize fund is, your chances of winning range from one in 34 to one in 67.
John Fitzsimons has been writing about finance since 2007, and is a former editor of Mortgage Solutions and loveMONEY. Since going freelance in 2016 he has written for publications including The Sunday Times, The Mirror, The Sun, The Daily Mail and Forbes, and is committed to helping readers make more informed decisions about their money.