Five state pension changes coming this month
The government is making several changes to state pension payments in April, due to the rising cost of living. We explain what you need to know.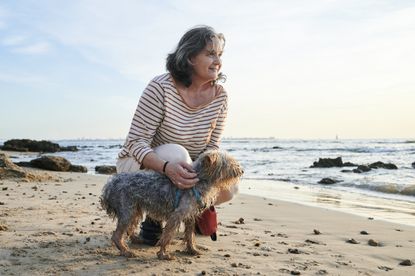 (Image credit: Getty images)
Look After My Bills Newsletter
Get the best money-saving tips, tricks and deals sent straight to your inbox every week. Make sense of your money in partnership with The Money Edit.
Thank you for signing up to The Money Edit. You will receive a verification email shortly.
There was a problem. Please refresh the page and try again.
Pensioners will enjoy a bumper increase to their state pension payments this month, when the government makes a series of changes due to high inflation.
While the start of the next tax year is often dubbed "awful April" as many bills will go up, like council tax, water and energy, those receiving a state pension will enjoy some good news in the form of higher payments.
Because the triple lock has been reinstated on the state pension, a range of pensioner payments will change in April.
A move to raise the state pension age has been delayed, so for now the age (currently 66) will rise gradually to 67, then 68 by 2046.
We run through the state pension changes that will kick in on 6 April - the start of the 2023/24 tax year.
1. New state pension
Those receiving the new state pension will get a boost this month, with a 10.1% rise in their payment. This is due to the return of the triple lock, which was suspended last year. The triple lock ensures the state pension rises each year by 2.5%, inflation or average earnings - whichever is highest.
The chancellor Jeremy Hunt said last year that he would "fulfil his triple-lock pledge to the country", as he hiked the state pension by 10.1% - its biggest ever rise - to match inflation.
The full new state pension is currently worth £185.15 a week, and this will rise to £203.85 a week (worth £10,600 a year) on 6 April.
To qualify for the full new state pension, men and women each need 35 years' of National Insurance contributions (NICs).
People are eligible for the new state pension if they are a woman born on or after 6 April 1953, or a man born on or after 6 April 1951.
So, if you haven't reached state pension age yet, you'll be entitled to the new state pension when you come to retire, as long as you have at least 10 qualifying years of NICs.
2. Basic state pension
If you retired before 6 April 2016, you may be receiving the basic state pension. This is an older-style pension that is paid to men born before 6 April 1951 and women born before 6 April 1953.
The full basic state pension is £141.85 a week. This will rise to £156.20 a week, due to the triple lock.
3. Additional state pension
The additional state pension (also known as the second state pension or SERPs) is a top-up that some people get in addition to the basic state pension.
It is protected by the triple lock, meaning the payment will soar by 10.1% next month.
How much an eligible person gets from the additional state pension typically depends on how long they paid National Insurance for, their earnings and whether or not they were contracted out of the additional state pension. It's also possible to inherit the payment from your partner.
The maximum sum pensioners can receive from the additional state pension will increase from £185.90 a week to £204.68 a week.
4. Married woman's pension
The next change relates to the married woman's pension, which is a type of basic state pension. Under the old system, women could derive payments from their spouse or civil partner's NICs. This was worth 60% of the basic state pension rate.
It goes up every April in tandem with the basic state pension. So, it will rise from £85 a week to £93.60 next month.
5. Over 80 pension
As the name suggests, this is a state pension payment for people aged 80 or over. To be eligible, they must either get a basic state pension of less than £85 a week, or no state pension at all.
The payment is currently worth £85 a week. The Department for Work and Pensions has confirmed that for the 2023/24 tax year, the amount will rise to £93.60 a week.
More on this…
Look After My Bills Newsletter
Get the best money-saving tips, tricks and deals sent straight to your inbox every week. Make sense of your money in partnership with The Money Edit.
Ruth Emery is contributing editor at The Money Edit. Ruth is passionate about helping people feel more confident about their finances. She was previously editor of Times Money Mentor, and prior to that was deputy Money editor at The Sunday Times. A multi-award winning journalist, Ruth started her career on a pensions magazine at the FT Group, and has also worked at Money Observer and Money Advice Service. Outside of work, she is a mum to two young children, a magistrate and an NHS volunteer.