New NS&I Green Savings Bonds three-year fixed-rate of 4.20% - is it worth it?
Eco-friendly savers can get more now that NS&I has increased the interest rate paid by its flagship green savings bond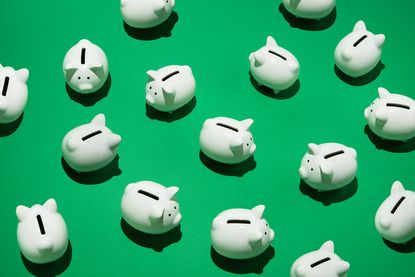 (Image credit: Getty images)
National Savings & Investments (NS&I) has released a fourth issue of its three-year Green Savings Bonds at a competitive 4.20%.
The new green savings bonds pay 4.20% fixed-rate over a three-year term, with a cooling-off period in the first 30 days of investing.
The third issue released in August 2022 has now been withdrawn from sale. It offered 3% over three years.
To sign up for the latest offering, savers must be aged 16 or over and invest a minimum of £100. The maximum deposit size is £100,000. The full amount deposited will be held for three years and cannot be withdrawn during this time.
The government will use the money from the bonds to finance green projects as part of the UK government green financing framework.
Projects include making transport greener and using renewable energy over fossil fuels, with the largest spending targeting renewing railway tracks, flood and coastal erosion prevention, and funding for businesses and homes to install renewable heat systems.
It's the latest positive news for savers: In January NS&I brought back its one-year fixed rate Guaranteed Growth Bonds and Guaranteed Income Bonds, which pay up to 4% and 3.9% respectively, and announced the Premium Bonds prize fund rate would increase from 3.00% to 3.15% from February.
Ian Ackerley, NS&I Chief Executive, said: "This is an excellent new opportunity for savers who want to grow their funds over the next three years, at the same time knowing that their investment will make a difference by helping finance the Government's green projects.
Laura Suter, head of personal finance at AJ Bell, said: "The rate now is a far cry from the paltry 0.65% interest paid on the accounts when they were first launched almost 18 months ago. Someone who put £5,000 into the bonds at launch will be earning just £32.50 a year in interest, compared to the £210 a year that a new customer will be getting now. If they had invested £20,000 that difference in interest jumps to more than £700 a year."
Is the NS&I green savings bonds worth it?
While NS&I will rarely be the top rate in the market, its Green Savings Bond isn't far off the market leader for a three-year bond from Gatehouse Bank, which is paying 4.45% interest.
Notably this offering - Gatehouse Bank's Woodland Saver - is also a green savings account and includes the planting of a tree for every account opened.
Right now, the best savings account on the market is First Direct Regular Saver which pays 7% - but only on savings up to £3,600, and you do need its current account to benefit.
Of course, interest rates on savings could rise after the Bank of England recently raised the base rate to 4% - leaving you out of pocket if you plump for this three-year fixed account which locks your money away for that time.
But an impressive rise in interest rates is not guaranteed.
Myron Jobson, of Interactive Investor, says: "Higher interest rates do not always translate to higher savings rates. It could take months for the increase in interest rates to trickle through to savers – if at all. Put simply, you may get a better savings rate in the near future – but there are no guarantees. The amount you are looking to save could guide your decision. An uptick in savings rates could mean the difference between pennies and hundreds of pounds depending on how much you have to save."
See our article on the best savings rates for more.
Read more
Look After My Bills Newsletter
Get the best money-saving tips, tricks and deals sent straight to your inbox every week. Make sense of your money in partnership with The Money Edit.
Katie is staff writer at The Money Edit. She was the former staff writer at The Times and The Sunday Times. Her experience includes writing about personal finance, culture, travel and interviews celebrities. Her investigative work on financial abuse resulted in a number of mortgage prisoners being set free - and a nomination for the Best Personal Finance Story of the Year in the Headlinemoney awards 2021.