NS&I brings back one-year 4% fixed rate Bonds - its highest rate since 2010
NS&I brings back one-year fixed bonds that pay 4% - and there's potential rates rises for half a million savers too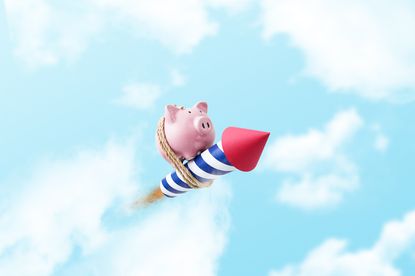 (Image credit: Getty images)
National Savings and Investments (NS&I) has brought back its one-year fixed rate Guaranteed Growth Bonds and Guaranteed Income Bonds that pay up to 4% and 3.9% respectively.
Last on general sale in 2019, the bonds allow savers to invest between £500 and £1m for just one year in each issue. After one year, savers will have the choice to withdraw their cash or reinvest.
The new offer represents the highest NS&I savings rates (opens in new tab) on offer since 2010. Back then its growth bonds paid 3.2%, while its income bonds offered savers 3.15%.
It means NS&I now offers attractive interest rates for savers looking to lock away their money for 12 months, though savers can currently earn 4.3% with a FirstSave 1-year bond but will need to invest a minimum of £1,000, according to our best savings table.
Almost half a million one, two, three and five-year "Guaranteed Growth Bonds", "Guaranteed Income Bonds" and "Fixed-Interest Savings Certificates" accounts may also benefit from the new rates when their investments mature, should they then choose to reinvest. The two, three and five-year offerings are only available for existing customers with maturing products.
It's the latest positive news for savers: in January, NS&I announced the Premium Bonds prize fund rate would increase from 3.00% to 3.15% from February.
Premium Bonds are the UK's most popular savings product, with almost one in three of us saving money in them hoping to land its million-pound jackpot.
NS&I Chief Executive, Ian Ackerley, said: "It's continuing to be an exciting time for savers and I'm pleased that we are able to bring back on general sale our popular one-year fixed-rate Bonds with two new Issues. Existing customers may also gain from a better deal when their current Bonds mature, with the option to renew with a higher interest rate.
"At the same time, by offering two new Issues today, we are continuing to balance the interests of savers, taxpayers and the broader financial services sector to support our Net Financing target which contributes to the funding of public services."
Read more
Katie is staff writer at The Money Edit. She was the former staff writer at The Times and The Sunday Times. Her experience includes writing about personal finance, culture, travel and interviews celebrities. Her investigative work on financial abuse resulted in a number of mortgage prisoners being set free - and a nomination for the Best Personal Finance Story of the Year in the Headlinemoney awards 2021.