The best money saving apps
Finding it difficult to save money or want to be better at budgeting? These money saving apps can help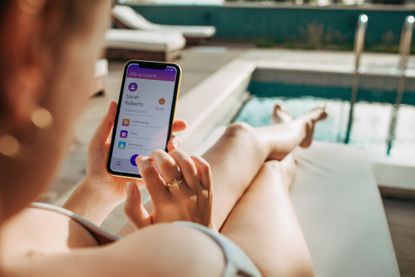 (Image credit: getty images)
Money saving apps are great tools to help you save and manage your finances. The automation process makes it easier to put something away each month. If you're struggling to save more, then take a look at our pick of the best money savings apps that can help. If you're looking to find the best interest rate, also take a look at our article on the Best Savings Accounts.
Forget the pencil and paper. You can even dump your spreadsheets. When it comes to keeping track of the household budget and savings goals, there are lots of great apps that do the hard work for you.
Whoever you bank with, your bank's own mobile app is a good place to start. They give you constant access to your account so you can keep track of your spending, and offer a range of services. Most allow you to approve online payments, freeze and unfreeze your debit card, 'save the change' on purchases and receive notifications each time you make a card transaction.
If you want to see the bigger picture, there are several apps that will link all your accounts together to give you an up-to-the-minute overview of your financial situation, investments, and credit score. Some will tell you how you can save money by switching suppliers or ditching unused subscriptions.
These apps use 'open banking', an initiative that allows financial companies to share your data with third parties – but only with your permission. To keep safe, you should only use open banking apps regulated by the Financial Conduct Authority and listed as regulated on the Open Banking website. This will protect you in the event that something goes wrong.
Here are the top apps which can help you manage your money and save more too.
Best app to help you save
Chip
If you're struggling to save, then Chip can help by automatically moving money into savings for you.
You link your current account to the app and it then analyses your spending to work out how much it thinks you can 'afford' to save. It uses artificial intelligence (AI) technology to calculate the savings amount and promises not to leave you short when it comes to your day-to-day spending.
According to Chip, the average saver puts away about £3,000. The savings can be automatically moved into a savings account with its partner bank Allica Bank, a general investment account, or a stocks and shares individual savings account or ISA (if you have Chip X).
Its savings account is easy access and promises to pay you a competitive rate of interest daily.
Cost: A standard Chip account is free. ChipX is £3/month. You can download the app on Google Play or the App store.
Best apps for investing
Plum
Using artificial intelligence technology, Plum also analyses your spending to work out an affordable amount to shift into an investment account. Savings are transferred into either an 'interest pocket' with Investec, a Plum ISA, a Plum GIA, or a self-invested personal pension (SIPP).
The app also offers budgeting tools and utility switching services. You can see all your bills and subscriptions on a dashboard, see what is going up in price, and switch providers. The app will let you know if it think you're paying too much for something, such as broadband prices, and informs you if there is a better price available.
Cost: A basic Plum account is free. Plum Plus is £1/month, Plum Pro is £2.99 a month and Plum Ultra £4.99 a month – these offer various extra features.
Moneybox
Moneybox links to your current account and credit cards to round up purchases to the nearest pound and invest the 'spare change'.
So, if you spend £2.30 on a coffee, then it will stick 70p in an investment account for you. Doesn't sound like much, but the small amounts add up over time, and you will save without even realising it.
There are loads of options as to where this money can go, including an easy access savings account and a choice of four notice-giving savings accounts. If you want to invest the money, there's a stocks and shares ISA, Junior ISA, Lifetime ISA, GIA, and a pension.
Cost: Moneybox is free for savers but £1 a month if you open an investment product.
Wealthify
If you only have a small amount of money to start investing with, Wealthify can help as you can start your investing journey with just £1 (or £50 for a pension).
To get started, all you have to do is answer some questions which allows Wealthify to assess your attitude to risk and it will then pick a selection of investment funds for you based on your answers.
Wealthify will manage your investments for you so you do not have to worry about picking funds or stocks - all you have to do is pay into your investment account, which can be an ISA, a general investment account or a pension, as often as you can (ideally monthly).
You can see how your money is doing, get market updates, and pay into your account using the app.
Cost: Wealthify costs 0.6% a year. The average investment cost is 0.16%. So, if you invested £1,000, you can expect to pay a fee of 0.76% a year (£7.60 for the year).
The actual amount you pay will depend on how much you invest.
Note: investments can down as well as up and you may even get back less than you put in. To help minimise risk, it is important to only invest money that you are happy to leave untouched for a minimum of five years or more.
Best apps for budgeting
Hyperjar
This prepaid debit card and app combo turns the concept of 'buy now pay later' on its head with a 'pay now buy later' approach. It aims to help you both budget and earn a return on your cash.
Hyperjar allows you to split your money into virtual 'jars' linked to specific retailers such as Megabus, Shell, and Bloom & Wild, and pays a reward rate of 4.8% on these pots of money. When you spend with a partner brand, the money will come out of the relevant jar. You can also set up jars for goals such as holidays and birthdays, and shared jars with friends and family.
Cost: Hyperjar is free.
Emma
Emma gathers information from all your current accounts, investments and credit cards to provide an overview of your financial situation in one place. You can categorise your transactions, with spending analytics giving you a detailed breakdown of your spending. One handy feature is tracking your subscriptions and regular payments so you can spot any payments that are a waste of money.
Cost: Emma Basic is free, while Emma Plus (£4.99 a month) and Emma Pro (£9.99 a month) offer extra features such as customising spending categories and calculating your net worth.
Best apps for the self-employed
FreeAgent
FreeAgent is an app-based book-keeping solution. Freelancers can use the app to take photos of receipts and store them, send invoices and payment reminders, log expenses and mileage, and check their cashflow.
You can even submit self-assessment and VAT returns to HMRC via the app, and get advice from accountants.
Cost: FreeAgent pricing depends on your business set-up. As an example, a sole trader pays £95 plus VAT for the first year, followed by £190 plus VAT each year. FreeAgent is free if you have a business account with Natwest, RBS, or Ulster Bank.
Best app for splitting bills
Splitwise
Splitwise helps you keep track of shared expenses with housemates, friends on nights out and travel buddies. You can create groups with various friends, enter who paid for what, and calculate what each person owes. Splitwise tracks borrowing and lending over time, with each person's outstanding balance going up and down until settled.
Cost: Splitwise is free, but you can upgrade to Splitwise Pro for $2.99 (£2.29) a month. Pro allows you to scan receipts, set up default splits and convert bills to other currencies.
Best apps for shopping
PriceSpy
If you plan on making a major purchase, check PriceSpy first. It will compare the price of the item you want to buy at different retailers so you don't pay more than you have to.
You can set up wish lists of things you want to buy and receive notifications when they drop in price. PriceSpy will also tell you if similar items are cheaper, or better rated by users, as well as having 'daily deals' showcasing the best bargains it's found.
Cost: Free
Too Good To Go
TooGoodToGo allows you to fight food waste and save money at the same time. The app sells left over food from local cafes and restaurants. Typically, you'll have a day or two to eat (or freeze) the food before it goes off.
There are some big names taking part, including Pret a Manger, Greggs and Waitrose. You can usually get a bag of food worth about £8 to £10 for about £2 or £3 – but you won't know what's in the bag until you've bought it
Cost: Free
Best app for switching suppliers
Snoop
Snoop claims it can save the average household £1,500 a year by using open banking to deliver your own personalised set of money-saving ideas. For example, it will keep an eye on your mobile phone and broadband bills and let you know if you can save cash by switching. You can change energy providers directly via the app (though this probably doesn't make sense in the current energy market for most people), and it will make sure you're not overpaying for insurance too.
Like Emma, Snoop also links to all your accounts and cards to provide you with an overview of your financial situation and spending habits in one place.
Cost: Free
Look After My Bills Newsletter
Get the best money-saving tips, tricks and deals sent straight to your inbox every week. Make sense of your money in partnership with The Money Edit.
Emma Lunn is an award-winning freelance financial journalist who specialises in money and consumer affairs. She has more than 17 years' experience writing for national newspapers, trade and consumer magazines, and specialist websites. She has a particular interest in writing about property and mortgages, and enjoys explaining complex issues in an easy-to-understand way.