Investment trends 2022 - where the experts will be putting their money
Here are the investment trends for 2022 and where the experts are looking to invest their cash in the New Year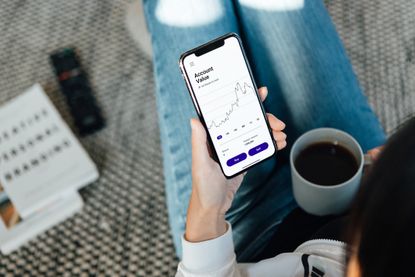 (Image credit: Getty images)
Looking to boost your investments this year? Here are the top investment trends for 2022
The rapid spread of the Omicron variant of Covid coupled with soaring inflation and the prospect of interest rates finally rising will be on investors' minds as we head into 2022.
After a challenging year, it looks like the volatility and uncertainty could continue as we usher in the New Year.
However, experts say there are reasons to be optimistic next year. Supply chain problems are easing, company earnings are growing, and there is an increased focus on sustainable and socially responsible investment strategies following COP26.
A poll by the Association of Investment Companies revealed that investment managers are tipping renewable energy to be the best performer in 2022.
"The joint best performing stock market sectors are expected to be alternative energy and real estate investment trusts (REITs)," comments Annabel Brodie-Smith at the AIC.
"The UK is tipped as the most attractive region next year, with half of managers believing the FTSE 100 will close between 7,500 and 8,000. Managers clearly remain concerned about the spectre of inflation, with higher inflation and interest rates being their main concerns for 2022."
The FTSE 100 - home to the UK's biggest listed companies - has fared better than you might think this year. The index is up almost 10%, standing at 7,218, as at 14 December.
As 2021 draws to a close, we look ahead to what could be the big trends and themes of next year, as well as analysing the twin threats of inflation and interest rates.
Investment trends: Sustainable investing
Investing sustainably has been a growing trend over the past few years. In 2021, it was given an extra boost when the UN climate change conference, COP26, came to the UK and was held in Glasgow.
The amount of money held globally in funds focussed on environmental, social and governance (ESG) issues has hit a record high, with assets reaching $3.9 trillion (£2.9 trillion) at the end of September, according to the data provider Morningstar.
ESG is arguably the most important theme currently discussed in boardrooms - and investors will be considering it more and more when allocating their money. Sustainable investing refers to picking companies that are good for the planet, and avoiding those that do harm.
SEE MORE: How one family has gone green with their finances
"With the UK government's 2030 net zero target for carbon emissions clearly set out, sustainable and socially responsible investment strategies will continue to be a primary concern for investors," notes Alistair Hill, private wealth adviser at AHR Private Wealth.
Renewable energy infrastructure
One sector that should benefit from investors' sustainability focus is renewable energy. Lee Qian, manager of Keystone Positive Change Investment Trust, points out that energy consumption has increased 14-fold since 1990, and there is now more demand for electricity, such as for cars and industrial processes.
Companies like the Swedish battery supplier Northvolt are likely to perform well, according to Qian.
Almost a fifth of investment managers in the AIC poll chose renewable energy infrastructure as their top performer for 2022.
Investment trends for Healthcare
Healthcare companies could do well next year for several reasons. Firstly, they are known as "defensive" stocks, which means that when markets are bumpy, these are the companies that can ride out the volatility. With an uncertain outlook for 2022, investors may like to hold some of their cash in these sorts of companies.
"Healthcare companies' earnings are a lot more stable compared to other sectors. There is a constant base demand for healthcare products that you just don't get in other cyclical industries and as a result earnings and share prices are more predictable," explains Ian Jensen-Humphreys, portfolio manager at Quilter Investors.
Meanwhile, demand for healthcare products is rising, driven partly by aging populations around the world. Jensen-Humphreys adds: "The growth of the middle class in Asia, in particular China and India, will also fuel a bout of healthcare spending. As wealth increases so does discretionary spending on healthcare products such as insurance, orthodontal treatment and dietary supplements."
Innovations, such as for vaccines and medical equipment, can also boost share prices.
Investment trends regions: UK, US and Japan
In terms of where in the world to invest, experts predict that our own stock market could perform handsomely, as well as stocks in America and Japan.
The UK and Japan have been out of favour recently, but could play catch up in 2022.
Simon Gergel, manager of the Merchants investment trust, remarks: "The UK stock market is one of the cheapest in the world and remains highly polarised. This is providing excellent opportunities for stock pickers to identify strong businesses, trading at attractive valuations, which can deliver a high income and good total return over the long term."
He says the UK economy should grow at a good pace next year as the government spends on infrastructure, and consumers go out more. The removal of Brexit uncertainty and our swift vaccination rollout should also help.
Maike Currie, investment director at Fidelity International, agrees that the UK could perform well, but says the US "could very well lead the pack especially in the event of stock market volatility thanks to its defensive nature, supportive monetary and fiscal policy, and strong earnings."
Over in Japan, Nicholas Price, portfolio manager of Fidelity Japan Trust, says corporate profits should be strong in the first half of next year. This is due to a delayed recovery in the manufacturing sector resulting from Covid restrictions and supply disruptions.
Gold investments
Investors wanting to diversify their portfolios, and protect themselves from stormy markets, should consider gold. According to Currie, stagflation - a toxic combination of rising costs and lower growth - could be on the cards for 2022, and commodities and gold fare well in this environment.
"The reason gold is a trusted port in the storm during stagflation is quite simple: when there's higher inflation along with market volatility, investors want to preserve their capital, and we know the yellow metal is a great preserver of capital," she comments.
A gold fund on Fidelity's Select 50 list of their experts' favourite funds is the Ninety One Global Gold Fund, which invests in gold mining companies. Alternatively the iShares Physical Gold exchange traded commodity seeks to track the day-to-day movement of the price of gold, notes Currie.
High inflation and rising interest rates
Ed Smith, co-chief investment officer of Rathbones Investment Management, predicts a volatile and uncertain 2022. How the economy - and investment markets - perform could come down to whether we see further virus waves, according to Smith.
On one hand, inflation is expected to reduce gradually by the end of 2022, energy prices are expected to ease, and supply-chain and shipping disruptions should eventually resolve.
However, if we experience more Covid disruption, this could drive inflation higher, causing central banks to hike interest rates while economies struggle.
Stephen Mann, head of investment specialists at Schroders Personal Wealth, adds: "The rise of the Omicron variant of Covid could lead the Bank of England to slow down its expected modest increases in interest rates from today's record ultra-low level of 0.1%."
He believes inflation, which reached 5.1% in the 12 months to November 2021, will remain relatively high.
"Fortunately, some companies have some protection from rising inflation. Utility companies, for example, can include inflation rates in their tariff negotiations with regulators. Meanwhile, recruitment companies could benefit if the Bank is willing to accept higher inflation as part of an effort to support higher UK employment. And banks can benefit from higher interest rates, which can increase the yield on their cash holdings," says Mann.
Look After My Bills Newsletter
Get the best money-saving tips, tricks and deals sent straight to your inbox every week. Make sense of your money in partnership with The Money Edit.
Ruth Emery is contributing editor at The Money Edit. Ruth is passionate about helping people feel more confident about their finances. She was previously editor of Times Money Mentor, and prior to that was deputy Money editor at The Sunday Times. A multi-award winning journalist, Ruth started her career on a pensions magazine at the FT Group, and has also worked at Money Observer and Money Advice Service. Outside of work, she is a mum to two young children, a magistrate and an NHS volunteer.